Create a Smarter Workspace

Tutorial Ebooklet
---
Setting Up Smarter...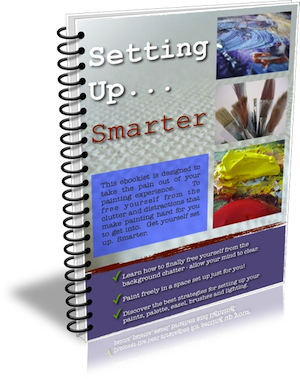 Ever wanted to go into a painting without the background clutter?

Setting yourself up to paint freely is something you need to be thinking about.

"Setting Up...Smarter"

is our 22 page ebooklet chock full of information guaranteed to get you out of procrastination mode,
into your painting zone, fast!

Beginners through to advanced -
there are practical tips in here for all of us.

Free Your Mind = Enable Your Zone

PAY (ALMOST) WHAT YOU LIKE
(minimum AUD$2.50)


Download the First 3 Pages Right Here **FREE*!!!
(min.) AUD$2.50
Suggested Donation AUD$4.00
(the artist needs coffee!)
---
Discover:

✔ Why Setting Up Is Important

✔ Each Area Broken Down To Ease You Into Your New Free Creative Space

✔ Avoid Traps

✔ How To Create A Mishap-Free Workspace

✔ You May Have Downloaded Ebooks On Setting Up Before - How Many Allow Your Mind To Be Clear?

✔ Finally - An Ebooklet That Gets You Started & Releases You From Mind Clutter


Areas Covered:

✔ Create a Workspace That Liberates You

✔ Managing Your Paint & Palette, How & What To Dish Out, & Why

✔ Your Brushes - The Good, The Bad, The Ugly

✔ The Light

✔ The Best Easel For Your Painting Situation

✔ Keeping Your Acrylic Paint Workable

✔ Painting Surfaces


Mark wishes he knew this stuff 20 years ago!
He's taken out the bumps for you - - enjoy!!
---
---
Back to Explore Acrylic Painting Shop
Back to Explore Acrylic Painting Home Page