Gift Coupons
Tired of underpants and socks?
Suggest to your friends a wonderful Explore Store Gift Coupon! (you'll never have to buy a gift again - they'll get paintings for the rest of their lives). That'll teach them to buy you underpants!
Or....Stuck for a gift idea for the (other) artists in your family?
Maybe you know you want to buy something but can't decide what? - or maybe you want to buy a coupon now and wait for a sale (or a new product!) to get even better value for your hard earned $$$$?
Use with all Explore Store Products
$10, $25, $40, $100 available
No Expiry!
AUD$10 Gift Coupon
---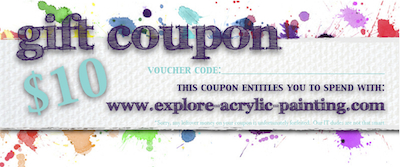 AUD$25 Gift Coupon
---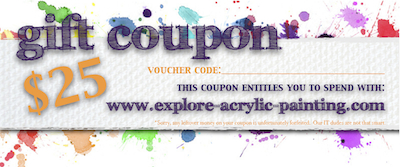 AUD$40 Gift Coupon
---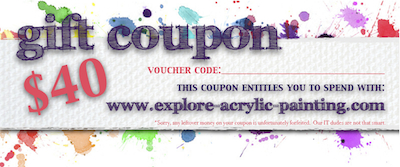 AUD$100 Gift Coupon
---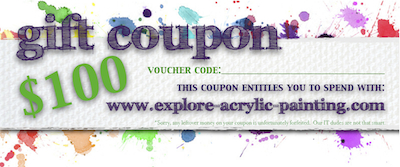 ---
On purchase of your gift coupon you will receive an email which includes your unique voucher code (keep this safe somewhere), and a link to a blank gift coupon (as above) in the denomination you have purchased.
NOTE: YOU NEED THAT CODE. IT'S VERY IMPORTANT!!
If you are giving a coupon to someone else as a gift, you may like to print the coupon, and handwrite your unique code on it.
The lucky gift coupon recipient then only has to visit the Explore Store at their leisure, choose some most excellent products, and enter their unique code in the Discount Code section of the shopping cart at chekout. Easy peasy!
*NB - our Gift Coupons are one use only, and unfortunately any remaining funds will be funnelled to our various offshore bank accounts. SORRY!! Make sure you get everything you want in one go.
(Just kidding. Actually our IT team has serious limitations and is thus far unable to figure out how to handle remaining funds. Please contact us if this makes you sad and we will work something out, as our one and only goal is to ensure you are happy with us at all times).
---
Top of Gift Coupons Page
Back to Explore Acrylic Painting Shop
Back to Explore Acrylic Painting Home Page
---