How to Paint Tropical Water

Have you always wanted to paint a beautiful underwater tropical paradise?
Mark will show you how with his new downloadable tutorials, the V-Logs.  Now available!
"Coral Reef - Underneath"
Learn how to paint this gorgeous, luminous, underwater tropical reef scene in just 2 short episodes.  
Complete Volume only AUD$15.00.
Colour.  Movement.  Depth.  Life.  Light.  All Yours.
Master 3 fundamental skills which will transcend and transform all your paintings:
Episode 1:  The basics, get 'em down!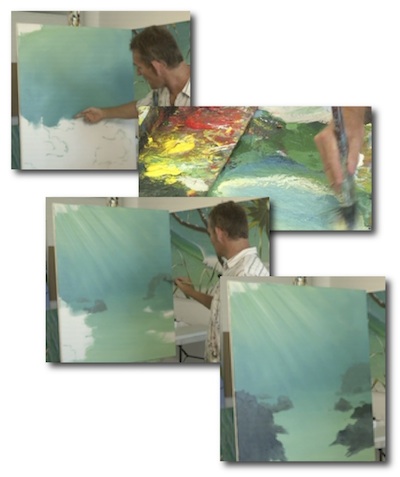 Gradation - Master this fundamental skill and give your paintings amazing dimension. 
Blocking In - Get your ideas down fast! 
Brush Techniques - Dry brush and wet on wet.  Learn how to paint rays of light filtering through tropical water.   
Episode 2:  Glorious detail, flashes of luscious colour - adding dimension & light to the depth you created in Episode 1.  
Refraction Techniques

- Create light that dances.  Shape your sandy substrate & add colour, form, texture and movement to your painting. 

Perspective

- Create believable depth and realism with two simple perspective techniques. 

Convince

- Learn how to add quick flashes of colour strategically to create schools of fish, and add convincing detail to your work.
The Complete Volume
"Coral Reef - Underneath"
When you purchase, receive this BONUS support material FREE:
PDF - Set Yourself Up...Right 
PDF - Coral Reef - Underneath "Recipe" 
PDF - Tropical Water "Default Settings"

Techie Info:
Running Time:   Approx 21 minutes
Size:  Approx 233 MB
English
AAC Stereo Audio
Screen Resolution:  1024 x 576
MPEG4 file (MP4). Playable on QuickTime Player (or your favourite media player). To get the latest version of QuickTime Player for your Mac or PC, click here. 
NB:  This is a LARGE file and may take some time to download.  It has been optimised for the best viewing size versus download time.
If you have broadband your download should be reasonably quick.  If not, it will be slow!  
Please double check your bandwidth and data allowance before ordering, as this product is only available as a download.
  AUD$15.00
---
**AWESOME DISCOUNT OFFER**
Subscribe to Acrylics Anonymous, our monthly online newsletter, for a 20% discount on the "Coral Reef - Underneath Complete Volume" V-Log.  Plus great tips, a free 25 min video tutorial, subscriber only specials and the scintillating wit you have come to expect.  It's fast, free, and we don't send you junk.  Click here to subscribe.
---
On purchase of your V-Log "Coral Reef - Underneath", you will receive via email (the one you have linked to your Paypal account) links which are specific to your computer. One for your video file to download, one for your bonus PDF(s) file, and one for your video streaming option (this option includes a password).  
To download the video or PDF files, simply click on the link(s).
To view your video via our streaming platform, simply click on the link in the body of the email (this will take you to a specific page on our website) and enter your password in order to view.
There is a time limit and attempt limit setting on the download links (to keep out those nasty pirates!) but don't worry, if you need more attempts - which hopefully you won't - just contact us and we'll send you what you need.  Asap.
NB:  Note for iPad owners - it has come to our attention that if you attempt to download the v-log to an iPad (or other iOS operating system managed device such as an iPod or iPhone) it may not let you save the file (you may only be able to view it).  Therefore please use a different computer platform to download and save the file (ie your PC or laptop).  
HOWEVER:  You will be able to STREAM the video file with no problem on any device.  Hooray!
Happy Painting!  Thanks So Much!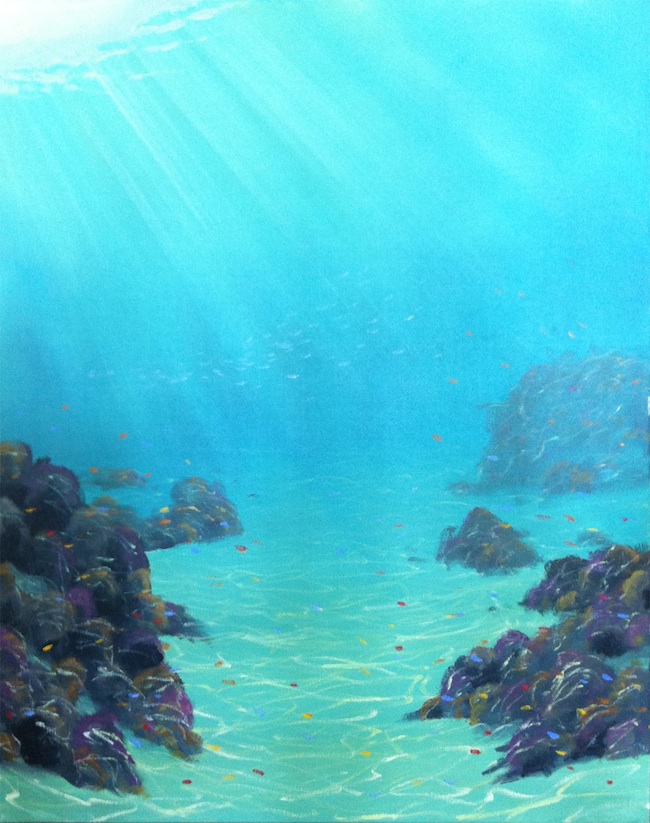 ---
Happy painting purchasing people have this to say about Coral Reef - Underneath:
I watched the vlog first (well actually I have watched it several times), and I have to say it is great and very easy to follow.  I can't wait for the next one :). 
Sami Hall, QLD
*******
I just purchased your v-log of coral reef underwater and I simply LOVE IT!!!!  Being able to see Mark work and to see how he mixes his paints is very important to me.  I learned a lot about gradation in this v-log.  I also have seen the result in my first underwater work.  I also like the sequence of colors that he uses - light to dark.  Now that I have seen him work a painting I have been able to have much more realism and joy in my work.
Thanks so very, very much.  Please make more!!!
Linda, USA
*******
This morning I downloaded and saved 'coral reef' with no problems at all.  Mark is a great educator. I have spent most of my long life living in outback NSW so know little about the sea and how it behaves. So not only have I learned how to paint it but also now have some idea about light on it etc as wll as how waves behave from previous videos. I am looking forward to more videos from you both. 
Helen Northill, NSW
*******
The video was awesome and Mark makes it look so easy. 
Rob Parsons, QLD
*******
Wow that is exactly what I was hoping to see (all inspired now).
Couple of suggestions:
Mark changed brushes a lot but didn't say which brushes he was using other than the first one so it would be good to know what brushes are used especially for the reflections and the coral (can't tell if it's the same one).  The other thing is to see more of the colour being mixed (and I know he's really quick at doing it) but it would be good to see exactly what he's mixing as he does his colour gradation (and yes I have seen that video in blue)  
Sorry for all the questions but they are thoughts now racing through my head LOL. 
Jackie Allen, NSW
---
New v-log here now!





"Tropical Beach"



Click here for more info.
---
If you really like this downloadable tutorial and want EVEN MORE waterly painting lesson goodnessy stuff, you should check out our other downloadable tutorial DVDs, pronto!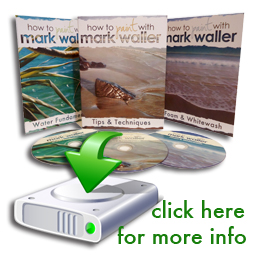 ---
Back to Explore Acrylic Painting Shop
Back To Explore Acrylic Painting Home Page
---