Always wanted to learn how to master painting pandanus?
Mark will show you how with his latest downloadable tutorial V-Log, available now!  
For the short, 11 minute version, watch below.

"Painting Pandanus"
Learn how to paint this pandanus in just under an hour!
only AUD$25.00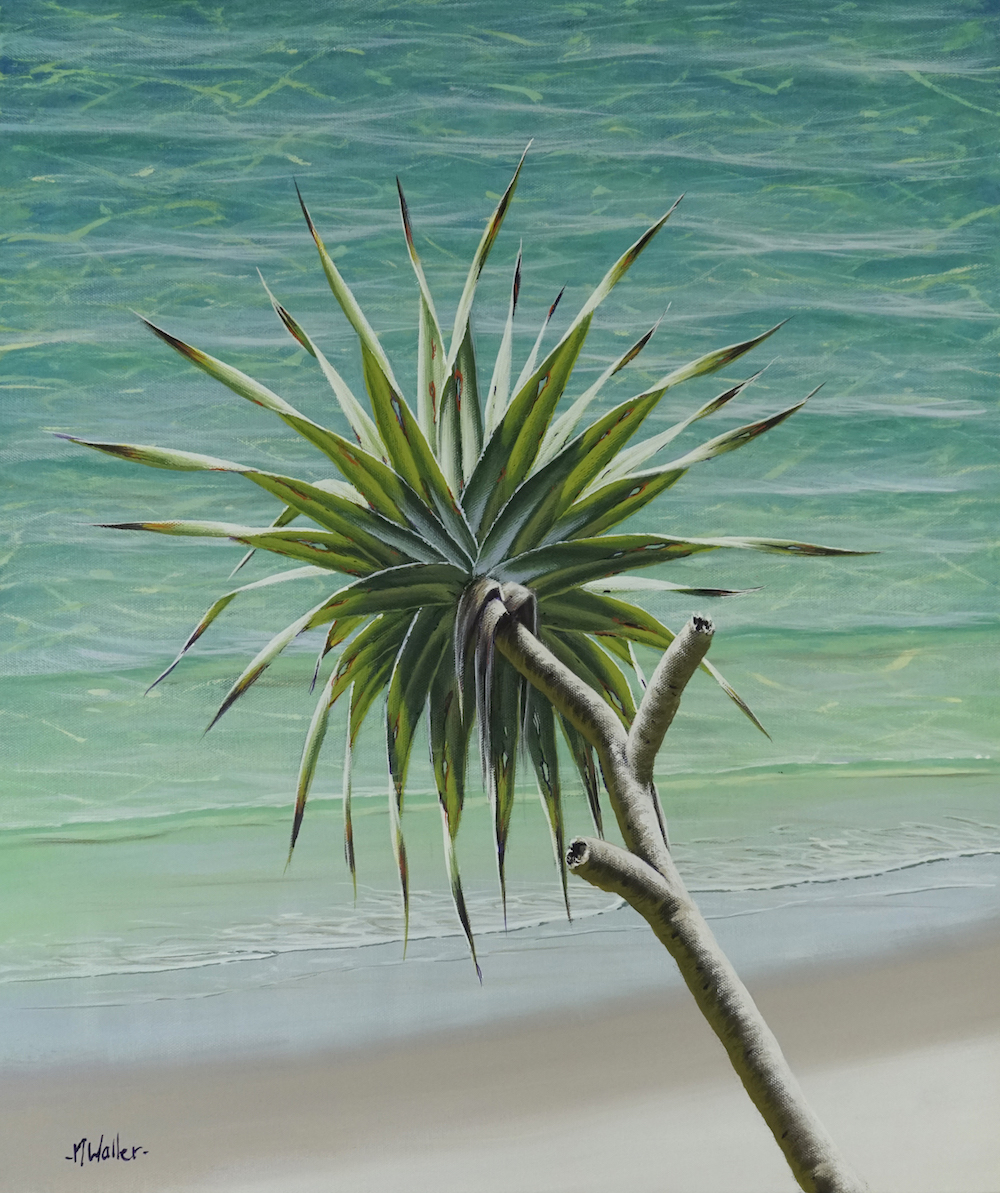 Discover a manageable process of a complex subject.
Mark's "pandanus construction process" laid out for you.
Simple colour recipes that make sense.
And fundamental skills to give ALL your paintings a solid foundation:

Brush Technique
Dry Brush Technique
Gradation/Blending Techniques
PLUS more advanced techniques:
Create the illusion of backlighting, shadows, reflections and highlights, and learn how these elements work together to create amazing depth, dimension, light and life!
Learn how the "rule of 3" incremental shifts of tone and hue will transform the way you paint to create realism.
Discover the little details to make your pandanus paintings really sing.
Create character in your pandanus by adding dying leaves, twisting leaves, battle scars and holes. 
Discover how these imperfections create zing, movement, and opportunity for even more colour.
Tips for creating a strong sunlit effect.
This tutorial is a wonderful insight into the level of detail it takes to create a truly compelling and realistic pandanus image.
Use the accompanying PDF's as your starting reference points and follow along.
AUD$25.00
After watching you'll want to paint your own gorgeous pandanus head!
"Painting Pandanus"
When you purchase, receive this BONUS support material FREE: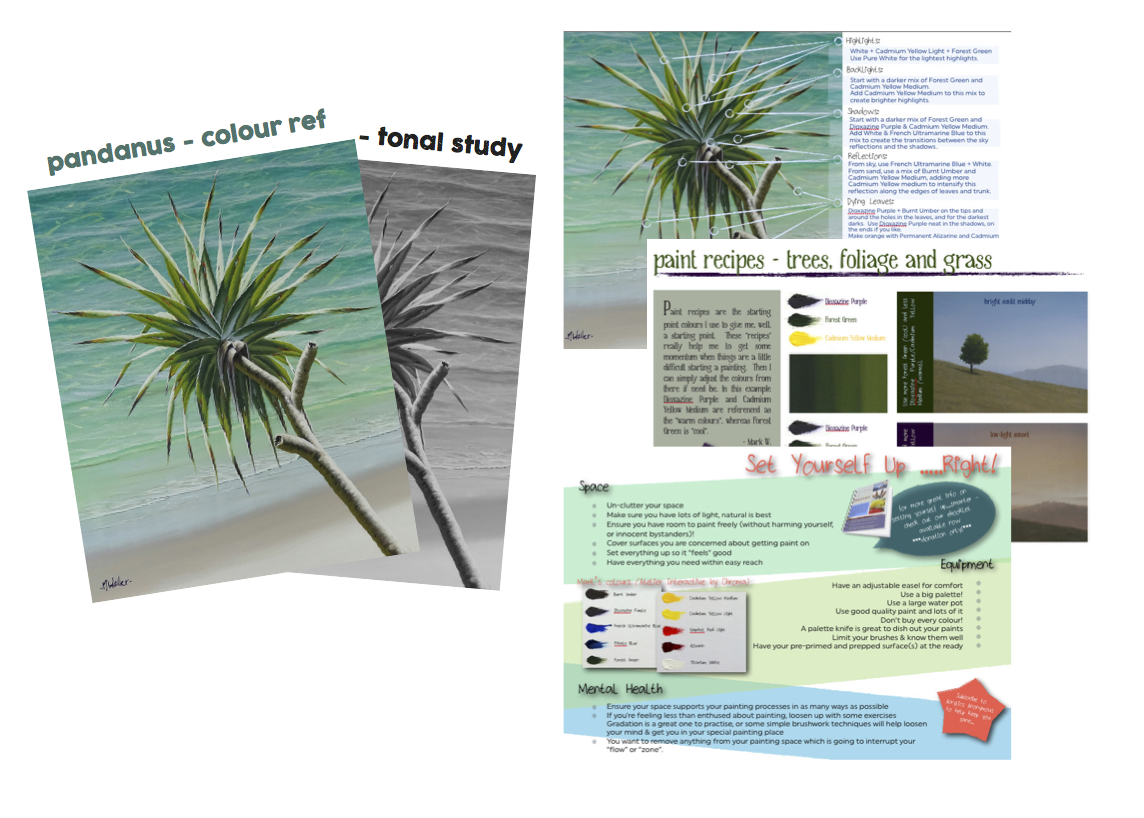 PDF - Pandanus reference - colour and greyscale

PDF - Trees and Foliage - "Recipe"
PDF - Handy colour recipe reference guide
PDF - Set Yourself Up - Right!


---
Tech Info For Download:
Running Time:   Approx 50 minutes in total
Part 1 - Approx 23 minutes
Part 2 - Approx 23 minutes
Size Part 1:  Approx 702mb
Size Part 2:  Approx 718mb
English
AAC Stereo Audio
Screen Resolution:  1280 x 720
MP4 Video file (MPEG-4). Playable on QuickTime Player (or your favourite media player). To get the latest version of QuickTime Player for your Mac or PC, click here.  You will need to ensure your media player is up to date before downloading this file.
NB:  These are LARGE files and may take some time to download.  It has been optimised for the best viewing size versus download time.
If you have broadband your download should be reasonably quick.  If not, it will be slow!  This will take 20 minutes to download as a minimum, and up to an hour or more with a slower internet service.
***We also send this product as a streamable video upon purchase.  See details below.*** 
AUD$25.00
---
On purchase of your V-Log "Painting Pandanus", you will receive via email (the one you have linked to your Paypal account) links which are specific to your computer. One for your Part 1 and Part 2 video files to download, one for your bonus PDF(s) file, and one for your video streaming option (this option includes a password).  
To download the video or PDF files, simply click on the link(s).
To view your video via our streaming platform, simply click on the link in the body of the email (this will take you to a specific page on our website) and enter your password in order to view.
There is a time limit and attempt limit setting on the download links (to keep out those nasty pirates!) but don't worry, if you need more attempts - which hopefully you won't - just contact us and we'll send you what you need.  Asap.
NB:  Note for iPad owners - it has come to our attention that if you attempt to download the v-log to an iPad (or other iOS operating system managed device such as an iPod or iPhone) it may not let you save the file (you may only be able to view it).  Therefore please use a different computer platform to download and save the file (ie your PC or laptop).  
HOWEVER:  You will be able to STREAM the video file with no problem on any device.  Hooray!
---

Happy Painting!  Thankyou for your support :)
Check out our other V-Log downloadable tutorials right here:

---