Wet & Wild III
by Carole Elliott
(Caves Beach, NSW, Australia)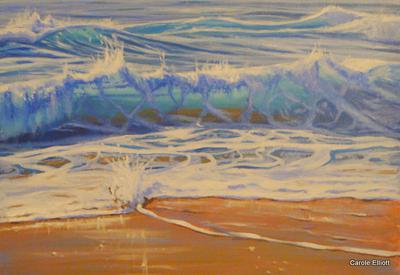 Wet & Wild III in acrylic
I have been a pastel artist for the past 20 years and thought I would give acrylics another go.

I tried them before and found they dried too fast and I couldn't get the same results as I could with pastels so just gave up.

After watching Mark's youtube tutorials I purchased the How to paint Water DVDs and bought the interactive paints and played around with them for a few weeks.

Then I tried doing a similar painting that I had already completed in pastel to see what the result would be and must say I am rather pleased with it.

Now that is out of the way I will go back to playing and experimenting to see what else I can do before tackling another painting.

Here is a photo of the finished painting in acrylics and a photo of the similar painting in pastel.