Paint a simple ocean wave

Baffled by waves?  Want to create a compelling, simple ocean wave?
Here's your chance!  Mark will show you how with his latest downloadable tutorial V-Log, available now!  
This complete tutorial is also available on Youtube, which you can view below :)  You're welcome!

"Simple Ocean Wave"
Learn how to paint this gorgeous wave in less than thirty minutes! 
OMG What?! Yup.
only AUD$15.00
Discover a simple process to create a compelling picture.
Learn Mark's signature brush techniques.
Discover how monochromatic can be dramatic.
Create the appearance of water in limited light.
And fundamental skills to give ALL your paintings a solid foundation:

Brush Technique
Dry Brush Technique
More Brush Technique!
PLUS more advanced techniques:
Create the illusion of a source of light and learn which parts of waves will reflect and bounce light.
Discover tricks to help you create long lines and shapes to really make your waves pop.
Learn how small amounts of pigment-rich colour can add even more layers and dimension to your waves.
This tutorial is a wonderful insight into the importance of honing your brush technique to create correct shapes.
Use the accompanying PDF's as your starting reference points and follow along.
AUD$15.00
---
After watching you'll be totally inspired
to paint your own wave!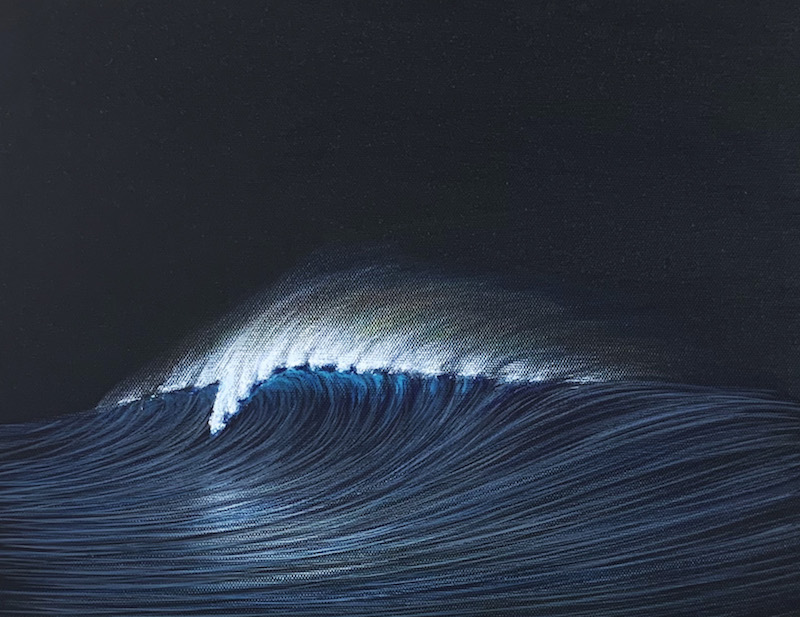 "Simple Ocean Wave"
When you purchase, receive this BONUS support material FREE: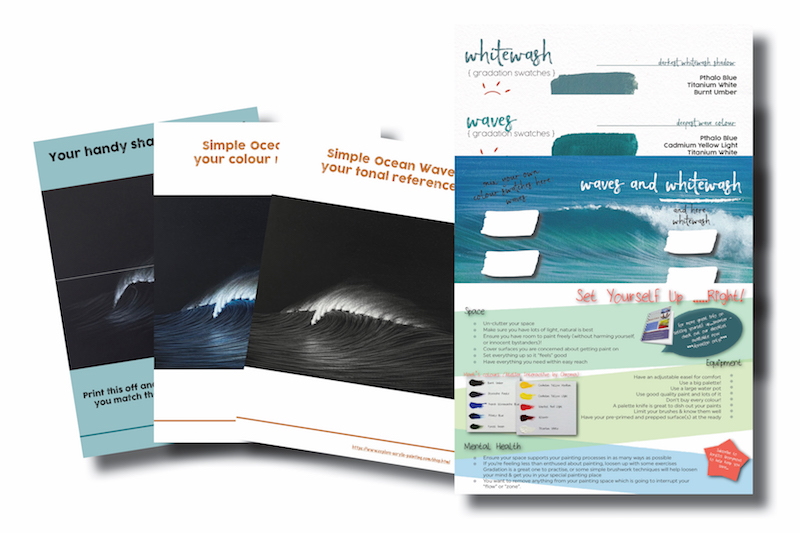 PDF - Wave Reference - beginning grid
PDF - Wave Reference - colour and greyscale
PDF - Waves and Whitewash - recipe pages
PDF - Set Yourself Up - Right!


---
Tech Info For Download:
Running Time:   Approx 25 minutes in total
Size:  Approx 960mb
English
AAC Stereo Audio, H.264
Screen Resolution:  1920 x 1080
MP4 Video file (MPEG-4). Playable on QuickTime Player (or your favourite media player). To get the latest version of QuickTime Player for your Mac or PC, click here.  You will need to ensure your media player is up to date before downloading this file.
NB:  This is a  LARGE file and may take some time to download.  It has been optimised for the best viewing size versus download time.
If you have broadband your download should be reasonably quick.  If not, it will be slow!  This will take 20 minutes to download as a minimum, and up to an hour or more with a slower internet service.
***We also send this product as a streamable video upon purchase.  See details below.*** 
AUD$15.00
---
On purchase of your V-Log "Simple Ocean Wave", you will receive via email (the one you have linked to your Paypal account) links which are specific to your computer. One for your video file to download, one for your bonus PDF(s) file, and one for your video streaming option (this option includes a password).  
To download the video or PDF files, simply click on the link(s).
To view your video via our streaming platform, simply click on the link in the body of the email (this will take you to a specific page on our website) and enter your password in order to view.
There is a time limit and attempt limit setting on the download links (to keep out those nasty pirates!) but don't worry, if you need more attempts - which hopefully you won't - just contact us and we'll send you what you need.  Asap.
NB:  Note for iPad owners - it has come to our attention that if you attempt to download the v-log to an iPad (or other iOS operating system managed device such as an iPod or iPhone) it may not let you save the file (you may only be able to view it).  Therefore please use a different computer platform to download and save the file (ie your PC or laptop).  
HOWEVER:  You will be able to STREAM the video file with no problem on any device.  Hooray!
---

Happy Painting!  Thankyou for your support :)
Check out our other V-Log downloadable tutorials right here:

---
---