How to Paint with Mark Waller
DOWNLOADABLE AND STREAMABLE DVD
More On Water
AUD$34.00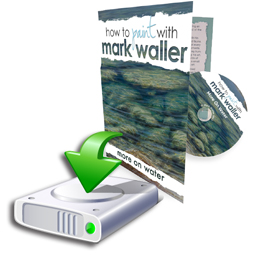 Have you always wanted to paint gorgeous, light-soaked and realistic water scenes? 
Mark's "More on Water" DVD tutorial builds on his first DVD "Water Fundamentals", and explains in more detail how the four elements that make up the appearance of water, work together to bring realism and depth to your paintings.
AUD$34.00

---
***suitable for all skill levels ***
***use acrylics or oils***


You will discover:
How to alter the elements that make up the appearance of water in order to paint a pebbly beach, a rocky mountain stream, or anything wet! 
A simple process to understand how these elements interact.

The basic science of water - reflections, refracted light and the behaviour of water.
Gain a deeper understanding of how to create realism with your reflections.
Create the illusion of perspective, volume and depth in water with simple concepts and processes.
How to add the details you need to bring life & movement to your paintings.
Expand your knowledge of painting water.
Backed up by real world examples to illustrate the processes.
Develop a deeper understanding of each element making up the appearance of water.
Attack your waterscapes with more confidence. 
Translate these concepts to create your own amazing water paintings from this day forward.
AUD$34.00
---
Technical Info:
Running time approx 47 mins
Size approx 1.8GB (split into 2 parts for easier downloadability):
Part 1 - 914mb approx
Part 2 - 974mb approx
MPEG-4 file (MP4). Playable on QuickTime Player (or your favourite media player). To get the latest version of QuickTime Player for your Mac or PC, click here.  Ensure your media player software is up to date before downloading.

English

AAC Stereo audio

1920 x 1080 screen resolution

Please note these are large files. They have been optimised for the best viewing size versus download time. However, this will still take time to download. Ensure you have a strong internet connection and plenty of data availability before you begin downloading :)
---
IMPORTANT - Note for iPad/iPod owners:
iPad (as well as iPod and iPhone) iOS operating system prevents you from downloading this file directing to your iPad. If you attempt to download the DVD to an iOS operated device (such as an iPad) it may not let you save the file (you may only be able to view it).  Please use a different computer device to download and save the file (ie your PC or laptop).  You can then import the DVD to iTunes and then sync your iPad to your PC or laptop in order to view on your iPad.
HOWEVER:  You will be able to STREAM the video file with no problem on any device.  Hooray!
---
On purchase of your downloadable DVD, you will receive via email two links (Part 1 and Part 2 which make up "More on Water") which are specific to your computer.
**If you haven't received these links one hour after your purchase, please check your spam or junk folders.**
To download the MP4 files, simply click on the link (one at a time).  When downloaded you can save to your hard drive, or onto a backup disc if you wish (such as a USB drive).  We always recommend backing up your computer!
To view your video via our streaming platform, simply click on the link in the body of the email (this will take you to a specific page on our website) and enter the password (also sent in the email) in order to view.
There is a time limit and attempt limit setting on the download links (to keep out those nasty pirates!) but don't worry, if you need more attempts - which hopefully you won't - just contact us and we'll send you what you need.  Asap.
Happy Painting!
AUD$34.00
---
Testimonials


"Love the More on Water DVD! Fantastic!! I will have some time to paint tomorrow and can't wait to play with the new information and lesson content. I realize it's time consuming to make these, but I for one would download something like this every few weeks if it was available. I am in Carlsbad, California right by the beach and plan to spend a lot of time learning how to paint water. Thanks so much for the wonderful lessons, fantastic website and the Acrylics Anonymous news letters. Big smile on my face from the enjoyment I will be getting working on the techniques!" -- Debi
**********
"I have just purchased your water DVDs, and had to watch both immediately !!, I love them, although I live in a desert in southern Spain I can go to the coast and paint the Mediterranean with this new knowledge, at the young age of 71, I am still learning and love the way you paint, all the best to you and good health." -- Denise
**********
---
Back to Explore Acrylic Painting Home
---