Breaking Through
by Suz Sullivan
(Lester Beach, Manitoba, Canada)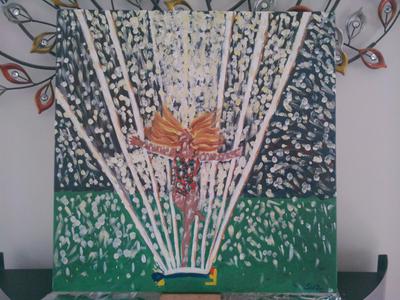 Breaking Through
Did you ever run through a sprinkler on a hot summer night as a kid ? Did you do it for fun or to cool off in the heat ?????? I sure did, no air conditioning in those days, and in the evening my parents used to water the lawn to keep it going . . . . . our summers can get very, very hot !

My inspiration for this painting was those childhood memories . . . jumping through a sprinkler trying to cool off, but at the same time it was pure exhilaration - at that point where you break through that wall, it's hitting you so hard, you can't see, and the relief of making it through . . . only to go back and take another run at it !

Childhood memories juxtaposed with adult challenges . . . how to capture? This painting was my answer.

I painted this painting in Liquitex Heavy Body Acrylics. These paints were wonderful to work with, fast drying yet so sculptural . . . this was my first time trying to use a heavy bodied paint and sure won't be my last . . . . . this was the heaviest underpainting I'd ever done.

I also used Burnt Sienna to 'sketch' in my figure instead of sketching out my idea of the painting. This is a wonderful way to sketch in your ideas and inspiration, so much easier to bring it in to the painting later . . . . . and much more pronounced than an early pencil sketch. Trying different approaches, learning different techniques, isn't this what it's all about ?

With this piece I painted a very heavy textured under painting, I loved the underpainting although I didn't know where to take it.

After a week of looking at it a lot, I felt an internal punch towards the painting. I decided I would just punch it out and took a very abstract bold approach to the sprinkler, the water . . . . . in the end, I was intrigued by the outcome.

After completion, the figure jumping through the sprinkler became of more interest to me, and I wondered if I should have centered more on her than the sprinkler, but I really wanted the sprinkler to be the wall, the challenge, and capture the joy of breaking through, even though you're small, and the world seems such a big challenge !