Beyond the Palms
by Rekha
(Melbourne, VIC, Australia)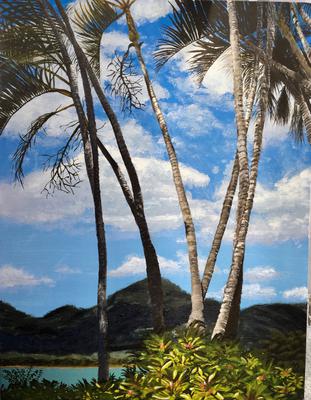 Finished painting!
I wanted to share this painting as its been almost two years in the making!! Yep that's right - 2 years!


I could tell you that I've been busy, got distracted etc but the truth is at every major step I was happy with - I got caught up thinking the next brush stroke would ruin it and that stopped my progression - does this happen to anyone else?? (Looking back through my photo album, I did complete a few other paintings in the mean time!)
When I finished 'Beyond the Palms', I wondered why I took so long to finish it...my pursuit to get it perfect stopped me from progressing. And then I wondered "what if I had never got round to finishing it?"...what a shame that would have been!
I love Mark's motto to chuck some paint around! Chucking paint around is a journey I'm still on. I love the results of 'Beyond the Palms' and if I learn to let the painting go where it wants, I will have a lot more paintings to cover my walls with!
Thanks to Mark and AA for all the tips and making painting so accessible to everyone!
Rekha xx