Artistic License?
by Deborah Carroll
(Amelia Island, FL USA)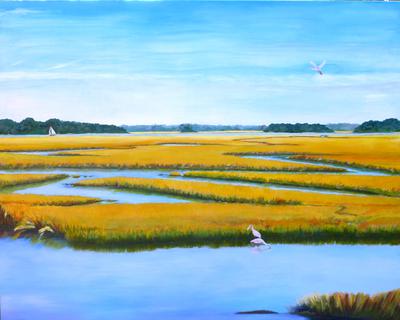 A View of Gold
I was asked by a friend to paint a view of his marsh. He had just moved into his million dollar home and wanted the painting to be 4' x 5' (no pressure there - and I had never seen his marsh the way he wanted it as describe below).

He provided me a photo to work from. He wanted a golden marsh at high tide, a sailboat in the distance and a few spoonbills. They are usually quite pink but he hates the color pink. I was so lucky to come across this website and look at the many tips. I had started using Atelier Interactive paints about 2 years ago but had never used any medium. Most of my paintings were small.

I quickly found out when I started this very large painting that I couldn't get a large brush stroke all the way across the canvas before it started to tack up. I had the clear painting medium, the unlocking formula and the fine mist sprayer. It definitely was a learning curve.

I'm attaching the photo and the finished painting. The painting is not as bright as the photo shows.