---

Passionate about painting with acrylics? Need a monthly fix chock full of inspiration? Need some help to take the pain out of your painting process? It's all here for you. Acrylics Anonymous. Zero elitism. Dive in.


---

If you enjoy Acrylics Anonymous, and you know someone who might also enjoy it, you can share by forwarding it to your friends!

If you are receiving this because a friend has forwarded this to you, and you would like to subscribe, click here!


---



Every month, we will produce a Subscribers Only "sealed section" - just keep scrolling to see it. It could be a painting technique, a short video tip, or anything we can think of that we reckon you might enjoy.

Please let us know what you think, we love your feedback! To leave comments, contact us here.


---

Especially for our AA Subs!
Sneak peek of Part 1 of Tropical Hideaway - our background tutorial for the upcoming Esk workshop

(Still a few places left if you'd like to book in!)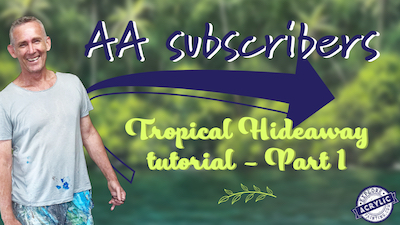 Click here for Part 1 of the Tropical Hideaway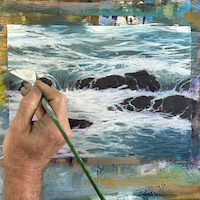 Think you have imposter syndrome?

You're not alone.  I look at my paintings sometimes and think "ohhhhh…..is that it?"

My suggestion is, remind yourself that it's not the finished painting that's important, it's the discoveries you make along the way. 






Upcoming Workshops.

We have workshops coming up in Esk next weekend (still 4 spots left), and Fiji in November (filling up). Make sure you're signed up to our workshops mailing list for all the latest info!



---

Paint a Whale!

Learn to paint this dynamic whale with our new web page explaining just how to do that! Based on a workshop we took last year, learn how to create this gorgeous, dynamic humpback whale and follow along with the video too!

Click here for the webpage and video tutorial :)


---

Mindfulness journals by Mark :)

We are now selling some mindfulness journals via Amazon. Want a lovely gift for someone to instil peace and goodwill in their life? Check them out here:

Breathe Out daily journal

Freedom Gratitude Journal


---

Leave us a review :)

If you have purchased something from us, please take a couple of minutes to leave us a review on Google - it really helps our potential customers learn if our products are right for them!

Click here to leave us a review



---

New on Youtube

Since our last AA we have released several more short "Thoughts from the Easel" videos on Youtube. Here's the links in case you haven't seen them yet!

Click here for the short "Just Enough Time"

Click here for the short "A Tiny Tear"

Click here for the short "Simply"

click here for the short "That's Why I Paint:

Click here for the short "Music"

Click here for the short "Impermanence"

Click here for the short "Peak Hour"

Click here for the short "Nowhere to Go"


---
**Meet The Wallers**

Now streaming for only AUD$7.00!
And with your exclusive discount, you will only pay $5.25 to see this epic film of Mark's life.
Filmed over 20 years, this is a film like no other.
You don't want to miss this!


---

Every month, we choose an Artist from our forum to showcase.

You can even nominate someone if you like. (Or yourself!). To do this, check out the forum and then send us an email! It's that easy.

This month we're featuring artist Eileen, from Sandgate, Kent, England, with their painting "My First Attempts At Seascapes". Thanks so much for sharing this with us Eileen, well done on your first attempts. So good!

Click here for more info on Eileen's painting "My First Attempts at Seascapes"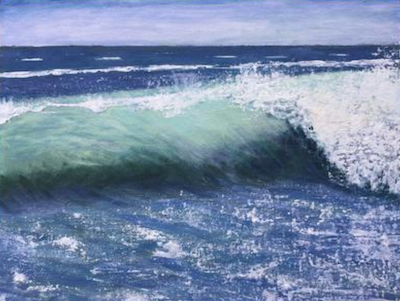 British artist Justin Bateman aka pebble picasso creates incredible portraits from pebbles! 

Check out his work on Instagram here.


---

Artist Ethan Stebbins is based in Maine, US and is an incredible wood and stone worker.

Check out Ethan's incredible fusions via his Instagram here.


---


If you have a link you like, please share it with us! You can contact us to let us know. Thank you!



This is the section where you can "get your name in lights!" (well at least out there in the internet world!).

If you have works in progress you would love to show off, or finished pieces you are particularly proud of, we would love to see them!

We especially like to hear about the story behind the creation.

This month's submission comes again, from our very own Mark Waller :)

From Mark:



"This painting was a commission piece for a school mate who has recently lost his wife to cancer. This was a special place in the world for them both, but also for me, so it wasn't hard to lose myself in this image. It's of a headland not far from me, and to get there you have to walk through the bush, you have to take in your own water and food if you plan on staying for any length of time. That makes it even more special.

On this day I've chosen to paint, the waves were great. I had taken 2 surfboards down and had a surf at both breaks, on both surfboards. It was a mission getting both those boards in and out of there :D But that somehow made the day even more memorable. That little bit of extra work, made the reward even sweeter.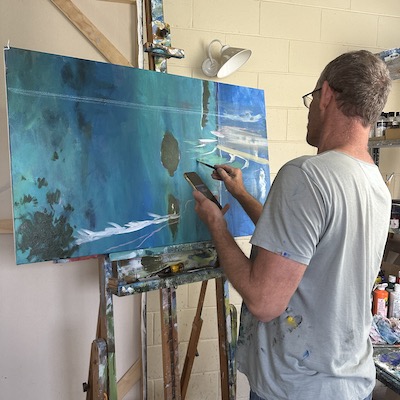 Not only did I enjoy painting it, I'm honoured to be woven up in a memory that means so much to someone, especially an old school friend.

I'd used this canvas previously to rough out a painting I was planning on doing of an aerial shot of the Solomon Islands.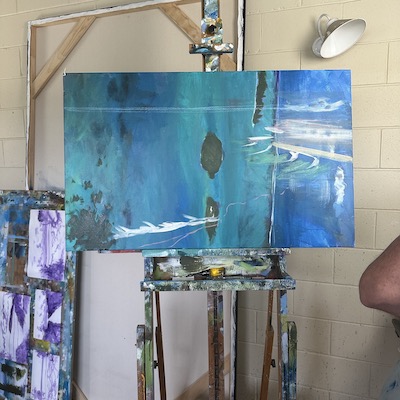 I roughed in the wave areas and the beach using white because it was a blueish background. I used the waves as my "foundation" in this case.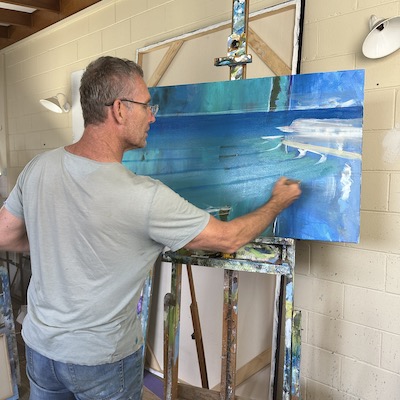 Next I blocked in the foreground foliage using a mix of Forest Green and Dioxazine Purple. The headland was blocked in next, using combinations of colours to represent the rocks and the different patches of foliage on the hill. All very rough, all very basic.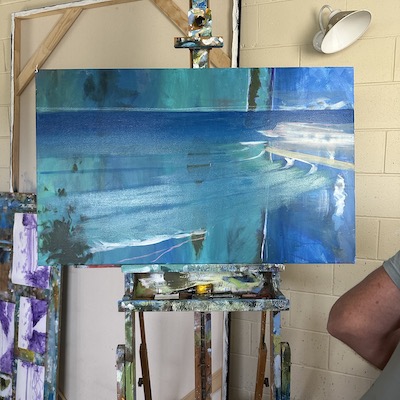 Next I blocked in the sky and clouds on the horizon, and after wrestling with the horizon for a little while was happy with that. I blocked in the darker water colour on the horizon, and gradated into the shallows.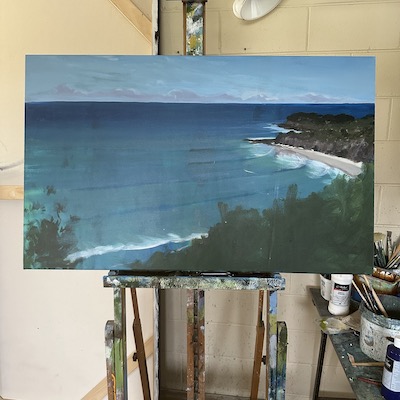 Now it was time to add a bit of depth in the shallows. And a great way to represent that is to paint the sand being stirred up in the water. A mix of Cadmium Yellow Medium, tiny bit of Dioxazine Purple and White is great for this effect.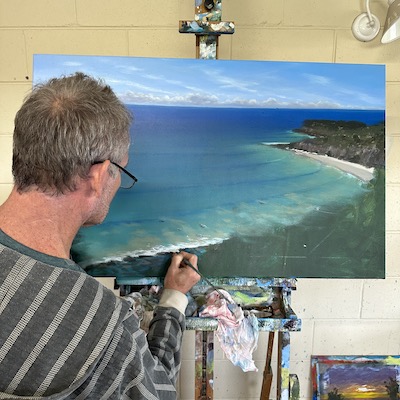 I came back with white and started adding detail on the shoreline where the shallows meet the rocks.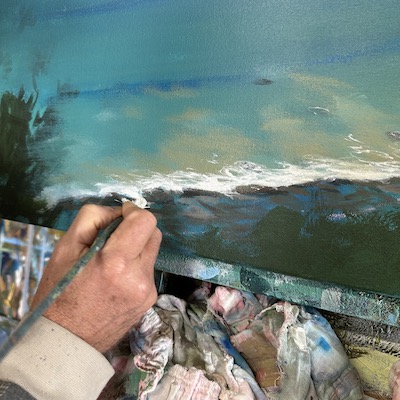 It was at this point in time I discovered "something" on the horizon. It was right on the horizon line, and turned out to be a fault in the weave of the canvas. I considered ignoring it, but that didn't work. After a week of not sleeping, (joke!) I was able to scratch it out with a blade and patch it up with Heavy Gel Gloss, and then repaint it. Voila!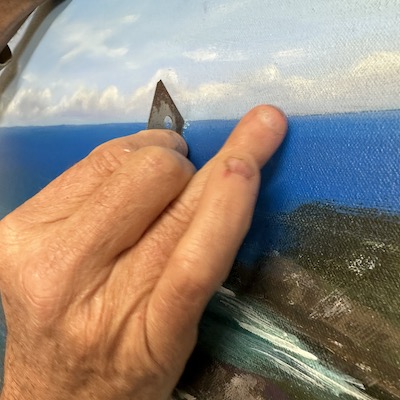 I spent some time on the reflections on the surface of the water, paying particular attention to the backs of the waves, and making that transition convincing between the waves in the set.

I then came back to the headland areas and started adding detail to the cliff faces, and rocky foreshore outcrops. I brushed in the sand areas here too, to create the illusion of sand between the rocks and what have you.

Some highlights in the foliage to finish, and the painting was ready to deliver. Happy days.


Thanks so much for sharing your beautiful painting and story behind it with us Mark!

You can find all of Mark's good stuff through the bio link below:

Mark's links all in one place!


---


We hope you enjoyed this issue of Acrylics Anonymous!

If you have any suggestions, comments or feedback for the ezine or our site, please don't hesitate to contact us.

Until next time, make sure you stay safe and well, and don't forget to chuck some paint around!

Cheers from Frankie & Mark :)


---
For our Youtube channel, click here.
To join our Youtube channel as a member for a few bucks every month (in exchange for even MORE awesome perks, click here.
For our Instagram, click here.
For our Threads, Click here.
For our Website, click here.
For our Facebook page, click here.
For our Pinterest, click here.
For our Tik Tok, click here.
---
---