---

Passionate about painting with acrylics? Need a monthly fix chock full of inspiration? Need some help to take the pain out of your painting process? It's all here for you. Acrylics Anonymous. Zero elitism. Dive in.


---

If you enjoy Acrylics Anonymous, and you know someone who might also enjoy it, you can share by forwarding it to your friends!

If you are receiving this because a friend has forwarded this to you, and you would like to subscribe, click here!


---



Every month, we will produce a Subscribers Only "sealed section". It could be a painting technique, a short video tip, or anything we can think of that we reckon you might enjoy.

Please let us know what you think, we love your feedback! To leave comments, contact us here.


---

Want to paint a crashing Shorebreak like this one?

Mark's new downloadable and streamable tutorial
"Shorebreak" is now here.

With a 30% discount just for you!

Use the code: SHOREY at checkout.


For more info on this tutorial, click here :)






Observe and Practise.

If you want to get better at painting waves (or anything really), the key is observation and practise. Spend time every day practising drawing the shapes that waves make (copy reference material from the internet - where appropriate) until you feel more confident in your subject matter. Confidence shows up in your finished pieces.








New Youtube Clip

Follow along on this journey from our YT stories on the birth of this glorious shallow wave!

Click here for the video.


---

Bloopers

We've had some serious times lately with this Covid situation - time to have a laugh on us. Here's some bloopers and outtakes from our filming days over the last few years :D

Click here for some laffs on us!


---

Youtube Memberships

As our Youtube channel grows, we would love you to grow with us! We're looking at offering memberships via our Youtube channel, which entails a small subscription fee per month in exchange for extra perks like exclusive posts, videos and badges for members only, Livestreamed Q & A's and more. We'd like to know what perks you'd like to see if you were a member. Let us know through the form below!

Contact us here.


---

Every month, we choose an Artist from our forum to showcase.

You can even nominate someone if you like. (Or yourself!). To do this, check out the forum and then send us an email! It's that easy.

This month we're featuring artist Steve from beautiful Tasmania, with his piece, aptly names for us in the Southern Hemisphere, "Winter Is Coming". Thank you for sharing Steve - you have conveyed that crispy Wintry feeling perfectly!



Click here for more information on Steve's "Winter Is Coming" painting.


Check out our mate Ben Aboody's Youtube clip on the gorgeous Kagata Village - for those who don't know this is a village in the Solomon's very close to Mark's heart. This is a nice little tropical escape while we are still unable to move around the planet like we used to! Enjoy this glorious travel eye candy in the meantime.

See Ben's clip right here.


---

Potholes are unifying, according to mosaic artist Jim Bachor. Well! Have a look at these and let us know what you reckon!

Check out artist Jim Bachor's mosaic potholes here.


---


If you have a link you like, please share it with us! You can contact us to let us know. Thank you!



This is the section where you can "get your name in lights!" (well at least out there in the internet world!).

If you have works in progress you would love to show off, or finished pieces you are particularly proud of, we would love to see them!

We especially like to hear about the story behind the creation.

This month's submission comes from Illawarra, NSW based artist, Lorena Chivu.

From Lorena:

"I use various artist acrylic paints like Atelier, Holcroft and some Golden paints. I usually paint on thick canvases (pre-gessoed) - but for this particular occasion, I have used a canvas that already had something started but I did not like it anymore so I could say I recycled an old painting/canvas.



I have done a lost of resin works of ocean view over the beach in the last few years and I had few attempts of integrating some realistic acrylic paintings in them - like rocks, umbrella, people. Since I ran out of resin, and I did not have anything else to use, I decided to explore painting the realistic side of a birds-eye view over the ocean but with it a tad of abstraction. Hence the current painting which I decided to call 'Crossing the line' - since this work was created while the lock down and social distancing restrictions were in place.

I guess I missed going and seeing the beach so I started expressing this by painting something that did not have the current real life restrictions.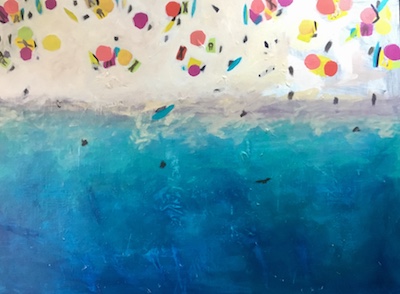 I had plenty of struggles with this picture! As usual I had a vision in my head and I pictured something specific, but it almost never turns out that way. However, this time around, I think it turned out even better than what I imagined. I guess my biggest challenge was that while there are a lot of details in this painting, I still wanted it to feel like it is an abstract and loose painting, and so it was a bit of a struggle to make the ocean part look a bit loose and abstract.




I am really happy with the finished piece - in fact I am a bit disappointed that I didn't do this "exercise" on a thick canvas, but I do like how it turned out - it would have looked even better if it was on a thick canvas.



Overall, although this painting  was 100% created by me, I used religiously Mark's colour recipes and I think this is why I think it turned out so well and with realistic colours. So grateful for him sharing his knowledge!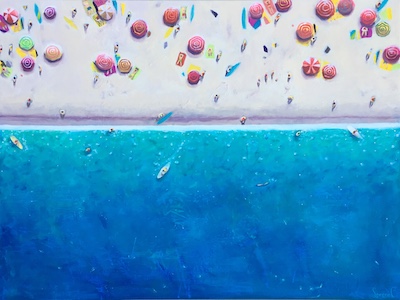 You can see the details of this painting by visiting my Instagram page

here. Thanks so much for sharing your journey Lorena! Gorgeous, uplifting work :)


---


Hope you enjoyed this issue of Acrylics Anonymous!

If you have any suggestions, comments or feedback for the ezine or our site, please don't hesitate to contact us.
Until next time, make sure you stay safe and well, and chuck some paint around!

Cheers from Frankie & Mark :)


---
For our Youtube channel, click here.
For our Instagram, click here.
For our Website, click here.
For our Facebook page, click here.
For our Pinterest, click here.
---