---

Passionate about painting with acrylics? Need a monthly fix chock full of inspiration? Need some help to take the pain out of your painting process? It's all here for you. Acrylics Anonymous. Zero elitism. Dive in.


---

If you enjoy Acrylics Anonymous, and you know someone who might also enjoy it, you can share by forwarding it to your friends!

If you are receiving this because a friend has forwarded this to you, and you would like to subscribe, click here!


---



Every month, we will produce a Subscribers Only "sealed section". It could be a painting technique, a short video tip, or anything we can think of that we reckon you might enjoy.

Please let us know what you think, we love your feedback! To leave comments, contact us here.


Another Paint Recipe Especially For You!

Learn how to paint distant hills with this great recipe, the latest in our series which will be released with the upcoming recipe book :)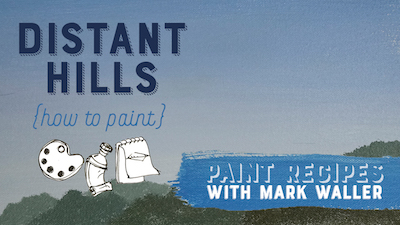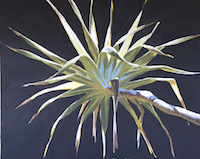 Add Depth.

Another way to add distance to your paintings, and make less mistakes, is to use your brush when its loaded with paint in the foreground.

As the paint diminishes on the brush, make your marks in the distance. They will be softer and add to this illusion.









Painting Pandanus!

Don't let these screw palms screw with your head! Learn how to paint them with our new tutorial page. Register your interest in our pandanus video tutorial while you're at it!

Click here to read more.


---

Workshops!

Mark has been doing a few more workshops of late. And they have been booking out fast!

Make sure you're signed up to our workshops mailing list (below) so you're first in line to receive the info!


---

Every month, we choose an Artist from our forum to showcase.

You can even nominate someone if you like. (Or yourself!). To do this, check out the forum and then send us an email! It's that easy.

This month we're focussed on artist Edward Paul, from Lexington, KY, with his calming piece, "Comes The Sun". Great job Edward :)



Read more about Edward's "Comes The Sun"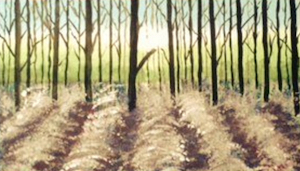 The history of colour. It's not like we ever stop to think about where our favourite pigments have come from. In this fascinating episode of ABC's "Conversations", David Coles talks about the unexpected history of artists' paints. Allow 45 minutes for this one, it's riveting!

Click here for this fascinating insight.


---

Are you into line drawing? You may've come across DFT's work - this duo working between Paris and Berlin create wonderfully simple yet exceptionally planned unbroken line works. Well worth a look.

Click here to explore DFT's creativity.


---


If you have a link you like, please share it with us! You can contact us to let us know. Thank you!


This is the section where you can "get your name in lights!" (well at least out there in the internet world!).

If you have works in progress you would love to show off, or finished pieces you are particularly proud of, we would love to see them!

We especially like to hear about the story behind the creation.

Jan McGiffen is a wonderfully creative soul who is a regular at the Lennox Arts Collective Gallery.

From Jan:

"100 Feathers"

My journey as an 'artist' is a fairly recent one. It began two years ago when I started taking art classed at the local arts collective and I was immediately hooked.

For me art is all about the process, the joy in the 'doing' and the meaning behind whatever I am working on. It has been an interesting journey to find the style of art that I like and the medium that suits me best. I'm not really sure that I know yet.

The pieces that I like the most usually come intuitively rather than a landscape that's in front of me or from a picture in a book.

I love photography so tend to take photos that hold meaning for me and then use these as the catalyst for my art. I am also an avid beachcomber and fossicker so have many collections of ' found objects' that I use for inspiration. As I live close to the beach a large part of my collection consists of shells, beach stones, weather worn glass, driftwood, feathers and some beautiful rare fossils.

Most of my paintings and drawings have a feather in them somewhere. I like to think of feathers as little messages, perhaps because when I was a child my father would tell me that they had fallen from an angels wings! Even now I find it hard to walk past a feather without picking it up.

The piece that I am currently working on at the moment is one of a few paintings, drawings and photos that I am exhibiting in September at my local art gallery. The exhibition is called 'Her Beauty and her Terror' and this particular piece is titled  '100 Feathers'. All of the feathers in this work have been found by me or gifted to me by friends who know about my feather fetish!

I have used a canvas measuring approximately 50 x 70 cm and painted a ground using Atelier Free Flow 'cobalt blue hue'. I wanted the blue to represent the sky on a clear Winter's day and for the feathers to appear as if they were falling from the sky. The feathers are drawn using a white uni Posca pen .7 mm. I feel that using the pen gives more more control than a brush would for this finer work and enables me to add more detail to the feathers. I also set aside the pens that are running low on ink and these are used for the finer more translucent feathers.

I am only halfway to my 100 feathers and with space at a premium I will draw some feathers flowing over on to the sides of the canvas.

This piece is moving slowly and I find the whole process very meditative. There really is no plan to it other than to draw a feather as it appears to me; washed up and bedraggled on the sand or smooth and delicate lying gently on the grass. Each one perfect in its own way.

So I will continue with my feathers until there are 100. Then I look forward to big paint, big canvas, no brushes, only my hands... But that's another story.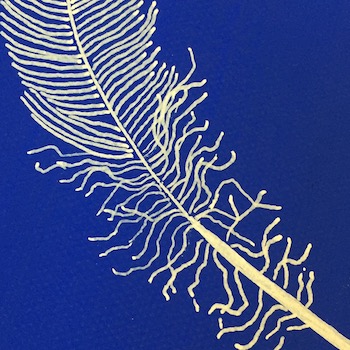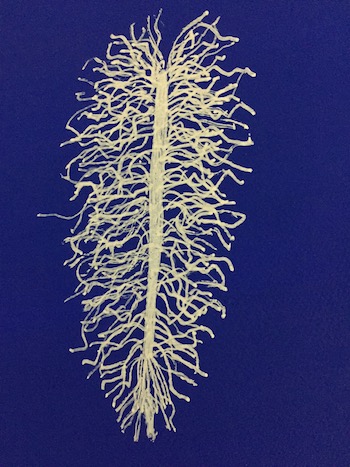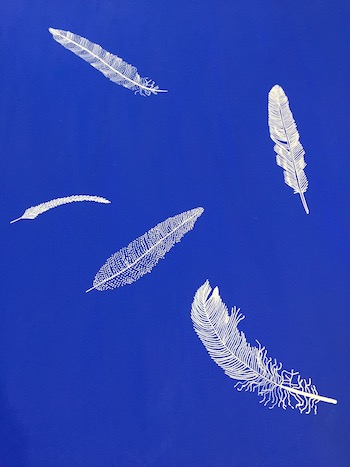 Thanks so much Jan for sharing your beautiful artistic journey and painting with us.

You can find out more about Jan through her instagram @d_r_i_f_t_w_o_o_d


---


Hope you enjoyed this issue of Acrylics Anonymous!



If you have any suggestions, comments or feedback for the ezine or our site, please don't hesitate to contact us.

Until next time, make sure you chuck some paint around!

Cheers from Frankie & Mark :)


---