---

Passionate about painting with acrylics? Need a monthly fix chock full of inspiration? Need some help to take the pain out of your painting process? It's all here for you. Acrylics Anonymous. Zero elitism. Dive in.


---

If you enjoy Acrylics Anonymous, and you know someone who might also enjoy it, you can share by forwarding it to your friends!

If you are receiving this because a friend has forwarded this to you, and you would like to subscribe, click here!


---



Every month, we will produce a Subscribers Only "sealed section" - just keep scrolling to see it. It could be a painting technique, a short video tip, or anything we can think of that we reckon you might enjoy.

Please let us know what you think, we love your feedback! To leave comments, contact us here.


---

Ever wanted one of Mark's paintings?


One to admire on your wall,
or one to study and dissect to work out how he does it?

Well, there's never been a better time than NOW!

You may not know this, but for every large painting Mark does,
he takes some elements and does smaller studies,
to avoid any surprises on the large canvas.
You can *almost* hear his mind working when you look at them.

These smaller paintings are generally done on A4 and A3 size
archival watercolour paper.

It's time for these studies to find their forever homes!

We love our community and the support we get from you, and therefore this offer is exclusively available for you, as well as our Youtube members and workshops mailing lists, while stocks last.

Follow the link to our mailout campaign, click on any painting you like and this will generate an email to our team. If you're successful in your purchase (first in, best dressed), we will email you a Paypal request for payment and post out your painting in the 2nd week of December!


Click here for the link to our exclusive Members offer.



Just Paint!

It's holiday time. Almost time to relax, and let that devil-may-care attitude take over.

How about we take that same attitude into our paintings, and make it a mission to just paint - for no other reason than the sheer joy of it. I suspect magic will happen. Maybe even a Christmas miracle? Dare we say? 😄






Loosen Up!

We are now taking bookings for our first workshop planned for 2023 in Esk - there are only a couple of places left, so be quick if you'd like to book in!

Click here for all the info.


---

Solomon Island Inspired Paintings

Mark is currently on holiday in the Solomon Islands, and will come back absolutely raving about the depth of colour and saturation in the tropics.

When he gets home he'll be painting Solomon Islands inspired works for many months, and these generally start out as smaller studies on watercolour paper.

If you're interested in nabbing one of these studies, make sure you sign up below :)

Register your interest through our webpage here.


---

New on Youtube

Since last month we have released a full tutorial and a couple more "Thoughts From The Easel" shorts up on Youtube. Here's a few more you may not have seen yet.

Click here for the short "Perhaps"

Click here for our full tutorial on painting fabric folds.

And click here for our newest Short, "Dead Man Walking".


---
**Meet The Wallers**

Holiday Special - Now streaming for only AUD$7.00!
And with your exclusive discount, you will only pay $5.25 to see this epic film of Mark's life.
Filmed over 20 years, this is a film like no other.
You don't want to miss this!



---

Every month, we choose an Artist from our forum to showcase.

You can even nominate someone if you like. (Or yourself!). To do this, check out the forum and then send us an email! It's that easy.

This month we're featuring artist Gary, from Wallabadah, NSW, Australia, with their painting "Remembering Brian". Thanks so much for sharing this with us Gary, loving this loose style.

Click here for more on Gary's piece, "Remembering Brian".


Piling logs can be art! We love a good alternate art form here at Explore HQ, and what better way to express yourself than with our best friends, trees! The best thing in life is tree :)

Have a look at these inspirational structures!


---

Check out these incredible images from fine art photographer and film director Rob Woodcox. As he creates each artwork, Rob strives to capture fragments of a vivid life sewn by the threads of reality, memory and dream.

Have a squiz at Rob's work here.


---


If you have a link you like, please share it with us! You can contact us to let us know. Thank you!



This is the section where you can "get your name in lights!" (well at least out there in the internet world!).

If you have works in progress you would love to show off, or finished pieces you are particularly proud of, we would love to see them!

We especially like to hear about the story behind the creation.

This month's submission comes from talented Tasmanian landscape artist, Jules Sharman.

From Jules:

"Hi there everyone, Mark and Frankie, I hope you are all well. I'm here in Down Under land, sharing the work in progress of this Flinders Island scene, painted in one of my online workshops.  It's oil on prepped MDF board. I used a basic colour palette consisting of four colours plus white: Cadmium Yellow medium, Cadmium Red, Burnt Sienna, Ultramarine Blue and Titanium White.

I came across a reference image of this area, which is an amazing photo, however, the shape and placement of several elements weren't suitable to replicate, pulling off a balanced painting. So basically, I changed the focal point element/position, reshaped and re-positioned elements, added a tiny area of sand undulation beneath the foliage, reduced the pathway - changing direction, and turned short sparse grass to longer thicker foliage covering the sand differently.

The reference image was also square, and I chose landscape orientation for painting purposes, so scaling was altered and the scene extended to suit my happiness :)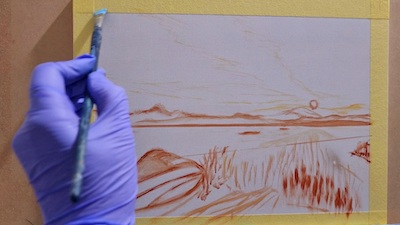 The first step was roughly outlining subject matter, with consideration of the focal point being the mountain tip/sun, I wanted all the elements leading to that direction. Hence light cloud configuration toward the light source, also providing atmospheric depth, the sand path and foliage swaying to that direction, the boat angulated, shadows and a few filtered light bursts in the sand - guiding one to glance up to the ocean reflections, then to the mountain and sun itself.

My block-in process, although consists of applying basic lines and shapes of mid tone values, does somewhat appear more developed than a flat coloured, section by section block-in.



The sky was blocked-in first with blue tones leaving spaces for the yellow and white clouds areas which then followed. The headlands were next using Ultramarine Blue, Burnt Sienna and Cadmium Red. Cadmium Yellow was added where the sunlight directly strikes the land. More Burnt Sienna and Ultramarine Blue were added to the front headlands, bringing them closer.

The sky tone, along with more Burnt Sienna and Ultramarine Blue was used to represent the ocean, while the swell tones were darkened further and Cadmium Red added more. A triangular zone of pale yellow was placed in the ocean early on as reflections. The sand and foliage were added in dark and light tones creating depth, then lastly the boat, again in basic shapes, to be remodelled toward the end.

The foliage was a combination of the entire colour palette titrated producing multiple saturated and desaturated tonal values.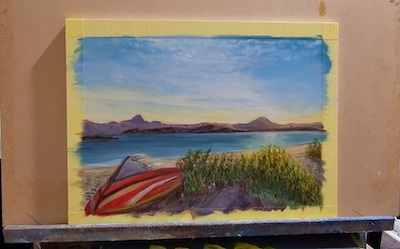 Here I began working back and forth developing elements. Identifying the clouds, foliage, sand dimples and debris a little more – gently highlighting and accentuating shadows further. At this point I noticed the panel was accumulating paint and needed a little drying time before continuing those areas. 



I went on a mission modelling the boat from shapes to a more accurately designed object of recognition. Brightening the sky with bursts of yellow and mixed orange tones, while defining altocumulus clouds trailing towards the sun.

The distant headland peaks in direct sunlight were highlighted with Burnt Sienna, Cadmium Yellow and Cadmium Red tones in varying degrees from the light source, outwards, reducing in warmth slightly.

Sand areas were hit with more shadows representing dimples, debris and grass tendrils, plus the minuscule light bursts were enlarged and made more prominent. Foliage depth was worked on, in various tertiary tones and areas were lifted with subtle touches of increased chroma, or intensity illustrating sun-kissed areas.

I painted in two boats in the distant water, but knew they were disproportionate to the scene. For workshop purposes I corrected them explaining the application of vanishing points, ensuring the right proportions were in place. They were relocated more distant, resized smaller with the one closer to the light source lightened and the other darker. We then decided to remove them as they appeared to distract. I'm a firm believer paintings can become cluttered and that simplicity can offer a better serene overall feel.



Here I focused on the ocean reflections and swell, and I widened the boat on the sand more before increasing its vibrancy. The three filtered light areas in the sand next to the boat were accentuated even more, while randomly darkening foliage shadows, distinguishing them from refracting light tones / mid shadows.

Thanks a million for your time. I wish you a wonderful prosperous festive season filled with love, laughter and health…stay safe.

Jules Sharman xox

Thanks so much for sharing your gorgeous painting and process with us Jules! For upcoming workshops with Jules, click here.

For her Instagram, click here,

For her Facebook page, click here,

And for Jules' Youtube channel, click here!


---


We hope you enjoyed this issue of Acrylics Anonymous!

If you have any suggestions, comments or feedback for the ezine or our site, please don't hesitate to contact us.

Wishing you and your families all the very best for this holiday season!

We are taking a break and will be back with a 2023 Acrylics Anonymous in February :)

Until next time, make sure you stay safe and well, and don't forget to chuck some paint around!

Cheers from Frankie & Mark :)


---
For our Youtube channel, click here.
To join our Youtube channel as a member for a few bucks every month (in exchange for even MORE awesome perks, click here.
For our Instagram, click here.
For our Website, click here.
For our Facebook page, click here.
For our Pinterest, click here.
For our Tik Tok, click here.
---

---