---

Passionate about painting with acrylics? Need a monthly fix chock full of inspiration? Need some help to take the pain out of your painting process? It's all here for you. Acrylics Anonymous. Zero elitism. Dive in.


---

If you enjoy Acrylics Anonymous, and you know someone who might also enjoy it, you can share by forwarding it to your friends!

If you are receiving this because a friend has forwarded this to you, and you would like to subscribe, click here!


---



Every month, we will produce a Subscribers Only "sealed section" - just keep scrolling to see it. It could be a painting technique, a short video tip, or anything we can think of that we reckon you might enjoy.

Please let us know what you think, we love your feedback! To leave comments, contact us here.


---

20% off our new print "Freedom"

In this month's Sealed Section, just for you is a code for 20% off our latest print "Freedom"!
Exclusively for you! *valid until 1st December 2020*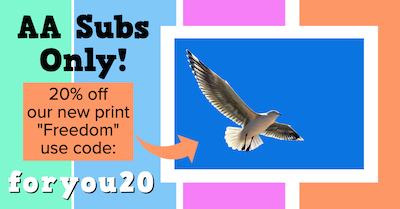 Click here for more info and to purchase!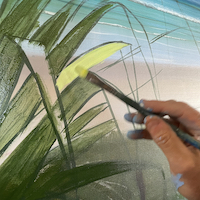 Colour Mixing. From my point of view, I keep my "go-to" colours simple, so I have somewhere "solid" to start, and I've got a place to relate back to when matching colours. So it can be altered to be warmer or cooler etc.

Having a solid place to start makes it easier for you to make the decision about what colours you need to add or diminish to get the right one.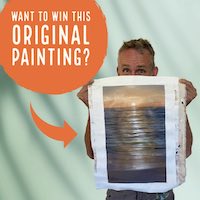 Did You Know About This Comp?

All you have to do is comment in our YOUTUBE video comment section for our clip "Sunrise wave painting demo - timelapse" (link below) what you think the colour combination Mark is using at 2:33 - all correct guesses will go into the draw to WIN this original Mark Waller painting - acrylic on unstretched canvas 275mm x 450mm, valued at AUD$285.

Drawn 1st December 2021. Competition open worldwide.

Painting will be posted to winner rolled in a tube, prize includes worldwide postage. (NB any VAT or customs duty is assumed by the winner). Winner will be notified via their winning comment on the Youtube clip.

Not affiliated with Youtube, Facebook, Instagram or any social media platform.

Guess as many times as you like - one guess per comment though! Get on it!!

Click here to find the post and enter to win!


---

More on Youtube

We have teamed up with heavy Youtube hitters Mark Rober and Mr Beast (and many other creators) in raising money to help clean up our oceans, lakes and rivers. The goal is to raise $30,000,000 which will remove 30,000,000 pounds of rubbish from the ocean! Every dollar donated will remove 1 lb of rubbish (or about half a kilo)! To donate to this worthy cause #teamseas,

Click here!


---

And Yet More on Youtube.

If you've ever struggled with painting realism and achieving depth in your paintings you need to see our new vid, up now!

Click here for this informative clip.


---

Delay in Book Publishing.

Unfortunately setbacks in our production schedule has caused the release of Mark's book "It's All About The Light" to be delayed until early next year.

To join our mailing list for the book click the link below :) Thanks so much for your support!

Click for more info and to join our mailing list.


---

Every month, we choose an Artist from our forum to showcase.

You can even nominate someone if you like. (Or yourself!). To do this, check out the forum and then send us an email! It's that easy.

This month we're featuring artist Carolyn Tardy, from Walnut Mississipi, USA, with her painting,"Wildflowers - Tickseed and Monkshood". Thanks so much for sharing this with us Toni!



Click here for more info on Carolyn's "Wildflowers - Tickseed and Monkshood"

Andrea Lozoya from Porch.com has written this fantastic article we thought you would love about how to design the best gallery for your home.

Well worth a read, check it out:

How to design the best home gallery.


---

Dan Bullock is a young UK artist with a passion for portraiture and a huge following on Tik Tok. Check out his time-lapse piece "Gabrielle Aplin" here.

And his website for exquisite portraiture here!


---


If you have a link you like, please share it with us! You can contact us to let us know. Thank you!


This is the section where you can "get your name in lights!" (well at least out there in the internet world!).

If you have works in progress you would love to show off, or finished pieces you are particularly proud of, we would love to see them!

We especially like to hear about the story behind the creation.

This month's submission comes from our own Mark Waller, with his current seagull obsession to share :D

From Mark:



"The beach is just across the road from my studio. Sometimes I'll have a coffee and plop myself down under a pandanus tree. I usually share that moment with the local water dragons, and of course, the ever-present seagulls!

When you look past their noise, there's a life, a brightness, an alive-ness to their eyes. They're alert, switched on, and going about lives that we couldn't even imagine. I can't help wondering sometimes if that "aliveness" is partly because they know they can fly.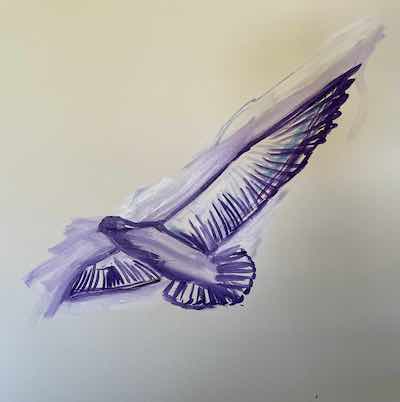 One of my favourite things to do, is hold a piece of bread in the air and feed them while they're on the wing. It really is wonderful watching the feathers move, making tiny little adjustments to hold themselves in position. And the whole time, those bright eyes looking around for danger, potential competitors, and the odd stupid human who likes to occasionally catch them.

I can watch them for hours.

When I paint them, I always love the sense of that vast sky behind, and yet the subtleties of the light reflected up onto their chests and wings, and the almost transparent nature of their feathers as the sun hits them from behind.



All relived each time I make a mark.



With this particular painting, the hardest part about it was balancing the composition. I've lightened the top left corner to suggest that the sun is up in that direction, and placed the bird so his wings point into the corners.

The clouds have some volume, and I had to dance with that for a little while so that they counter-balanced the bird "just enough", and I threw a few wispy tendrils in there moving back towards the bird to help "soften" the overall composition.

I enjoy the challenge of getting the bird in the right spot, with the right proportions, angles and size. But the thing I like the most about painting these guys is creating the transparency in the feathers, and the way the highlights define the edges of the bird.

And then of course, after all that, there's the glory of bouncing some of that sand colour back up onto his? her? chest.



For big gradations like this sky, you have to make the paint as mobile as possible, for as long as you need (at least until you're happy with it).

I must have tipped 2 litres of water onto the back of the canvas to keep it wet enough to keep the paint mobile.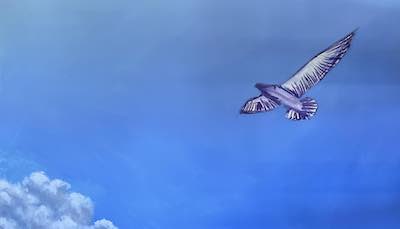 I used Atelier Free Flow for the first coat just to get the coverage, and Atelier Interactive for the second coat, just in case I needed extra time for the gradation.


While the Interactive was still wet, I blocked in the clouds so I could soften their edges into the sky, knowing that it's easier to do it when the paint is wet. If I needed to firm up any edges, I could always do that when the paint was dry.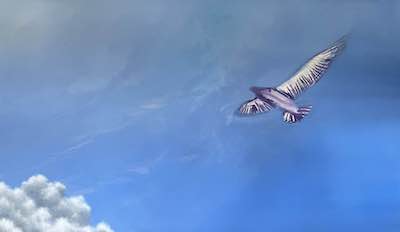 While it's a simple image, there are some aspects of it that are challenging to get right. Such as the composition and those big gradations, and I spent a lot of time looking at the reference pictures so I could understand the structure of the wings, and mix the appropriate colours.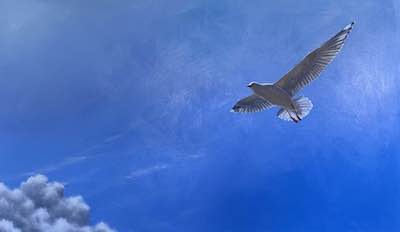 There is a lot of delicate shifts in blue greys and even Cadmium Yellow Medium and Dioxazine Purple in the wings, and a few places where I had to make the wings appear transparent.



Voila! A seagull :)


Thanks so much Mark for sharing your process into creating this beautiful, spacious piece :) To follow Mark on his socials,

click here for Instagram!

click here for Facebook,

and click here for his website!


---


We hope you enjoyed this issue of Acrylics Anonymous!

If you have any suggestions, comments or feedback for the ezine or our site, please don't hesitate to contact us.

Until next time, make sure you stay safe and well, and chuck some paint around!

Cheers from Frankie & Mark :)


---
For our Youtube channel, click here.
To join our Youtube channel as a member for a few bucks every month (in exchange for even MORE awesome perks, click here.
For our Instagram, click here.
For our Website, click here.
For our Facebook page, click here.
For our Pinterest, click here.
For our Tik Tok, click here.
---