---

Passionate about painting with acrylics? Need a monthly fix chock full of inspiration? Need some help to take the pain out of your painting process? It's all here for you. Acrylics Anonymous. Zero elitism. Dive in.


---

If you enjoy Acrylics Anonymous, and you know someone who might also enjoy it, you can share by forwarding it to your friends!

If you are receiving this because a friend has forwarded this to you, and you would like to subscribe, click here!


---



Every month, we will produce a Subscribers Only "sealed section". It could be a painting technique, a short video tip, or anything we can think of that we reckon you might enjoy.

Please let us know what you think, we love your feedback! To leave comments, contact us here.


---


One of the things we've tried to do with our business from the start, whether you've been aware of it or not, is to throw some light around. I firmly believe that our path through life should be one of playing and giving light. This is basically my mantra, my motto. We hope you enjoy our 100th edition of Acrylics Anonymous! And long may it continue!!!




***FREE DOWNLOADABLE TUTORIAL***
AA subscribers only!

Use code: WEARE100 at checkout

For AUD$25 off the cart price of any downloadable tutorial (V-LOG) in our shop. Our most expensive download is AUD$25!


Click here to choose $25 off your downloadable tutorial!





Fear Or Love.

After many years of painting, and my recent health experiences, I've realised there are basically two fundamental motivators for us. Fear, or love.

When we're motivated by fear, we can lose sight of the miraculousness of life, and the joy of creating. But when we tap into that love, nothing can stop us.

Fear is draining, but love is uplifting, and fills you up with good feelings.

Love will motivate you way beyond fear, and will probably have you live longer too!








Interview with Dick Millott!

Long time readers of AA will remember Dick Millott's column "The Struggling Artist". Well Dickie is back with a little 'omage to our little ezine AA - hope you enjoy!

Click here for Dick's article.



---

More Interviews For You!

We have a special interview with incredible Aussie artist Ben Tankard this month, hope you enjoy this one too!

Click here for Ben's interview.


---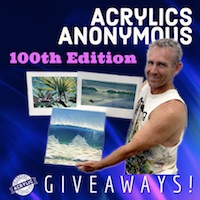 Win Win Win!!

Don't forget to go and follow, like us and pop a comment on this post on our social pages for your chance to win this original Mark Waller painting and two Limited Edition prints!

Drawn 23rd February 2021, all you need to do is follow @markwallerpaints on Insta and @markwallerartist on Facebook, and @explore.acrylic.painting on Insta and Facebook, find one of the posts (it looks like the pic above) and comment on it to be in the draw!

Click here for the Explore Facebook page :)


---

Latest YT Clip

You may have seen this footage on our Youtube Stories, OR you may be an ultra-supporter (a Youtube channel member) and have seen this already. However! For all our AA subscribers, here's the latest video of Mark blocking in this large dramatic sky and wave. Hope you enjoy!

Click here for our latest Youtube clip.


---

Every month, we choose an Artist from our forum to showcase.

You can even nominate someone if you like. (Or yourself!). To do this, check out the forum and then send us an email! It's that easy.

This special month we're featuring special artist Jules Sharman from Tasmania, with her beautiful painting,"Shine". Thanks so much for sharing your painting Jules, your work is so inspiring!



Click here for more information on Jules Sharman's "Shine"


Artist Zemer Peled creates incredible sculptures using porcelain and sometimes a meat slicer. Her pieces are ethereal and reminiscent of sea creatures. Check them out via the link below.

Click here for more about artist Zemer Peled.


---

Photographer Tom Hussey captures elderly people looking at their younger reflections in his beautiful photo series.

Click here for Tom's stunning photo series.


---

And another photographer Katka Pruscova gives us a glorious time-lapse of flowers opening in this video. A beautiful celebration of nature and life, and one we thought fitting to celebrate our 100th edition of AA. Hope you enjoy!

Click here for the flower fireworks!


---


If you have a link you like, please share it with us! You can contact us to let us know. Thank you!



This is the section where you can "get your name in lights!" (well at least out there in the internet world!).

If you have works in progress you would love to show off, or finished pieces you are particularly proud of, we would love to see them!

We especially like to hear about the story behind the creation.

This month's submission comes from our very own Mark Waller!

From Mark:

"I have a bit of an obsession with birds at the moment (insert Benny Hill joke here :D). And particularly Gannet's and Albatrosses, and other seabirds. There's something hypnotic about the way they can fly inches above the water, and with a twitch of their wing, soar hundreds of metres into the air. All so effortless.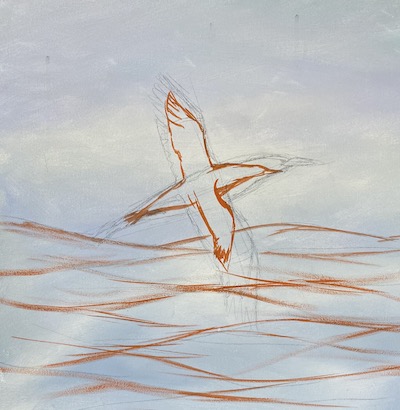 There's something especially captivating about them when they're lit by bright sunlight, and yet in the background is a really ominous sky. So in this piece I wanted to capture a sense of that - that contrast of light in the foreground and darkness in the background.


It started a little differently as you can see, but I decided I wanted to put a little bit more action in it, and so added the top of the breaking wave to give it a bit more drama.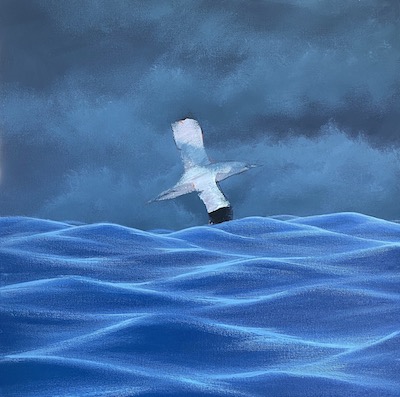 I've used Atelier Free Flow to get the bones of the painting down, and have used Atelier Interactive to create those lovely thick intense blobs of paint, particularly for the white areas. I've put a few glazes here and there, and used Atelier Interactive with Atelier Glazing Liquid to add subtle flashes of colour under the lip, and some dry brushing in the clouds to define them a little bit.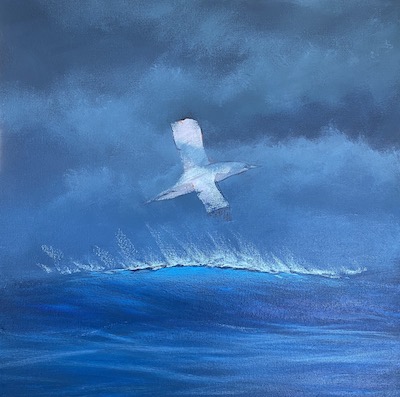 The bird was all done with a smaller brush and Atelier Free Flow, because I wanted nice crisp lines as a contrast against the background which was softer and more diffuse."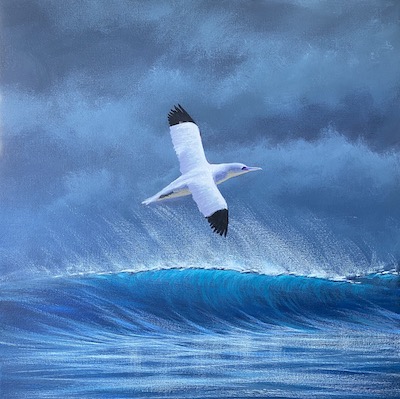 Thanks so much Mark for giving us an insight into this gorgeous painting! To follow Mark on his social pages,

Click here for his Facebook page.

Click here for Mark's Instagram page.

And click here for his website!


---


We hope you enjoyed this bumper celebratory 100th issue of Acrylics Anonymous!

If you have any suggestions, comments or feedback for the ezine or our site, please don't hesitate to contact us.



Until next time, make sure you stay safe and well, and chuck some paint around!

Cheers from Frankie & Mark :)


---
For our Youtube channel, click here.
To join our Youtube channel as a member for a few bucks every month (in exchange for even MORE awesome perks, click here.
For our Instagram, click here.
For our Website, click here.
For our Facebook page, click here.
For our Pinterest, click here.
---