---

Passionate about painting with acrylics? Need a monthly fix chock full of inspiration? Need some help to take the pain out of your painting process? It's all here for you. Acrylics Anonymous. Zero elitism. Dive in.


---

If you enjoy Acrylics Anonymous, and you know someone who might also enjoy it, you can share by forwarding it to your friends!

If you are receiving this because a friend has forwarded this to you, and you would like to subscribe, click here!


---



Every month, we will produce a Subscribers Only "sealed section". It could be a painting technique, a short video tip, or anything we can think of that we reckon you might enjoy.

Please let us know what you think, we love your feedback! To leave comments, contact us here.


---

Christmas Keeps Coming Early For You!

Continuation of our 30% off all shop items
AA subscribers only!

Use code: XMASRULES at checkout

- Downloadable tutorials -
- Gift Coupons -
- Hard copy DVDs and books -
- Aprons, cards and more! - :)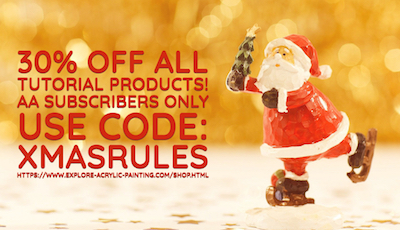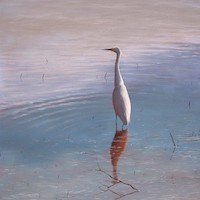 Finding The Balance.

If you're working in a job full time, even if it's one you are truly passionate about and love with every fibre of your being (like painting!) you still need to ensure there is balance in your life.

You can find these points of demarcation in your practise in various ways that will allow your creativity to flourish, and allow you to stay in love with your work.

This might be something like a daily meditation practise, or rituals of tidying, organising your space or prepping in other ways.








Exhibition Upcoming!

Our annual Lennox Arts Collective $300 and under exhibition is opening on the 11th December :) Hope to see you during the exhibition!

Click here for the LAC Instagram page and all the info!



---

Bloopers For You!

There's room for some LOL's here at the end of this year. And first up are some bloopers! We hope you enjoy these behind the scenes laffs with us!

Click here for the bloopers!


---

And, More Funnies!

Here's another giggle video from both of us, courtesy of the funny folk over at Elf Yourself Oddcast! Hope you enjoy this one, you will never see either of us move like this in real life :D

Click to see another funny vid!


---

Every month, we choose an Artist from our forum to showcase.

You can even nominate someone if you like. (Or yourself!). To do this, check out the forum and then send us an email! It's that easy.

This month we're featuring artist Jenny Ellis-Newman from Perth, WA with her incredible painting,"Snorkelling Trip Inspiration". Thanks so much for sharing your painting Jenny, loving those underwater vibes!



Click here for more information on Jenny's painting "Snorkelling Trip Inspiration"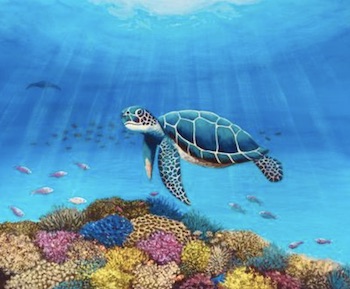 How about 25 of the most creative sculptures for the 25 days leading up to Christmas? Here is an incredible list from Bored Panda:

Click here for your Christmas Advent Sculpture List!


---

Now, I know we're all about the love of acrylics here! But have you seen Josie Lewis' work? She creates gorgeous, vibrant images to delight your eyes using so many different materials. If you've ever wanted to have a go at watercolours but didn't know where to start, Josie has 15 free geometric templates to get you going! She does send quite a few emails, but you can unsubscribe easily if that kind of thing doesn't float your boat!

Click here for Josie's template offer.


---


If you have a link you like, please share it with us! You can contact us to let us know. Thank you!


This is the section where you can "get your name in lights!" (well at least out there in the internet world!).

If you have works in progress you would love to show off, or finished pieces you are particularly proud of, we would love to see them!

We especially like to hear about the story behind the creation.

This month's submission comes from rising star and Explore forum regular, Tassie artist Jules Sharman.

From Jules:

"Here is the making of 'Natural Beauty' oil on Italian Linen. The scene is a real location in South Africa – Dolphin Beach looking out towards Iconic Table Mountain and Lions Head. A shout out to @dolfieman for permission to use his photography.

As a full-time artist I film the painting process of nearly every painting I do for YouTube and other purposes, so I have many to choose from, but thought this one most beneficial for a few reasons. Mainly because it shows just how painting, creating perspective and composition can be done unconventionally even when using reference photos, and how being flexible during the process is a valuable skill to apply and beats being rigid!

In earlier days when I was learning seascapes, I found it easier to use reference photos and anything with water and waves did the trick at that time. Two things changed in a short time – one – I ditched all reference pics and started painting from my 'head' or 'imagination' as I found following reference pics encouraged me to be rigid, hence limited my mindset and ability in establishing techniques and improvements as I became bogged down in 'wanting it look the same' instead of developing my own unique colour palette, style and accepting the fact that it's another skill in the belt to use reference photo's as exactly that - a reference – NOT something to copy to a tee.


Secondly, I realised many of the gorgeous photos I was painting weren't suitable compositions for paintings 'to work' and be eye catching within the conformity of traditional compositional values. What works in a stunning photo doesn't always on canvas. This reference photo for me I think has stunning composition and fits into the model I use when designing my work which doesn't happen that often without having to change components around.

Having said that – flexibility with this one was implemented as in the second WIP shot (below) you see the distant sand near the foreshore has darker patches blocked in that were going to represent a combination of seaweed and smaller clumps of grass on a curved sand area.

In the reference photo it adds dynamics giving more points of interests in a balanced way. Even though I didn't detail these components, block in was enough for me to determine it wasn't happening and would unnecessarily distract the viewer, leaving them frazzled.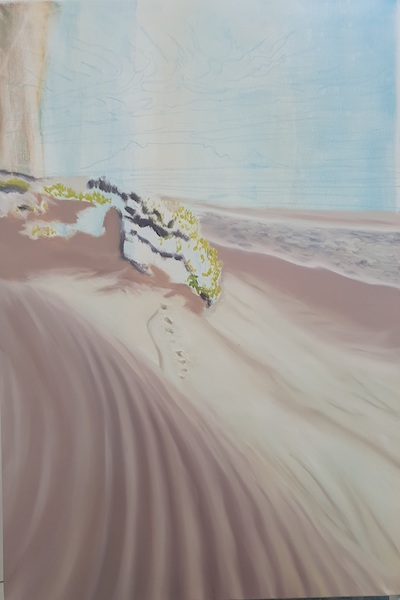 It's easy to over clutter a piece resulting in mayhem. Simplicity is beauty for me on many occasions – so I changed that sand area making it more flat with subtle hints of undulation instead, minus the foliage.

It's conventional to paint the most distant section first working forward starting with the sky. Although on some occasions I do follow that process, many times I don't – like this one. I was eager beginning with the sand as I hadn't painted dunes like this in ages, and I felt like getting into the moment of the piece first setting the tone – just in case I needed to remodel composition as I went, also to be honest - simply for darn right fun too!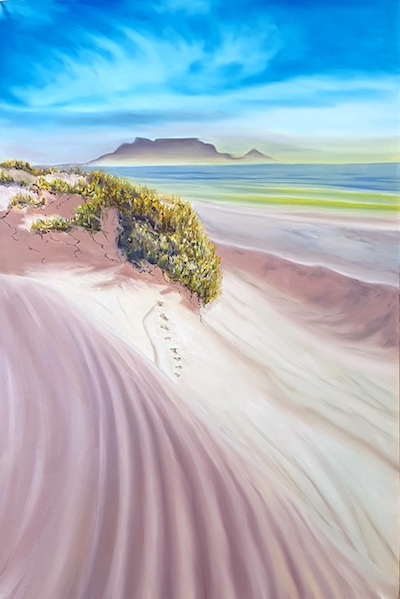 Being conventional isn't my kinda thing really! It's important for me to push boundaries in the development, modelling and detailing phase of paintings. Forever learning, knowing and understanding what specific steps of the way can be tinkered with effectively and which aspects should be just done and left at bay.

I tend to either paint with acrylic or oil – not mixed media. I have no issues with mixed media but working with one only on each painting works for me best so I stick with it.

The predominant colours I used here are my usual Burnt Umber, Dioxazine Purple, Phthalo Blue, Ultramarine Blue, Yellow Oxide, Cadmium Yellow & Titanium White. I must admit I have also fallen in looooove with my new Filbert paint brush which I never thought in a million years I'd say!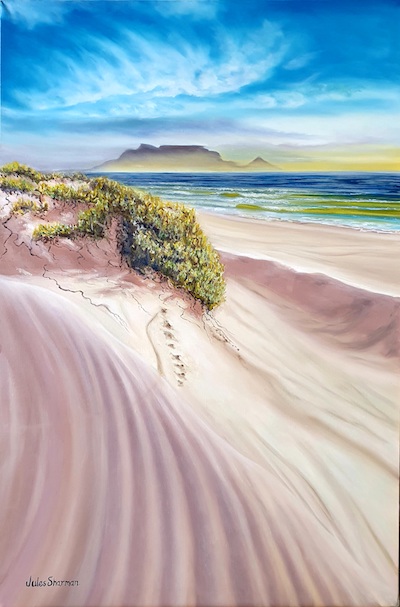 Thanks for reading my spiel, stay safe and happy painting everyone.
Lotsa Love
Jules Sharman xxx"

Thanks so much for giving us an insight into your painting "Natural Beauty" and your process Jules! To follow Jules on her social pages,

Click here for Jules' Instagram

And click here for Jules' Facebook

Click here for Jules' Website

And here for Jules' Youtube Channel!


---


Hope you enjoyed this issue of Acrylics Anonymous!

If you have any suggestions, comments or feedback for the ezine or our site, please don't hesitate to contact us.

We are having a little break over Christmas and New Year, and will deliver our 100th edition of AA to you in very early February 2021! How exciting!

So until next time, make sure you stay safe and well, and chuck some paint around!

Cheers from Frankie & Mark :)


---
For our Youtube channel, click here.
To join our Youtube channel as a member for a few bucks every month (in exchange for even MORE awesome perks, click here.
For our Instagram, click here.
For our Website, click here.
For our Facebook page, click here.
For our Pinterest, click here.
---