1st October 2015, issue 043

---

Passionate about painting with acrylics? Need a monthly fix chock full of inspiration? Need some help to take the pain out of your painting process? It's all here for you. Acrylics Anonymous. Zero elitism. Dive in.


---

If you enjoy Acrylics Anonymous, and you know someone who might also enjoy it, you can share by forwarding it to your friends!

If you are receiving this because a friend has forwarded this to you, and you would like to subscribe, click here!


---

Subscribers only…..shhhhhh…sealed section just for you!

Tip of the month

News

Artist In Focus

Links we like

Works in progress…..show us your paintings!





Every month, we will produce a Subscribers Only "sealed section". It could be a painting technique, a short video tip, or anything we can think of that we reckon you might enjoy.

Please let us know what you think, we love your feedback! To leave comments, click here.



Problems with Portraits?

In this quick clip Mark explains 3 tips he gave his daughter to help with her portrait, which might also help you with yours.

Have fun! :)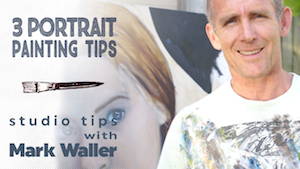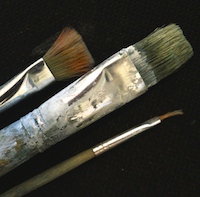 Is Your Brush A Dead Donkey?


Painting not working? Paint not moving the way you want it to? maybe your brush is dying a slow hideous death.

have a good look at it and consider replacing it. You'd be amazed at how often that fixes the problem.









Learn About Free Flow

Read all about this fantastic artists acrylic from the creative masterminds at Chroma Australia.

Click here to find out more.


---


More LOLs with Dick

The Struggling Artist is back with Part 3 in our new series of articles from our man on the ground in the south, Dick Millott. Oh, yeah!

Click here to read on.


---


Melbourne Demo Upcoming

Melbournites! Come to Melbourne Art Direct on Saturday 9th October from 10am and watch some magic as Mark throws some paint around. Bookings essential.

Click here for more info.


---

Every month, we choose an Artist from our forum to showcase.

You can even nominate someone if you like. (Or yourself!). To do this, check out the forum and then send us an email! It's that easy.

This month we're highlighting artist Dallas Nyberg from Cowra, Australia and her fantastic painting "A Right Cow". Love cows, and love the perspective. Nice work Dallas!!!



read more about Dallas' "A Right Cow"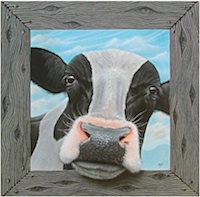 You are probably all over this already, but for some reason I'm only just coming across Mural Joe and his spectacular work now.

And in a beautiful collision of worlds, in a conversation with Joe the other day it transpired that it was Mark who inspired him to start selling his work online, via an email a couple of years ago from a fan of ours. How's the synchronicity :) Beautiful. Love Mural Joe!

Click here to watch Joe in action.


---

A truly fascinating look at the technique of "siqueiros", or, accidental paintings. That's a whole lotta fun for your eyeballs, and a bit of science for your brain to boot.

Become an "experimental fluid machinist" today!

Click here to learn about the art of siqueiros.


---


If you have a link you like, please share it with us! You can contact us to let us know. Thank you!


This is the section where you can "get your name in lights!" (well at least out there in the internet world!).

If you have works in progress you would love to show off, or finished pieces you are particularly proud of, we would love to see them!

We especially like to hear about the story behind the creation.

This month's painting comes from Yours Truly (aka Frankie) of Middle Pocket, Australia.

From me:

I am probably in the luckiest position to be in as someone who loves painting realistically, but has a lot to learn. Working with Mark is a little bit like mainlining knowledge, and over the years I have absorbed a lot! However it's a fairly rare occasion when I actually put brush to canvas (I often put brush to cake, but that's another story), usually only about 5-6 times a year. And when there is a spare spot in a workshop, and I don't have to take notes for the participants, well!! That's when the stars align and I can do a little happy dance, for I'm about to learn so much more in one day than I've absorbed over the last few months by just being in Mark's presence!

So this little piece (which I decided to paint for Dad's birthday) started it's life in Mark's "Whale Of A Time" workshop. And I'm not afraid to say there were quite a few tantrums along the way with this one. Mainly because I'd been taking notes at the "same" workshop 4 weeks earlier, and thought I could skip over some of the theory. But Mark being Mark, changed the delivery of the information all around so that I was thoroughly confused. What was this? I actually had to think about what was happening? Why was that part of the tail "bluer"? Oh yeah, because there's more water between my eye and the tail, and the water is blue. Derrrr. A few arguments and wrestles with the Pthalo Blue and the Burnt Umber, and we were on our way :)

Anyway a lot of fun was to be had as I first got inspired to trawl modelling paste all over the canvas before painting it with a bright red ground. (Almost an entire tube of Napthol Red Light). We played around with chalk drawing the various parts of the whale and discussing how it moved and behaved.

After the preliminary investigations, this little whale came together nicely and I really loved the tight composition and his (her?) LARGE pectoral fins. I did have some trouble when I got back home out of the safety net of the class, and realised I didn't really have a clue what fish actually look like (I just knew I wanted a couple in there)! A bit of assistance from Mark and Google helped me with this one though.

It was at this point I painted the "rays", stood back after swearing a bit, and really felt like I should just pack up the canvas into the nearest red-lidded bin. But some reassurance from friends made me think after a while, that maybe they were ok after all. I did have to play around a fair bit with the surface of the water in order to get happy with it, and really wanted more of the original red showing through, however at the end of the day Dad loved it, which is always the best kind of appreciation!

And if you would send me your own WIPs, you won't have to read about mine :) :)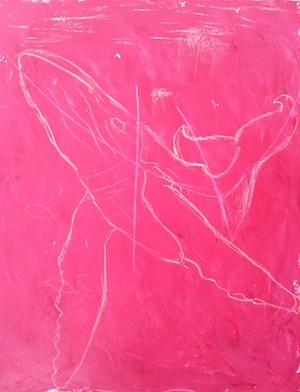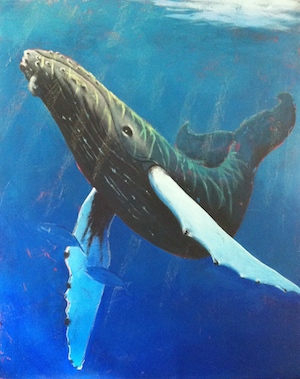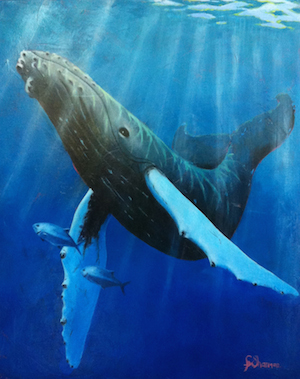 ---


Hope you enjoyed this issue of Acrylics Anonymous! If you have any suggestions, comments or feedback for the ezine or our site, please don't hesitate to contact us.

Until next time, make sure you chuck some paint around!

Cheers from Frankie & Mark :)


---