1st April 2013, issue 015

---

Passionate about painting with acrylics? Need a monthly fix chock full of inspiration? Need some help to take the pain out of your painting process? It's all here for you. Acrylics Anonymous. Zero elitism. Dive in.


---

If you enjoy Acrylics Anonymous, and you know someone who might also enjoy it, you can share by forwarding it to your friends!

If you are receiving this because a friend has forwarded this to you, and you would like to subscribe, click here!


---

Subscribers only…..shhhhhh…sealed section just for you!

Tip of the month

News

Links we like

Works in progress…..show us your paintings!





Every month, we will produce a Subscribers Only "sealed section". It could be a painting technique, a short video tip, or anything we can think of that we reckon you might enjoy.

Please let us know what you think, we love your feedback! To leave comments, click here.

Your Sealed Section this month is your opportunity to have Mark in your home for the day, for only $10 bucks.

He'll do your dishes, vacuuming, mowing, clean your gutters or fix your leaking roof. Or all of those. You choose. Email us for details.

HA. APRIL FOOLS !!!!!! Just kidding with that last one. Here is your true and correct Sealed Section: It's not quite a real live home visit, BUT BELIEVE ME, IT'S GOOD!!

Your Sealed Section this month is your 20% discount! for our brand new! downloadable tutorial (V-Log) "Coral Reef - Underneath - Complete Volume".

You may have already registered for your 10% discount. Just because we love you, love your support and are overwhelmed with good feelings all round, we decided to make it 20% off instead. *warm fuzzes for you!*

Your discount code is:

AARULES

Use this code at checkout to receive your discount from full price of AUD$15.00 down to AUD$12.00. Bargain time!








Get Into Your Zone


Make sure you take the time to set up your palette and set up your space before you paint.

This allows you to express yourself fully when painting, without being dragged into the "logical" part of the process to fiddle with your set up.

Being free in your "zone" is one of the most liberating things you can do for your painting process.





Celebrate Your Misery?

Lovely big emotions. Throw some paint around and create your own expressionism art piece.

Click here to read more…


---


Fiji Is Almost Upon Us!

This year has been extremely busy for workshops, with no signs of slowing. Workshops are planned over the next few months for the Sunshine Coast, Gold Coast, Sydney and Bathurst. If you want to book for Fiji in August, now is the time.

Click here to find out more...


---


Faux Finishes. Not Faking!

Learn how to marble in this short introduction to Faux Finishes - Marbling clip by Mark on our Explore Acrylics Youtube channel. Maybe create some DIY ye olde columns in your home this weekend! Or not. Possibly not.

Click here to read more...


---
Christine Read is one of Mark's regular students whom we've featured before in AA, winning the Tyalgum Classical Musical Festival Prize for her painting "Magpies at Lake Ainsworth" which we featured in Issue 008, WIP section! She now has her own site to showcase her art which I wanted to share with you all, as it is GREAT.

Christine is holding her first solo exhibition 'Colour Expressions' at Lennox Artspace from the 19th April. In it she explores a love of the rhythms and richness of the life around us – the beauty of land and sea, the colourful glory of birds and flowers and people going about their daily lives. Sounds like a plan!

Check out Christine's work here.


---

More inspiring artists courtesy of AA reader Jane from the US. In the UK there is a charity called Mouth & Foot Painting Artists (part of an international network).

They produce some wonderful work, check out Mojgan Safa and Julie Cleves's work. I'm a fan of Ranjit Bhamra's as well.

Check out these inspiring artists!


---


If you have a link you like, please share it with us! You can contact us to let us know. Thank you!


This is the section where you can "get your name in lights!" (well at least out there in the internet world!).

If you have works in progress you would love to show off, or finished pieces you are particularly proud of, we would love to see them!

We especially like to hear about the story behind the creation.

This month's WIP is from Gold Coaster, regular submitter and all round good guy Jim Parsons.

From Jim:

"Attached is my progress of "White Roses" which is now finished I'm pleased to say. I wouldn't tackle them again. I wouldn't have in the first place, only my wife wanted them.

About half way through, she decided she would like them in a basket. I won't tell you what I said about that, but they didn't end up in a basket.

1. Roughed in after transferring my sketch.

2. Started fiddling around with colours for leaves and shadows.

3. It was about this time that I became doubtful of my ability to portray shadows and I sought help from Mark.

4. After changing the shadows tone a number of times, adding a few rain drops and adding extra colour to the leaves, I finally decided that the painting was finished. It doesn't show in the photo but I lightened the top left of the painting to enhance the direction of the light source.

The main thing is that my wife loves it and for the first time, I intend to have one of my paintings professionally framed."

Thank you so much for sharing your work and your journey with "White Roses" Jim!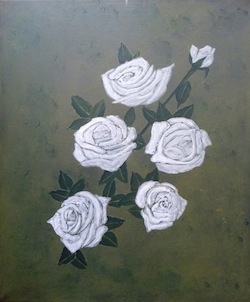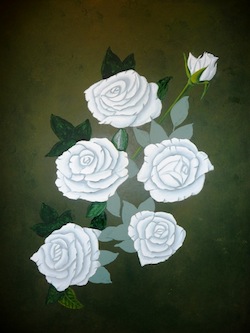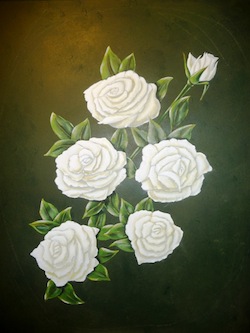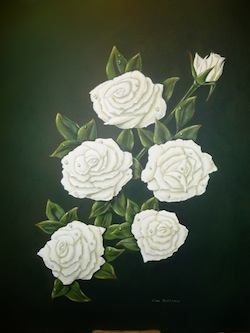 ---


Hope you enjoyed this issue of Acrylics Anonymous! If you have any suggestions, comments or feedback for the ezine or our site, please don't hesitate to contact us.

Until then, make sure you chuck some paint around!

Cheers from Frankie, Mark & Nic :)


---