---

Passionate about painting with acrylics? Need a monthly fix chock full of inspiration? Need some help to take the pain out of your painting process? It's all here for you. Acrylics Anonymous. Zero elitism. Dive in.


---

If you enjoy Acrylics Anonymous, and you know someone who might also enjoy it, you can share by forwarding it to your friends!

If you are receiving this because a friend has forwarded this to you, and you would like to subscribe, click here!


---



Every month, we will produce a Subscribers Only "sealed section" - just keep scrolling to see it. It could be a painting technique, a short video tip, or anything we can think of that we reckon you might enjoy.

Please let us know what you think, we love your feedback! To leave comments, contact us here.


---

Exclusively Yours!
10% off Mark's original paintings

While stocks last - use code AA4LIFE to take 10% off all original paintings :)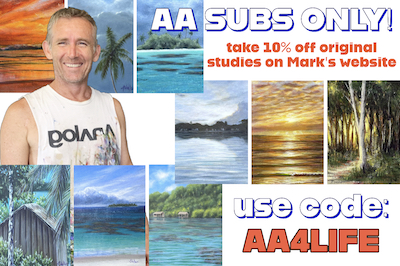 Rediscover the magic of play.

Sometimes you can get a little bit lost with the direction of your paintings.  For me, dragging out some little studies on scrap pieces of canvas or paper is a really nice way of rekindling your enthusiasm.

You can lose yourself in bite sized images, and rediscover the magic while playing with paint. 






Upcoming Workshops.

2023 is quickly shaping up to be the year of the workshops!

We have workshops coming up in Woolgoolga in June (sold out), Esk in August and Fiji in November (filling up). Make sure you're signed up to our workshops mailing list to get all the latest info!


---

Beat the Tax Man!

It's nearly tax time here in Oz. And if you're a small business in Australia with an aggregated turnover of less than $5 billion you can claim artwork asset purchases as a full tax deduction until 30th June 2023 - (Disclaimer: we are artists, not accountants, so please check with your accountant first.)

Here's where you go to grab some awesome art for your walls!


---

What happens after we die?

Mark was recently invited to speak on the popular "Round Trip Death" podcast about his experience in 2016. For a listen to the interview, click on the link below.

For Mark's interview, click here.


---

Leave us a review :)

If you have purchased something from us, please take a minute to leave us a review on Google - it really helps our potential customers learn if our products are right for them!

Click here to leave us a review


---

New on Youtube

Since the last edition of AA we have released several more videos on Youtube - some short form "Thoughts from the Easel" videos, as well as a full tutorial on painting a dynamic whale. Here's the links in case you haven't seen them yet!

Click here for the short "Two Paths"

Click here for the short "Lighter"

Click here for some bloopers!

And click here for the dynamic whale tutorial!


---
**Meet The Wallers**

Now streaming for only AUD$7.00!
And with your exclusive discount, you will only pay $5.25 to see this epic film of Mark's life.
Filmed over 20 years, this is a film like no other.
You don't want to miss this!


---

Every month, we choose an Artist from our forum to showcase.

You can even nominate someone if you like. (Or yourself!). To do this, check out the forum and then send us an email! It's that easy.

This month we're featuring artist Chris, from Brisbane, QLD, Australia, with their painting "Foam". Thanks so much for sharing this with us Chris, you have done an awesome job creating dynamic movement in your waves!

Click here for more info on Chris' painting "Foam".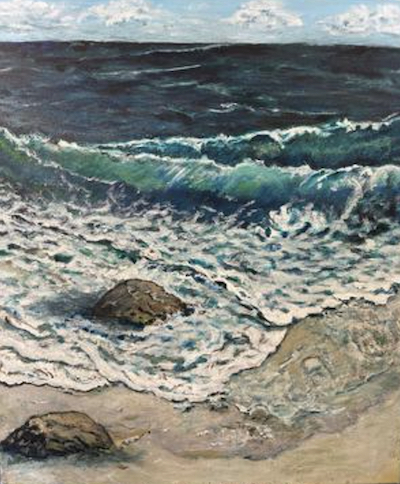 Thomas "Thom" Monckton is a performer from Patea, South Taranaki, New Zealand. In this entertaining clip watch Thom combine circus, satire and art!

Click here for Thom's slapstick video!


---

Roberta Boffo is an Italian artist with an intuitive, compelling style, based in Reviso, Italy. Watch her incredible process and techniques by clicking on the link below.

Click here for Roberta's process.


---


If you have a link you like, please share it with us! You can contact us to let us know. Thank you!



This is the section where you can "get your name in lights!" (well at least out there in the internet world!).

If you have works in progress you would love to show off, or finished pieces you are particularly proud of, we would love to see them!

We especially like to hear about the story behind the creation.

This month's submission comes from our very own Mark Waller :)

From Mark:

"Sunrise Study III"



Frankie and I were tossing around a few options for a new recipe book, and we were focussing in on sunrises and sunsets. We wanted to make a compelling image and build some recipes around it, without making it too complicated. We decided to work with Pthalo Blue, Permanent Alizarine and Cadmium Yellow Light, and White. This will make the painting work tonally, but also stops it (in theory) from becoming too complicated.

I scavenged up an old canvas I had lying around, and painted it in order to work through the process.

I taped off half the picture to create a long landscape format, and mixed Pthalo Blue and Permanent Alizarine, thinned, to sketch in the horizon, the banks of clouds and the wet sand and waves. A rough idea of them anyway.



Because the intense white area is probably the highlight (haha) of the picture, but also the most prominent feature, I thought I'd get that down early. That would give me my light source, my horizon, and the extent of the light reflected on the wet sand, and all the waves in between.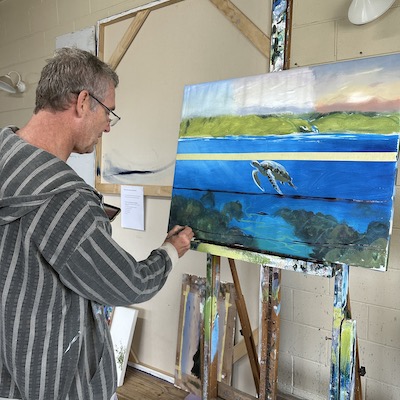 I worked pretty quickly, while the white was still wet I got my Cadmium Yellow Light, and began blending that outwards from the light source. As I went out, I gradually added more Permanent Alizarine, and then eventually a bit of Pthalo Blue. The idea of extending out from the intense white, through the yellows and reds into the blues, was repeated in the water areas. I treat light reflected on the water as a light source. The warm to cool rule applies there also.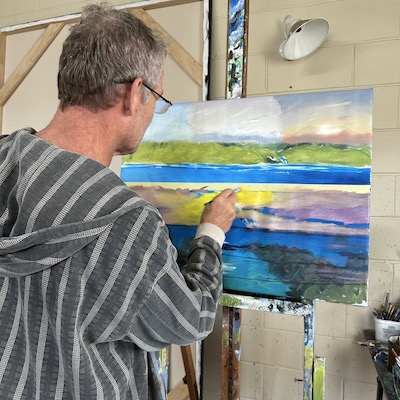 Basically this rule assumes that the further from the light source, the cooler the colours become, relative to the light source. It's interesting that this is quite a warm image, despite the fact that only cool colours are being used. I love how versatile these colours are.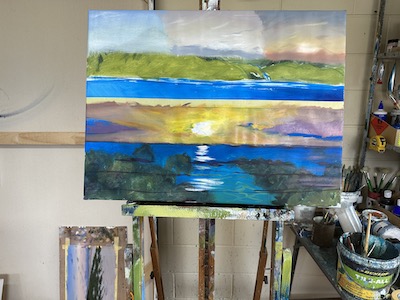 I've put down quite a lot of paint, so I need to put it away for a bit to let it dry. Because I'm impatient, I didn't quite wait long enough, but repeated the process that I did before, establishing the colour a little more strongly, and drowning the blue and the turtle underneath.



Because I was using Cadmium Yellow Light, it's not a colour that covers well. So I had to add a little bit of white to it, so it did cover, and I'm planning on letting it dry and adding neat Cadmium Yellow Light to it later, to get the intensity. I worked back into the darks, and started to define some of the waves before putting it down again to dry.



The last stage was refining the details and tidying up some edges. I dumped a pile of white into the intense sun part, and pushed that out into the sky. I then added yellow to that and then a little bit of Permanent Alizarine, and eventually Pthalo Blue as I moved out into the cooler areas. I grabbed a smaller, flatter brush and repeated that same process in the water and represented the reflection of the sky on the backs of the waves.



I put some highlights on the dry sand and faded them back into the darker areas, I mixed a little bit of Pthalo Blue, Permanent Alizarine and Cadmium Yellow Light to make a brown, and added a touch of White to that and placed it in the bottom left and right corners to create the illusion of a flat sandy plane receding out into the wet sand.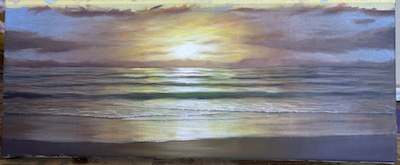 With a very small brush I brushed yellow into the shadow of the whitewash areas, added red, blue and white of course as I moved out into the shadow areas. I created a lovely blue/grey to represent the suds in the shadow areas (it needed some detail, but not too much).

I finally splashed some Cadmium Yellow Light, White and Pthalo Blue with a hint of Permanent Alizarine in it to create a lime green in the face of the waves, suggesting the light shining through the backs of them.

Brushes down.



Thanks so much for sharing your incredibly light-drenched painting and process with us Mark!

You can find all of Mark's good stuff through the bio link below:

Mark's links all in one place!


---


We hope you enjoyed this issue of Acrylics Anonymous!

If you have any suggestions, comments or feedback for the ezine or our site, please don't hesitate to contact us.

Until next time, make sure you stay safe and well, and don't forget to chuck some paint around!

Cheers from Frankie & Mark :)


---
For our Youtube channel, click here.
To join our Youtube channel as a member for a few bucks every month (in exchange for even MORE awesome perks, click here.
For our Instagram, click here.
For our Website, click here.
For our Facebook page, click here.
For our Pinterest, click here.
For our Tik Tok, click here.
---
---