---

Passionate about painting with acrylics? Need a monthly fix chock full of inspiration? Need some help to take the pain out of your painting process? It's all here for you. Acrylics Anonymous. Zero elitism. Dive in.


---

If you enjoy Acrylics Anonymous, and you know someone who might also enjoy it, you can share by forwarding it to your friends!

If you are receiving this because a friend has forwarded this to you, and you would like to subscribe, click here!


---



Every month, we will produce a Subscribers Only "sealed section". It could be a painting technique, a short video tip, or anything we can think of that we reckon you might enjoy.

Please let us know what you think, we love your feedback! To leave comments, contact us here.


---

Ocean Spray Tip - Just For You!

Here's an exclusive tip for you,
on creating that gorgeous spray off the lip of a wave. Enjoy!


Click here to access your exclusive tip!



To Wrap Your Painting Around The Edges, Or Not?

There are two very distinct schools of thought on this, but personally, I don't like it for a few reasons.

You end up doing a lot of extra work, which may or may not be covered by a frame, and may or may not be damaged in transit.

I paint my edges white (for the most part). I think a clean, professional look is sharper, gives the client options, and importantly, is easier to repair any damage on. It also looks great on the wall.








National Capital Art Prize

The NCAP is a new art prize offering artists and students the opportunity to showcase their work with a $45,000 prize pool in four categories.

Founder Bob Stephens from Aarwun Gallery is excited about the possibilities for this event and entries are now open to all Australian artists and art students over 18.

Click here for further information and to enter.



---

Esk Workshop June 2021

We are in the planning stages for this workshop which will be set up a bit differently to our previous workshops! Make sure you're signed up to our workshops mailing list for all the details :)

Check here for information and to register your interest.


---

Every month, we choose an Artist from our forum to showcase.

You can even nominate someone if you like. (Or yourself!). To do this, check out the forum and then send us an email! It's that easy.

This month we're featuring artist Carol Grey from Launceston, Tasmania, with her painting,"Sheep in the Fingal Valley Tasmania". Thanks so much for sharing your painting and your story Carol, we are so happy you are finding some peace in your painting journey.



Click here for more information on Carol's "Sheep in the Fingal Valley Tasmania" painting.


You may enjoy a bit of graphic design work in your practise, I know a lot of artists do! Hoping you get something out of this great article on the art and science behind choosing the right colour palette, brought to you by the good people at Design Cuts. Great stuff!

Click here to have a read!


---

A technique called "projection mapping" by Belgian company SkullMapping brings Rubens' gorgeous cupids to life in a Brussels Airport late last year. Click to check out this incredible art installation!

Click here to check out Rubens' cupids as you've never seen them!


---


If you have a link you like, please share it with us! You can contact us to let us know. Thank you!



This is the section where you can "get your name in lights!" (well at least out there in the internet world!).

If you have works in progress you would love to show off, or finished pieces you are particularly proud of, we would love to see them!

We especially like to hear about the story behind the creation.

This month's submission comes from emerging talent Alina Jane, and her "Big Wave Commission" project.

From Alina:
"During Covid last year I opened a studio, which was the fulfilment of a dream.

Some ladies from the private hospital where I worked for 20 years put together some money and bought a voucher from me for a colleague Raelene who had an "0" birthday.

Raelene came into the studio, picked out a small painting and commissioned me to do a larger version of it.



Commissions can stress people out. A painting that you create from your heart is because you want to do it for yourself. If you're fortunate, somebody may want to buy it. When it's a commission you have to get past the self-doubt: "Am I good enough? Can I pull this off? What if they don't like it?"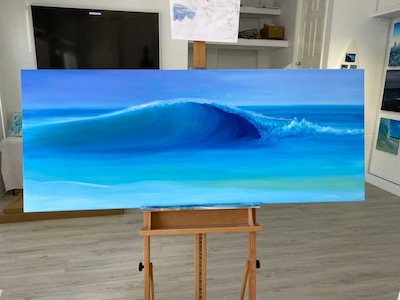 You have to trust your ability, and that it's your particular style that they like. So loosen up and enjoy the process. Know that there are ugly stages and that, if you don't like it, you can just paint over it! (or rub it out with your finger).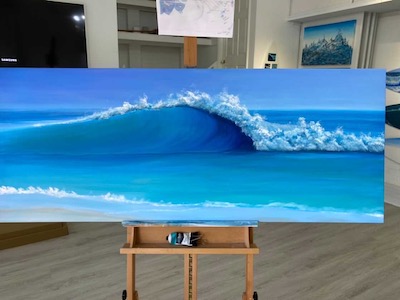 Not only was the painting Raelene wanted more than ten times the size of the original, but she asked for particular blues, greens and aquas to match a door in her house.

She wanted the wave pitching more, a bit more real than abstract, a hint of the next wave with a little wave in the front and showing some beach (but only a fraction).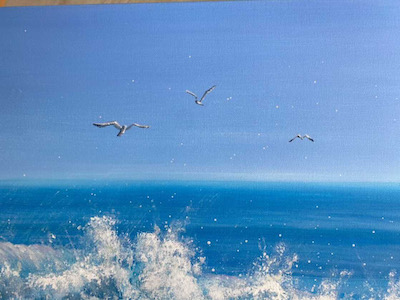 After I had completed the picture, Raelene and her husband drove an hour to view it. I was relieved when they were ecstatic to see It, but then they asked if I could put a few birds in it.

"Sure! What sort of birds? How many? Where do you want them?"



What I've used:

Atelier Gesso
Atelier Interactive
Atelier Universal Medium/varnish
(And yes, I'm still waiting for Atelier to sponsor me!)
Waiting long enough between coats is critical – I learnt that the hard way!



Tips

I find that a bit of whitewash helps to show wave movement.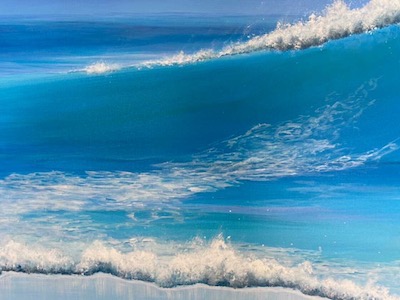 Thanks so much Alina for giving us such a great insight into your process of creating this big wave commission! To follow Alina on her social pages,

Click here for her Facebook page.

Click here for Alina's Instagram.

Click here for her Tik Tok

And click here for her website!


---


We hope you enjoyed this issue of Acrylics Anonymous!

If you have any suggestions, comments or feedback for the ezine or our site, please don't hesitate to contact us.



Until next time, make sure you stay safe and well, and chuck some paint around!

Cheers from Frankie & Mark :)


---
For our Youtube channel, click here.
To join our Youtube channel as a member for a few bucks every month (in exchange for even MORE awesome perks, click here.
For our Instagram, click here.
For our Website, click here.
For our Facebook page, click here.
For our Pinterest, click here.
---