---

Passionate about painting with acrylics? Need a monthly fix chock full of inspiration? Need some help to take the pain out of your painting process? It's all here for you. Acrylics Anonymous. Zero elitism. Dive in.


---

If you enjoy Acrylics Anonymous, and you know someone who might also enjoy it, you can share by forwarding it to your friends!

If you are receiving this because a friend has forwarded this to you, and you would like to subscribe, click here!


---



Every month, we will produce a Subscribers Only "sealed section". It could be a painting technique, a short video tip, or anything we can think of that we reckon you might enjoy.

Please let us know what you think, we love your feedback! To leave comments, contact us here.


---

Christmas Comes Early For You!

30% off all shop items - AA members only!

Use code: XMASRULES at checkout

- Downloadable tutorials -
- Gift Coupons -
- Hard copy DVDs and books -
- Aprons, cards and more! - :)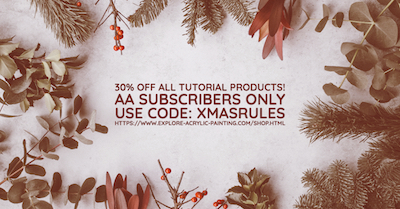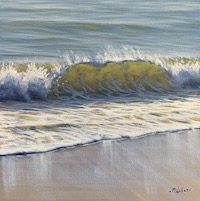 Feeling Off?

It's understandable that some of us are a bit unsettled with all the things that are going on at the moment.

Maybe it's a good time to take a couple of minutes to be grateful for the good stuff in your life. Like, painting!!! :D Also, trees, sunshine, fresh air, colour....etc....








New Clip on Youtube

If you're one of our valued Youtube channel members, you may've already seen this one. If not, you're seeing it first! Yay! Join Mark in studio as he blocks in a headland (the iconic Point, Lennox Head) and a pandanus head. Heaps of tips to help you get things established in your coastal paintings!

Click here for the tutorial :)



---

In The Giving Mood!

And while we're at it, exclusively for you guys, here's 20% off all Mark's Limited Edition prints on his website! Allow yourself time for delivery before Christmas :) Use the same code as before at checkout: XMASRULES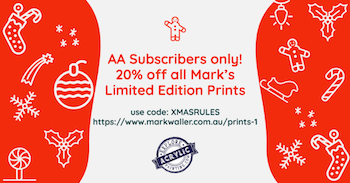 Click here to go shopping for Mark's LE Prints!
---

Every month, we choose an Artist from our forum to showcase.

You can even nominate someone if you like. (Or yourself!). To do this, check out the forum and then send us an email! It's that easy.

This month we're featuring artist Melissa from Cape Coral, Florida, USA with her evocative painting,"The Beautiful Mind". Thank you for sharing your painting Melissa, we are in love with the mood you have created here!



Click here for more information on Melissa's "The Beautiful Mind"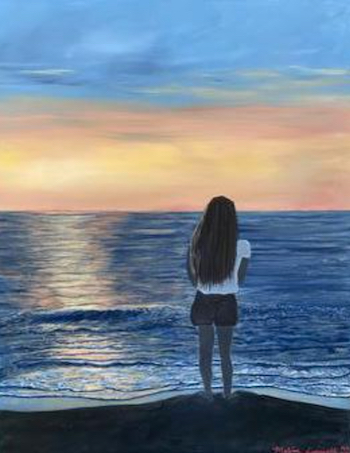 If you're into knots you may have seen the work of JD Lenzen on Youtube's Tying It All Together channel. There is something really connecting about the idea of wrapping rocks in knots. Maybe it's just me! Anyway, if you're into this idea like I am, check out JD's rock wrapping playlist of instructional clips on this beautiful, meditative practise:

Click here for JD's playlist on rock wrapping!


---

First nations artist Margaret Nazon creates stunning renditions of our universe using intricate beadwork to interpret galaxies, planets, nebula and more.

Click to be amazed!


---


If you have a link you like, please share it with us! You can contact us to let us know. Thank you!


This is the section where you can "get your name in lights!" (well at least out there in the internet world!).

If you have works in progress you would love to show off, or finished pieces you are particularly proud of, we would love to see them!

We especially like to hear about the story behind the creation.

This month's submission comes from talented and immensely popular Aussie Artist Ben Tankard. Ben is well known for his "unpopular Penguin" series, as well as his accessible and extremely popular pop icon based paintings featuring Monopoly boards, Uno cards and album covers. His style resonates in an extremely compelling and nostalgic way.

From Ben:

"I started the Chinese Restaurant series in 2019, and it just came out of a nostalgic love for the food and the ritual of classic Australian Chinese restaurants. Hot towels, spring rolls, fortune cookies, and fantastic food washed down with beer. One of these paintings won the Hawkesbury Art Prize in 2019, and I've now been invited to include some in an upcoming group show on food and art.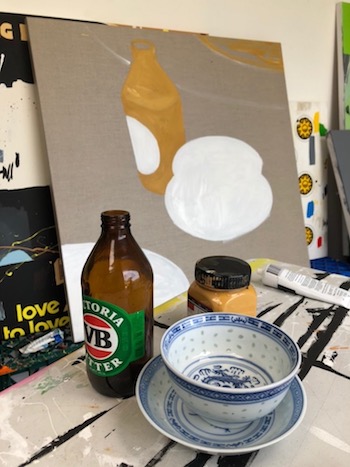 The painting is acrylic on linen. I started with some simple painted outlines of the bowls, plates, lazy Susan and beer bottle, and then coloured the tablecloth bright red.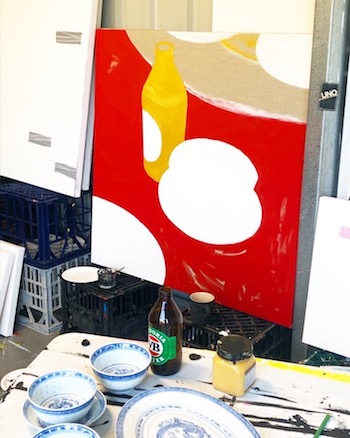 I layered on one of my favourite colours, Australian Ghost Gum, but left patches of red showing through for the shadows and some texture.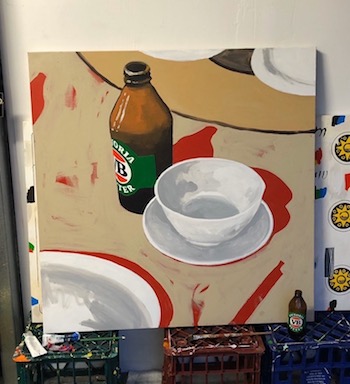 With the foods, I worked up layers of colour, dark to light. The final touches on the food are little spots and streaks of white, which is the lighting reflecting in the glossy sauces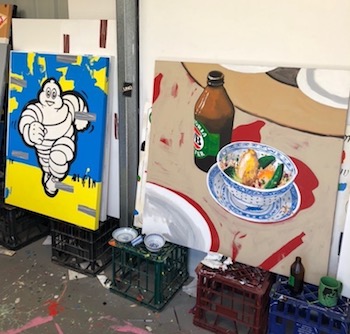 The patterns on the dishes are painted with a thinned cerulean blue paint and a pointed brush. Last of all are the splatters of bright paint on the tablecloth, which are a bit over-the-top but too much fun to leave out.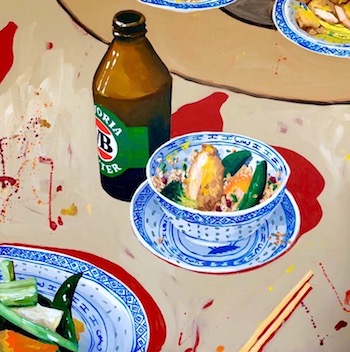 I really enjoy this series, and many of us have been missing restaurants this year, and missing friends and family, so they're a nice warm reminder of good times."

Thanks so much for sharing this fantastic painting with us Ben! To follow Ben on his social pages,

Click here for Ben's Instagram

and click here for Ben's Facebook

Click here for Ben's website :)

And here for his Bluethumb profile!


---


Hope you enjoyed this issue of Acrylics Anonymous!

If you have any suggestions, comments or feedback for the ezine or our site, please don't hesitate to contact us.
Until next time, make sure you stay safe and well, and chuck some paint around!

Cheers from Frankie & Mark :)


---
For our Youtube channel, click here.
To join our Youtube channel as a member for a few bucks every month (in exchange for even MORE awesome perks, click here.
For our Instagram, click here.
For our Website, click here.
For our Facebook page, click here.
For our Pinterest, click here.
---