---

Passionate about painting with acrylics? Need a monthly fix chock full of inspiration? Need some help to take the pain out of your painting process? It's all here for you. Acrylics Anonymous. Zero elitism. Dive in.


---

If you enjoy Acrylics Anonymous, and you know someone who might also enjoy it, you can share by forwarding it to your friends!

If you are receiving this because a friend has forwarded this to you, and you would like to subscribe, click here!


---



Every month, we will produce a Subscribers Only "sealed section". It could be a painting technique, a short video tip, or anything we can think of that we reckon you might enjoy.

Please let us know what you think, we love your feedback! To leave comments, contact us here.


---

Just for You!

We hope you enjoy this clip of Mark changing the surface of the water :)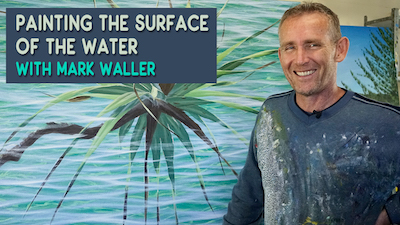 Click here to watch Mark paint the surface of the water!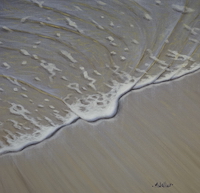 Short and Sweet Today!

An important tip to remember when painting water, is that the flatter the surface of the water is - relative to your eye; the more you will see what's behind it reflected - for example, the sky, trees, or a boat.








New Tutorial

Did you catch our full, free tutorial on Youtube last week to paint shallow ripples of water on the beach? Click below to check it out!

Click here for this great free tutorial!



---

More on Youtube!

If you're considering changing from a hobby to a professional arts career, you should check out Colour In Your Life's "Survive and Thrive - Covid-19 for Artists Playlist". They have cornered the expert and industry arts marketing professionals for some great conversations, and the wisdom imparted will save you time and money in setting up your own arts practise correctly. Check it out!

Click here to check out the playlist.


---

Every month, we choose an Artist from our forum to showcase.

You can even nominate someone if you like. (Or yourself!). To do this, check out the forum and then send us an email! It's that easy.

This month we're featuring artist Tari from Plano, Texas, with her beautiful, summery piece "Lime In Seltzer Water". Thank you for sharing your story and your journey Tari, and we are so happy your creativity is no longer being squashed!



Click here for more information on Tari's work "Lime in Seltzer Water"


Thomas Medicus is described as an anamorphic glass artist from Austria. His works are quite simply, incredible. Have a look!

Have a look at Thomas' work here.


---

And now, some good news for your day! Sister and brother duo Macaire and Cam Everett travel the world from their driveway! Click below to see their 100 days of chalk drawing adventures :)

Click here for Macaire and Cam's chalk adventures!


---


If you have a link you like, please share it with us! You can contact us to let us know. Thank you!



This is the section where you can "get your name in lights!" (well at least out there in the internet world!).

If you have works in progress you would love to show off, or finished pieces you are particularly proud of, we would love to see them!

We especially like to hear about the story behind the creation.

This month's submission comes from talented Perth artist Hayley Kruger.

A little about Hayley:

Hayley Krüger is a professional acrylic artist and educator living in Perth, Western Australia with a great love for all things botanical. Inspired by the strength and architectural form of native Australian plants, she paints with bold colours and shapes, grappling with the enjoyable challenge of capturing light on form.

Her work is an honest, emotional response to the beauty she sees in the natural world.



"My paintings make me happy and I want to share that gift of joy with others."

This is a time where as an artist, we have an opportunity and a responsibility to share with you the healing power of art.

Thank you for supporting small creative businesses.

Pretty in Pink
30.4cm x 40.6cm
Acrylic on canvas



I believe this to be the beautiful Eucalyptus Kingsmilli. I have not come across very many Australian flowers this particular shade of pretty pink. They remind me of little ballerinas dancing in the breeze.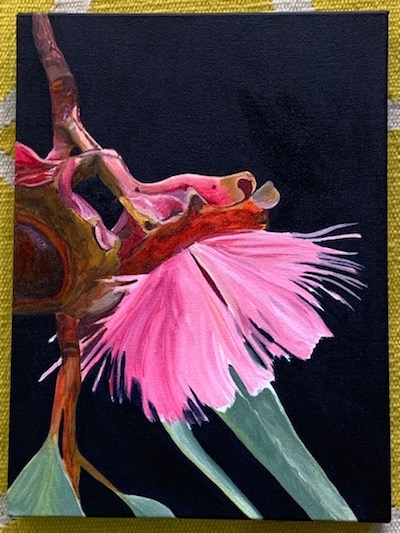 I use a combination of artist quality acrylic paints. As I've grown, I've found that not all paints are equal. In my cart, I have Atelier, Matisse flow, Golden Artist colors, and Winsor and Newton Professional acrylics. I like to use mediums to help with precise brushwork working wet on wet.

The one product I can't live without in my studio is Incredible brush cleaner by chroma. I've been known to clean clothing and carpet stains with it too.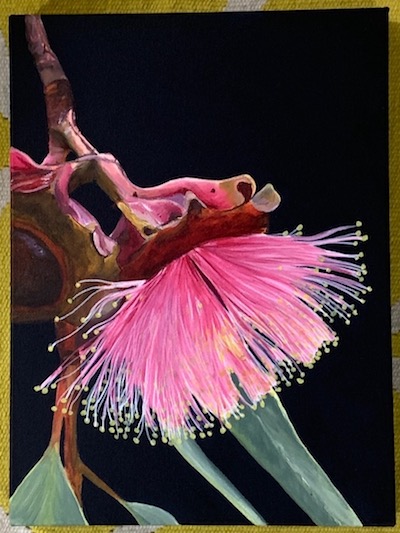 I have been incredibly blessed to be busy during this global pandemic. I have had a run of really large detailed commission artworks. In between them it is fun to play with precious small works that don't require much movement or take up much space in my small home studio.

These are the works I create for myself. I'm sure that collectors can sense that as this work was sold within 7 hours of releasing it to the world.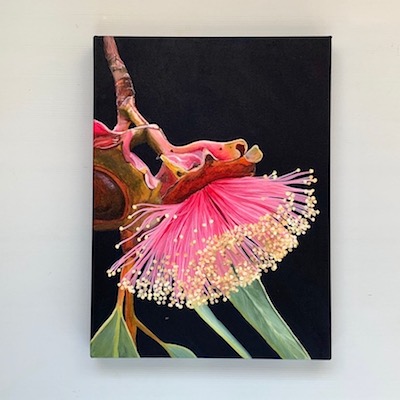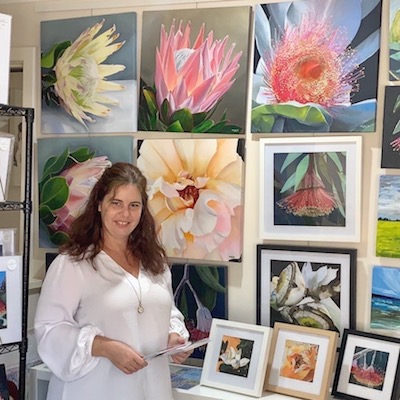 To follow Hayley on her social pages,

Click here for Hayley's Instagram.

Click here for Facebook.

Click here for Hayley's Bluethumb profile.

And click here for Hayley's website!


---


Hope you enjoyed this issue of Acrylics Anonymous!

If you have any suggestions, comments or feedback for the ezine or our site, please don't hesitate to contact us.
Until next time, make sure you stay safe and well, and chuck some paint around!

Cheers from Frankie & Mark :)


---
For our Youtube channel, click here.
To join our Youtube channel as a member for a few bucks every month (in exchange for even MORE awesome perks, click here.
For our Instagram, click here.
For our Website, click here.
For our Facebook page, click here.
For our Pinterest, click here.
---