---

Passionate about painting with acrylics? Need a monthly fix chock full of inspiration? Need some help to take the pain out of your painting process? It's all here for you. Acrylics Anonymous. Zero elitism. Dive in.


---

If you enjoy Acrylics Anonymous, and you know someone who might also enjoy it, you can share by forwarding it to your friends!

If you are receiving this because a friend has forwarded this to you, and you would like to subscribe, click here!


---



Every month, we will produce a Subscribers Only "sealed section". It could be a painting technique, a short video tip, or anything we can think of that we reckon you might enjoy.

Please let us know what you think, we love your feedback! To leave comments, contact us here.


---

Exclusively for You!

Enjoy this beautiful 12 minute meditative experience watching Mark paint this glorious sunset sky.


Click here for this spectacular sunset cloud painting demo!





The Smaller Picture.

Sometimes it's easy to get lost in the "big picture". It's a really lovely exercise to get a small canvas, and home in specifically on one particular aspect of the picture, for example shadows cast on the sand by the trail of suds from the whitewash, or light play in wet sand.

Focussing in on small things like that will expand your understand of how light works and improve all of your paintings.








New Tutorial Bundle

We have a new "Wave Really Lost It" download and stream tutorial bundle! Includes "Wave Fundamentals", "Shorebreak" and "Simple Ocean Wave". Ride that wave people!

Click here for more info on the bundle.



---

Youtube Channel Memberships

We have launched channel memberships guys! This means wonderful perks for you, for just a few bucks a month. Check out all the perks via the link below. Thanks so much for your support!

Click here for all the info.


---

Touched by Cancer?

A BIG shoutout to anyone who has been touched by cancer. Mark has a scan coming up this week and is feeling for everyone who's been touched by this insidious disease. To have a look at his cancer blog, click on the link below.

For Mark's cancer blog, click here.


---

Every month, we choose an Artist from our forum to showcase.

You can even nominate someone if you like. (Or yourself!). To do this, check out the forum and then send us an email! It's that easy.

This month we're featuring talented artist Peter from the UK, with his excellent piece "Paint What You Love". Thank you for sharing Peter - we love seeing what you've been up to during isolation!



Click here for more information on Peter's work "Paint What You Love"

Hosted by Rove McManus, Life Drawing Live will draw the nation together for a live two-hour TV event on Saturday 4 July at 8.30pm on SBS. Click the link below for all the information. Sorry guys, it looks like Aussie's only for this one!

Life Drawing Live on SBS on Demand


---

Katika, Crochet artist from Moscow, creates incredible portraits and artwork that you won't believe! Check out her 60 second doco here:

Katika's 60 second documentary.

and her own website here:

Click here for Katika's website


---


If you have a link you like, please share it with us! You can contact us to let us know. Thank you!


This is the section where you can "get your name in lights!" (well at least out there in the internet world!).

If you have works in progress you would love to show off, or finished pieces you are particularly proud of, we would love to see them!

We especially like to hear about the story behind the creation.

This month's submission comes from our very own Mark Waller! And builds on the story from the Sealed Section video at the beginning of the newsletter.

From Mark:

"I was approached by a lovely human called Tiffany online who asked if I'd consider painting a commission piece of their farm, as the family were selling it.

After a couple of conversations about what she was expecting, I roughed in a couple of examples - different times of day, etc, until we settled on a sunset, which meant I then had to find out exactly where the sun actually set; and all the shapes of the hills and trees. We used a selection of images from broad daylight through to late afternoon to find out where everything was, and started painting.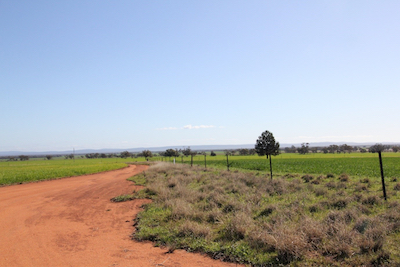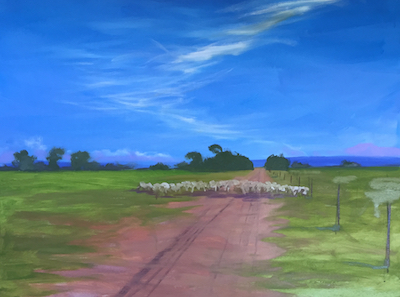 Initially we considered a squarer format, but as the landscape has very few high features, and a long, flat horizon line, we thought it would be a little more dramatic to make a longer, narrower canvas, and use that and the light play to create some drama.

I started by roughing in what I thought was enough information to give my clients a clear idea about what I was thinking without doing too much work that may or may not have to be painted over. After a few texts backwards and forwards, and some fine tuning, the "star eyes emoji" signalled a go-ahead :D

I used Atelier Free Flow to block everything in. Then I used Atelier Interactive in the sky so that I could get those lovely soft blends and gradations and shifts in tone and hue, and re-established the background with the Atelier Interactive and also did some glazing with this. Finally I came back with Free Flow for the finer details and finishing off touches.





I re-painted the sky, putting some more detail in it and tweaking the colours slightly, and moved down into the landscape once I had established the light source and its nuance.

From there it was adding strength to the shadows and highlights, lots of dry brush technique on the grass in the foreground to give that lovely Australian country scraggly-grass feel, and glazes in the background to soften things in the distance, and to get that "warm to cool" process established.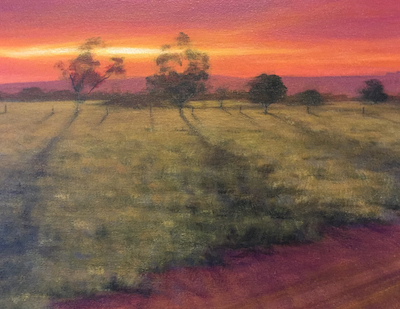 I finished it with a coat of Heavy Gel (impasto gel) before sealing with two coats of Universal Medium. Note that Chroma don't recommend that being the final coat. They recommend an oil-based sealer (so if any restoration needs to be done in future, it's a bit easier to remove that layer first). Thanks for following along!"




To follow Mark on his social pages,

click here for Instagram,

Click here for Facebook

and click here for Mark's website!


---


Hope you enjoyed this issue of Acrylics Anonymous!

If you have any suggestions, comments or feedback for the ezine or our site, please don't hesitate to contact us.
Until next time, make sure you stay safe and well, and chuck some paint around!

Cheers from Frankie & Mark :)


---
For our Youtube channel, click here.
For our Instagram, click here.
For our Website, click here.
For our Facebook page, click here.
For our Pinterest, click here.
---