---

Passionate about painting with acrylics? Need a monthly fix chock full of inspiration? Need some help to take the pain out of your painting process? It's all here for you. Acrylics Anonymous. Zero elitism. Dive in.


---

If you enjoy Acrylics Anonymous, and you know someone who might also enjoy it, you can share by forwarding it to your friends!

If you are receiving this because a friend has forwarded this to you, and you would like to subscribe, click here!


---



Every month, we will produce a Subscribers Only "sealed section". It could be a painting technique, a short video tip, or anything we can think of that we reckon you might enjoy.

Please let us know what you think, we love your feedback! To leave comments, contact us here.


---

Want to paint a wave at sunset?
Of course you do!
We've created this full length tutorial exclusively for you!
Did we mention it's free? Yay!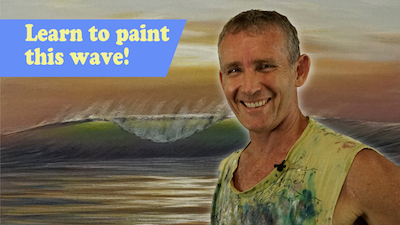 Click here to access your exclusive tutorial!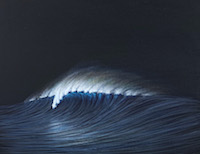 Ask The Questions

One of the things I like about painting is that it forces you to ask questions about the world that you wouldn't normally ask. So you learn things about the world that you wouldn't normally learn! And perhaps that process of investigation is just as important as making the paintings. Hmmmm.








Artsy Shark Article

Artsy Shark inspire artists to build better businesses - valuable resources for you and me! Have a read of Mark's featured artist article on Artsy Shark's website below.

Click here to read the article.


---

Simple Ocean Wave

Hoping you've already seen this tutorial on our Youtube channel, but if you haven't, make sure you take the time to check out this simple, compelling wave today (this is also available as a download/stream for only AUD$15) .

Click here for the Simple Ocean Wave tutorial.


---

Making Your Own Instructional Vids

Have you ever thought about making your own tutorials? I've written an article you may be interested in, which you can find on the Colour In Your Life blog below!

Read the article here.


---

Every month, we choose an Artist from our forum to showcase.

You can even nominate someone if you like. (Or yourself!). To do this, check out the forum and then send us an email! It's that easy.

This month we're featuring artist Heather, with her piece "Bon Voyage". Thank you for sharing Heather - we love the colour palette you've chosen for this piece!



Click here for more information on Heather's "Bon Voyage" painting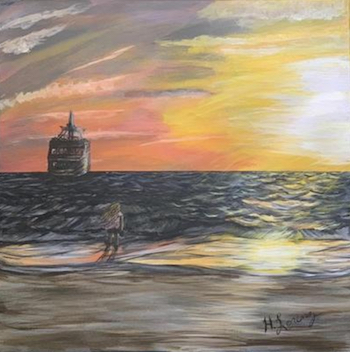 You may enjoy a laff from this one - isolated humans re-creating famous artworks with whatever they have on hand. There's some good ones!

Have a laugh on us!


---

And then there's this. The incredibly precise, realistic work done by Lutsenko Dolls creative Russian duo Anastasiya and Sergey Lutsenko. Haunting, incredible and a tiny bit disturbing, check out their video below "the birth of Eve". NB: If you find ceramic nipples offensive, you may want to skip this :D

Check out the insane talent of Lutsenko Dolls


---


If you have a link you like, please share it with us! You can contact us to let us know. Thank you!



This is the section where you can "get your name in lights!" (well at least out there in the internet world!).

If you have works in progress you would love to show off, or finished pieces you are particularly proud of, we would love to see them!

We especially like to hear about the story behind the creation.

This month's submission comes from fantastic artist and ocean enthusiast Mike Woning, who we featured in AA84 last year. Mike shares his journey with painting "Chrome Wave".

From Mike:

"Hi there again! I'm super stoked to be back again! I'm Mike, an amateur wave painting artist from the Netherlands.

I don't know how most of you find your inspiration but for me, a large part comes from Instagram. I follow several super talented ocean photographers and was blown away when I bumped into a photo by Jeff Davis a few months ago. My first response was to immediately ask if I could use his photo as a reference to a painting. This is something I always do if I can, unless I am completely changing the whole scene and just using one small part or a concept. Anyway, his response (as many do respond) was super positive; Jeff was very co-operative and said he would love to see the result! Funnily enough, I recently had my first request by a local photographer asking if I could paint one of his ocean images (strange to see things turn around now). But despite Jeff's enthusiastic response, I didn't start straight away because, to be honest, as awesome as this image was I was afraid I couldn't pull it off. The wave has this metallic clean look that I'd never done before and all those nuances in colour… So it sat there, in the back of my mind whilst I painted other stuff: in the balance between love and fear.

I could go all philosophical about love being stronger etc but it was actually the confidence coming off of a painting that turned out really well, combined with the fact that I had bought this big 70x90cm canvas that needed paint on it. And thus the journey started! After a quick pencil sketch I started blocking in the main shapes and colours. I've found that I work in 3 steps mostly, although I have to admit that my pitfall is going into details too quickly:

1. sketch + block in

2. refining of shapes and colours

3. details and glazes

Getting the main shapes in wasn't difficult, but there are so many lines, reflections and gradations and little lips and droplets that I got confused. So I tried to stick to the big shapes and colours and leave working out the details until later.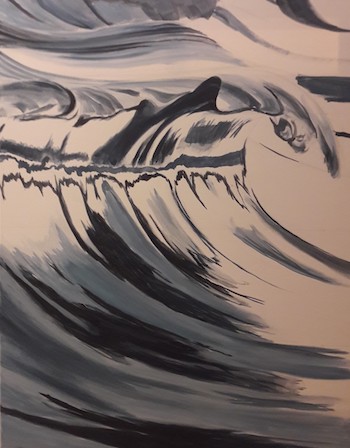 Still though, I find that I have to understand what I am painting, if going from a reference. With that I mean that I need to understand why something looks like it looks, why the light and colours are doing what they do.




I notice that if I 'just' copy colours and values I get lost in details and am confused what to do and how and it just doesn't come out right. Once I understand what I am seeing, I can simplify that part to a point that I can paint it. That's exactly what I did for this painting as there are a number of those complicated spots in the reference photo.

As noted I am prone to getting lost in details, which is why I am particularly happy with the background of this painting: I painted it with a rather coarse flathead brush thinking I would come back to it for phase 3 'details and glazes'.




In the end I never did, aside from a general glaze to give more unity to the colours in the painting and thought the background was good as is! There's a lot of glazing going on in this painting by the way. I don't dry brush as much although looking at Mark's work I think I should try this more.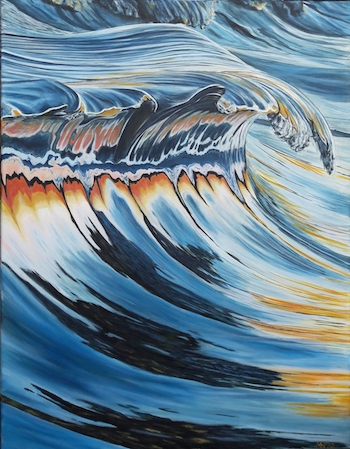 Anyway, I'm happy (and a bit surprised) how 'Chrome wave' turned out and super stoked to be able to share it with you all. Should you be interested in more of my wave paintings or the odd portrait or beach/seascape, please check out:

My instagram page.

(and click "follow" please!), or my website:

Right here.

Hope to catch you all some time again. Aloha, MIke.

Thanks so much for sharing your journey Mike! Make sure you check out Mike's paintings for some wave inspiration.


---


Hope you enjoyed this issue of Acrylics Anonymous!

If you have any suggestions, comments or feedback for the ezine or our site, please don't hesitate to contact us.
Until next time, make sure you stay safe and well, and chuck some paint around!

Cheers from Frankie & Mark :)


---