---

Passionate about painting with acrylics? Need a monthly fix chock full of inspiration? Need some help to take the pain out of your painting process? It's all here for you. Acrylics Anonymous. Zero elitism. Dive in.


---

If you enjoy Acrylics Anonymous, and you know someone who might also enjoy it, you can share by forwarding it to your friends!

If you are receiving this because a friend has forwarded this to you, and you would like to subscribe, click here!


---



Every month, we will produce a Subscribers Only "sealed section". It could be a painting technique, a short video tip, or anything we can think of that we reckon you might enjoy.

Please let us know what you think, we love your feedback! To leave comments, contact us here.


---

It's been a tough start to the year here in Australia.
We want to gently remind you that it's ok to nurture yourself. Not only do we have to rebuild our infrastructure and habitats, we also have to rebuild ourselves mentally. With this in mind we'd like to offer 20% off storewide for all our products.

Use code: NURTURE at checkout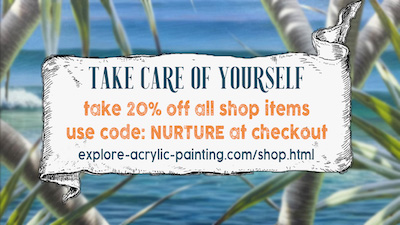 Click here to visit the Explore Store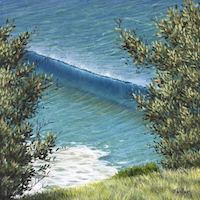 Time to Connect.

Sometimes it can seem that the world is weighing down on us. Perhaps its a good time to de-stress, and reconnect.

Our indigenous brothers and sisters have a profound understanding and connection with nature. Maybe it's time to discover that magic, rekindle our connection, and spend some time in nature just watching.

Stress will diminish, a new perspective will emerge and....perhaps even a painting too.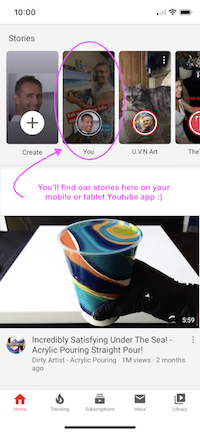 Youtube Stories

Youtube has recently introduced "stories" - similar to Instagram and Facebook. Unlike Instagram and Facebook however, YT stories last for 7 days! Bonus!

We expect they'll be developing this feature even more over the next 12 months, it's currently only available to established channels with over 10,000 subscribers.

You should get on board with our YT stories to see all the latest images Mark is working on, and behind the scenes goodness!

This feature is only available for mobile and tablet at this stage - see the image to the right to help you find ours :)




---

Upcoming workshops!

We have workshops in the planning stages in the next six months for Esk, WA and Tassie. (Esk is confirmed). AND, a Fiji workshop is planned for October 2020! Make sure you sign up to our workshops mailing list for all the latest info.

Click here to join our workshops mailing list.

And for a clip on our upcoming Esk workshop painting demonstration, shown previously on our YT stories but now in living, permanent colour on our channel for 16 minutes, click here!


---

Staff away

Our hardworking IT staff will be away in the cooler Northern Hemisphere climes from the 10th-26th February. Please be patient during this time if you need to contact us, and be aware it may take Mark some time to get back to you!





Every month, we choose an Artist from our forum to showcase.

You can even nominate someone if you like. (Or yourself!). To do this, check out the forum and then send us an email! It's that easy.

This month we're featuring Michael Landry from Montreal - Quebec - with the painting titled "Winter Wonderland After The Storm". Thank you for sharing Michael, this beautiful gift for your brother. You have captured the mood of the passing storm perfectly, well done!



Click here for more information of Michael's painting "Winter Wonderland After The Storm"

I Love Hue. Are you looking for a new addiction? One that nurtures your soul as well as your brain, and will help develop your painting skills in the process? Check out this game "I Love Hue", described by the makers as a gentle colour journey. It's fantastic, and in a nutshell is all about solving gradations. It's free (you'll have to ignore the pop ups), and won't take up much room on your phone, go check it out now!

Check out this game from the app store today.


---

Dustin Yellin makes 3D compositions embedded in glass. Here is the fascinating Ted talk about his process and the way his brain works. Awesome!

Have a look and listen to Dustin's TED talk here.


---


If you have a link you like, please share it with us! You can contact us to let us know. Thank you!


This is the section where you can "get your name in lights!" (well at least out there in the internet world!).

If you have works in progress you would love to show off, or finished pieces you are particularly proud of, we would love to see them!

We especially like to hear about the story behind the creation.

This month's submission comes from Chroma's own resident artist, and all round lovely human, Jennifer VonStein.

From Jen:

"My paintings are stories, responses and celebrations of people, places and memories. As such, they have many layers in them, and they go through many stages in their development.  I've found that taking pictures of my work at various stages helps me to see where I am going and plan my next moves.  I also spend a lot of time just looking at my work before, during and after a painting session.  Sometimes, my husband will check in on me at the beginning of a session, and see me standing and staring at a painting in progress. He'll come back a few hours later (ideally with food and/or drink) and find me in an almost identical position.  "Did you even do anything?" he'll ask.   Of course I did, but for me, looking at what I painted is what drives my work forward to a place where I am satisfied enough to call it complete, or at the very least, resolved.

Lately, my work has focused on animals, people, and animals as people. One thing I do 99% of the time for any work is to start on a colored surface.  I use the Atelier Free Flow Colored Gessoes (Indian Red Oxide is my latest fave) or Atelier Free Flow colors (Cadmium Yellow Light or Quinacridone Magenta) to set the stage.  This habit is based from my early days, where painting on a neutral ground helps you judge tonal values.  While value is important in my paintings, emotional impact is more, so I like to start off with punchier colors. This painting is one that has my heart , "You are Yourself" 30 x 24. Inspired by Margaret Atwood's poem "Hesitations Outside The Door," the children from the refugee crisis and figuring out where your home truly is.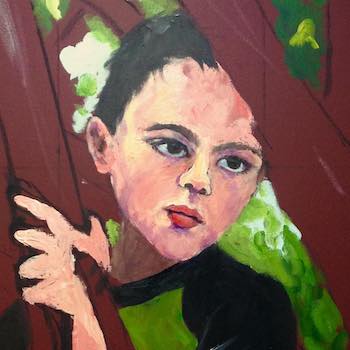 Once dry, I sketch in very rough shapes using vine charcoal, and start to lay in.  I use Atelier Interactive Artists' Acrylics mixed with Clear Painting Medium, and I apply it with a large painting knife.  I use a full spectrum, contemporary Impressionist split complementary palette, and my staples are:  Titanium White, Cadmium Yellow Light, Cadmium Yellow Medium (or Deep), Transparent Perinone Orange, Napthol Red Light, Quinacridone Magenta, Dioxazine Purple, French Ultramarine Blue, Cobalt Blue, Cobalt Turquoise Light and Permanent Sap Green, with others as needed. For the longest time, I didn't really use blacks or earth colors, but for some of my new figurative works, I've rediscovered the magic of Burnt Umber and Raw Sienna.

My goal in the first session is to get as much of the main masses painted as possible, using cool colors for areas in shadow and warm colors for areas in sun.  Once that is finished, I usually stop for one of my many staring sessions. Then I take pictures and notes!  I note the areas that need a bunch of work, the ones that don't look completely horrible and the ones that look like they are heading the right direction.  If I need to correct my shapes and I just can't seem to do it with a brush or knife, I draw back on top of the painting with charcoal or chalk. I plan my attack for the next session.  The later sessions are all about refinements, building texture, adding details and glazing using knives and brushes.  I do use the Unlocking Formula frequently to help blend during a session, because my studio is either super-hot or super cold! I apply 2-3 coats of Chroma's Finishing Varnish in Satin or Gloss to protect and preserve my work..




My sessions tend to be 2-4 hours, after work and family time with my young children (I tend to post on Instagram after midnight EST!)  I am not above taking some of my early work and bringing them into Photoshop and doing some EXTREMELY rough cut-and-pastes to fix elements, or superimpose a reference on top of the photo of my existing work-in-progress.  Sometimes it helps me see things better, especially if it is an area where I am struggling or if the painting is in the ubiquitous ugly stage. I also have a couple of dear artist friends who are the lucky recipients of my late night/early morning texts with images of what I created, and they provide some insights, but usually later in the day when they are awake.  It's a blessing that I have people in my life that provide helpful, constructive criticism, and by sharing my works in progress online, I find myself more accountable to making the works the best they can be.

The best piece of advice I ever received about painting is "Don't treat your work as precious."  This doesn't mean not to value your work, but you cannot be afraid of doing something wrong or making a mistake in fear of ruining it.  Honestly, most of the times I am unhappy with a section it's because I have been too fussy and am afraid of doing anything else because it looked "pretty," but something (a voice? a vision? a muse? my gut?) is telling me to push on.  Not all the times I push are immediately successful – indeed, I find that sometimes I have ANOTHER section that now needs to be resolved – but every time I push, every time I do not treat my work as precious, the work comes out stronger. Every Single Time… although it may add hours to the process!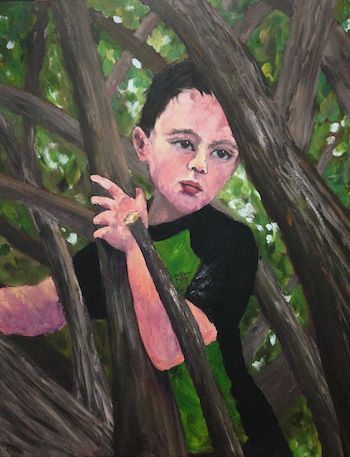 Ultimately, there comes a time when it stops being about creating a likeness or remaining true to some preconceived idea. It becomes about the painting, and what needs to be done to make the work be interesting as a painting, from 3 inches away, 3 feet away and from across the room. The painting knows what it wants to be.  After all, I am a contemporary painter living in contemporary times, and I can make any decision I want in my artworks. I'm not an impressionist, I'm not a realist, and I don't have to subscribe to any formula.  All I need to do is not be afraid, throw some paint down and tell my stories."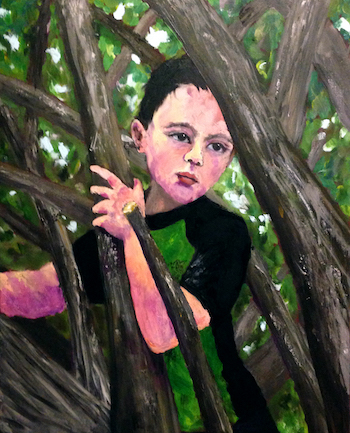 Thanks so much Jen for sharing with us!

If you like Jen's work and would like to see more, please check out her instagram page, click here.

And for her facebook page, click here.

And for Jen's website, click here.


---


Hope you enjoyed this issue of Acrylics Anonymous!

If you have any suggestions, comments or feedback for the ezine or our site, please don't hesitate to contact us.
Until next time, make sure you chuck some paint around!

Cheers from Frankie & Mark :)


---