---

Passionate about painting with acrylics? Need a monthly fix chock full of inspiration? Need some help to take the pain out of your painting process? It's all here for you. Acrylics Anonymous. Zero elitism. Dive in.


---

If you enjoy Acrylics Anonymous, and you know someone who might also enjoy it, you can share by forwarding it to your friends!

If you are receiving this because a friend has forwarded this to you, and you would like to subscribe, click here!


---



Every month, we will produce a Subscribers Only "sealed section". It could be a painting technique, a short video tip, or anything we can think of that we reckon you might enjoy.

Please let us know what you think, we love your feedback! To leave comments, contact us here.


---

Exclusive to you! - Download your PDF! 5 tips for painting the Aussie coast in Winter.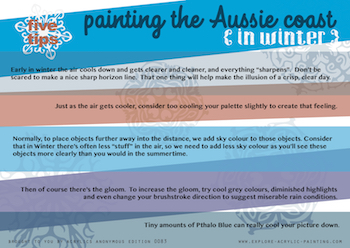 Look To The Light!

They say looking directly into the sun is really bad for you. BUT. Late in the afternoon when the sun hits the horizon, colour does some amazing things.

See if you can isolate the transition of colours from warm to cool from light source radiating outwards, and how you would mix them. Maybe take a photo though!









Workshop in WA

Mark is keen to come back to WA for a workshop and a couple of demos in September. If you're keen to come along to one or more of these events, send us an email through the link below and let us know!

Email us through the contact form here.


---

Want to paint whitewash, suds and waves?

See our latest Youtube clip for a great 10 minute tutorial on this very subject! P.S. This painting is also in our Works In Progress section towards the end of this ezine.

Check out the whitewash, suds and wave tutorial here.


---

Every month, we choose an Artist from our forum to showcase.

You can even nominate someone if you like. (Or yourself!). To do this, check out the forum and then send us an email! It's that easy.

This month, it's Debojyoti Boruah from Sibsagar, Assam, India, who has captured the essence of this Nagaland tribe member of North-Eastern India with the painting "Konyak of Nagaland The Warriors".

Fantastic work!



Click here to read more about Deboiyoti's work "Konyak of Nagaland The Warriors" right here.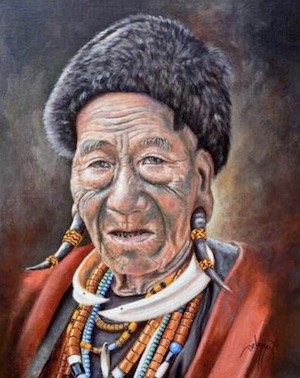 Lisa Ericson from Portland, Oregon, creates beautiful science and surrealism based works on wooden panels with acrylics. You may've seen her beautiful "migration" works and there are some gorgeous pieces in her gallery combining ecosystems and animals. Awesome!

Check out Lisa's gorgeous works here.


---

And, even more animals for you! Canadian paper artist Calvin Nicholls makes extraordinary wildlife sculptures using just paper. Wow!! Scroll through his works and videos on his process and I promise you won't be sorry!

Calvin's work is breathtaking. Go look! Go see!


---


If you have a link you like, please share it with us! You can contact us to let us know. Thank you!



This is the section where you can "get your name in lights!" (well at least out there in the internet world!).

If you have works in progress you would love to show off, or finished pieces you are particularly proud of, we would love to see them!

We especially like to hear about the story behind the creation.

This month's submission comes again from our very own Mark Waller.

From Mark:

"Every now and then an image grabs you by the scruff of the neck and throws you into the studio.

I went out to get some photo references for a commission piece that I was doing, and there was a really nice swell running - offshore, and big clean lines out at sea. I sat up on the cliff after I'd taken some photos, just looking at the swell. There was this little bay, and these waves were smashing into the bay, and I just loved the idea of the rocks just underneath the surface, and the path being left by the suds, and the wave and the spray coming off it.

So I took a pile of shots and decided that it also needed a pandanus tree. So, it's a pandanus tree with suds in the background :)




I pretty much painted this painting the same way I always do, which is to rough everything in initially with Atelier Free Flow, and then tidy everything up to a certain degree, and then apply a couple of coats of impasto gel. Then I started working over the top again with Free Flow, but I used Atelier Interactive in the areas where I wanted to blend a little more subtly. Most of this picture is done with Free Flow. I'm starting to get a little more "caught up" in the picture, so I like the immediacy of Free Flow because it dries so quickly and I can work straight over the top.




I re-painted the suds a couple of times, because I looked at it at one stage and thought I somehow managed to turn it into a whole series of "loops", and I probably could have got away with it, but I decided that if I didn't it would haunt me for the rest of my life! So I probably added a couple more days to it trying to tidy that up.




But interestingly while I was painting the pandanus tree I realised there were some processes that I rediscovered, I'd forgotten that I'd learnt them prior to my surgery and so I rediscovered them - and I kind of feel like every time I paint a pandanus tree I rediscover something that I forgot!"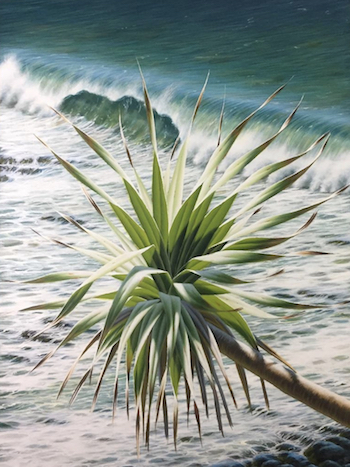 For more of Mark's work, make sure you check out the following links. For Mark's art website, click here.

For Mark's Bluethumb catalogue, click here.

For Mark's own Instagram, click here.


---


Hope you enjoyed this issue of Acrylics Anonymous!

If you have any suggestions, comments or feedback for the ezine or our site, please don't hesitate to contact us.

Until next time, make sure you chuck some paint around!

Cheers from Frankie & Mark :)


---