---

Passionate about painting with acrylics? Need a monthly fix chock full of inspiration? Need some help to take the pain out of your painting process? It's all here for you. Acrylics Anonymous. Zero elitism. Dive in.


---

If you enjoy Acrylics Anonymous, and you know someone who might also enjoy it, you can share by forwarding it to your friends!

If you are receiving this because a friend has forwarded this to you, and you would like to subscribe, click here!


---



Every month, we will produce a Subscribers Only "sealed section". It could be a painting technique, a short video tip, or anything we can think of that we reckon you might enjoy.

Please let us know what you think, we love your feedback! To leave comments, contact us here.


---

Need some inspiration for the not-so-New-Year?

Try this technique with your exclusive clip :)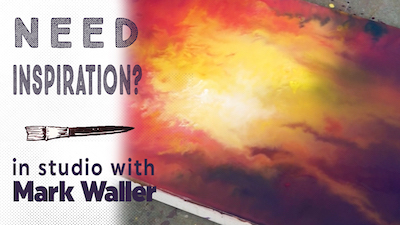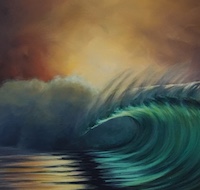 Low Light Tip

When you're painting a low light situation with waves - for example a sunset; it's easy to get the colours in the shadow areas wrong.

I like to go into the darker areas with a neutral blue/grey colour which is slightly tonally darker than the background. I can then add colour to the highlights gradually. Voila!









Painting A Storm

Get all dramatic with our latest webpage. Discover how using two similar moody backgrounds and the same scene can yield very different results, just altering brushstrokes. And, lucky ducks, a bonus 20 minute video on painting a storm at the end of the page!

Click here for the webpage.


---

2019 Workshops!

Mark's latest results have shown he is currently free of cancer. Hip Hip HOORAY! We are so, so grateful for your love and support. Among other things, Mark is keen to get back into workshops this year. Make sure you are signed up to our workshops mailing list for all the latest info!

Click here to sign up.


---

Every month, we choose an Artist from our forum to showcase.

You can even nominate someone if you like. (Or yourself!). To do this, check out the forum and then send us an email! It's that easy.

This month we're featuring Rashmi from West Bengal, India, with the work titled "Soaring". Awesome use of perspective and such a strong composition in this piece. Great job Glendora!



Click here to read more about Rashmi's "Soaring"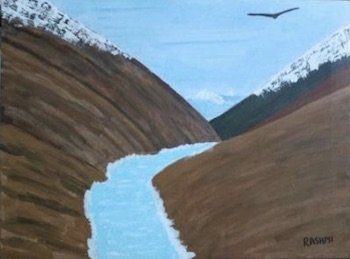 James Brunt, artist from the UK, creates visually stunning sculptures using found objects in nature and geometric installations. They are simply beautiful, meditative and inspiring.

Check out his website here:


---

And just when you think you had seen absolutely everything, you find out about artist Daniel Rozin. I have a love of kinetic sculpture and also am partial to a bit of nerding.

I have literally no idea how his artworks actually function, but they are amazing. He creates "viewer interactive" artworks using motors, electronics, concealed video cameras and found items to create absolutely confounding and arresting artworks. My personal favourite is an early one from 2001 titled "Trash Mirror - 2001". My brain is exploding!! But in a good way.

Go see!


---


If you have a link you like, please share it with us! You can contact us to let us know. Thank you!



This is the section where you can "get your name in lights!" (well at least out there in the internet world!).

If you have works in progress you would love to show off, or finished pieces you are particularly proud of, we would love to see them!

We especially like to hear about the story behind the creation.

This month's submission comes from the talented and lovely artist Alina Jane.

From Alina:

This painting was a commission for a friend, who wanted it for a Christmas present for her husband. In retrospect, starting a Christmas present commission only weeks before Christmas is a recipe for stress – thankfully it turned out well in the end.

The painting was inspired by Redhead Beach, south of Newcastle. The client wanted the picture to be realistic, with messy surf but a surfable wave and no clouds. I started with this sketch after taking hundreds of photos to get ideas, perspectives and colours.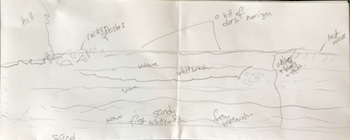 I then mocked it up on the (large) canvas. It was important to get the perspective right, especially for a well known local beach such as this.




I blocked in the painting and did the rocks, but didn't like where the waves were – this is the first version of them below, which were soon painted over.




This is the painting with the waves taken out.




Second attempt at waves.




I then started adding shadows.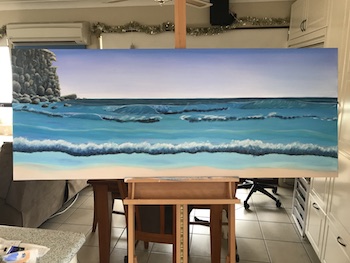 I then added more layers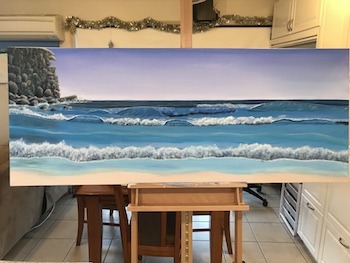 This shows some closer detail.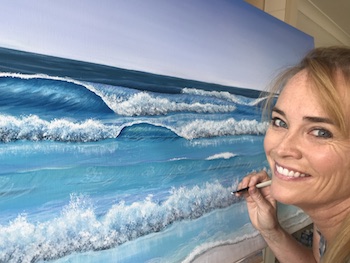 The client still wanted the cliffs with more red, so I made some last minute adjustments to the rocks. The final product is below – the client's husband was delighted, which was such a relief.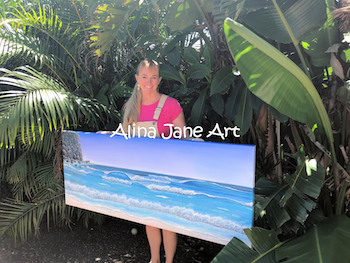 A few more learnings from this – make sure you take good photos before you varnish the painting. As you can see from this one, it's a bit washed out in the light.As with all my paintings, I used Atelier Interactive paints on store bought canvas – I love the way the Atelier paints have rich pigment and can be watered down and re-activated. My only exception to the store bought canvas was one I painted on a hand made surfboard which will make an appearance at this year's Surfest– I'm keen to try more of these.

After a challenging start to this work, I was very happy with the outcome in the end.

Thanks so much for sharing your journey with this painting Alina! To find Alina's art on the interwebs, check the links below:

Click here for Alina's Facebook

Click here for her Instagram

Click here for Alina's website


---


Hope you enjoyed this issue of Acrylics Anonymous!

If you have any suggestions, comments or feedback for the ezine or our site, please don't hesitate to contact us.

Until next time, make sure you chuck some paint around!

Cheers from Frankie & Mark :)


---