---

Passionate about painting with acrylics? Need a monthly fix chock full of inspiration? Need some help to take the pain out of your painting process? It's all here for you. Acrylics Anonymous. Zero elitism. Dive in.


---

If you enjoy Acrylics Anonymous, and you know someone who might also enjoy it, you can share by forwarding it to your friends!

If you are receiving this because a friend has forwarded this to you, and you would like to subscribe, click here!


---



Every month, we will produce a Subscribers Only "sealed section". It could be a painting technique, a short video tip, or anything we can think of that we reckon you might enjoy.

Please let us know what you think, we love your feedback! To leave comments, contact us here.


Waves and Whitewash

Another tutorial recipe exclusive to AA subscribers for our forthcoming recipe book! We are working hard in the background to have this recipe book available in the New Year :)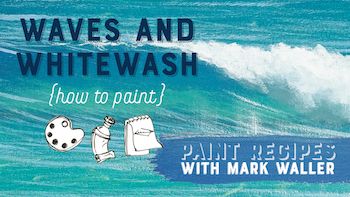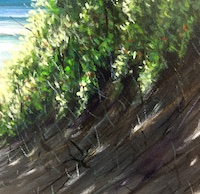 Shadows don't have to be dead spots.

They can be wonderful areas of interest on their own. To create interest and realistic "chaos" in your shadows, try using your brush in different ways. On it's edge, flicking it against the canvas, rolling your brush to create the illusion of branches here and there, adding colour to the back of your brush and strike it against the canvas.

You'll be amazed at the flecks of light and life you can inject.









More On Water DVD - is now available!

If you missed the pre-sale sale, you can still save :) This month only we're offering AA subscribers 10% off the purchase price on our downloadable version. Type "TENOFF" in the "Add Promo Code" box at checkout.

Click here for more info.


---

...And More, on More on Water :D

If you've been hanging out - and you know who you are - we WILL have the physical DVDs available for sale in December. They will be formatted PAL, sorry Northern Hemispheriens, you'll have to make do with the download unless you have an All Region DVD player. Keep your eye on the AA!


---


Another DVD In The Works!

Wave Fundamentals will be available soon! And by soon, we mean soon - it's in post-production now. Make sure you order your pre-sale digital copy now!

Click here for more info and to register.


---


Let's Get Retro.

A bit of a throwback this month for you - here's an article first published in Artist Palette magazine edition 115 - want to develop even more colour in your shadows?

Click here to download the article (approx 370kb)


---

Every month, we choose an Artist from our forum to showcase.

You can even nominate someone if you like. (Or yourself!). To do this, check out the forum and then send us an email! It's that easy.

This month we're featuring Jack Miller's work titled "A Winter Scene". Jack is from Willow Park, Texas, US. I wouldn't have thought it would get too cold in Texas but I could be wrong! It's so hot in Australia at the moment we are loving the cooling vibes in this piece. Great job Jack!



Click here to read more about Jack's "A Winter Scene"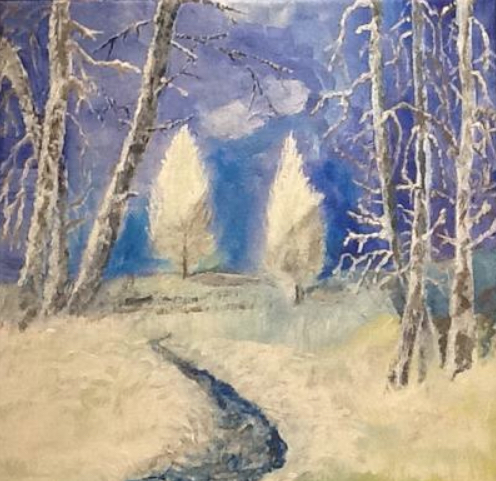 Colour is one of my favourite things in all the world. And who is more fascinating when it comes to colour than the Pantone people! Take a little look around the Pantone factory here:

Click here to take a little tour around Pantone.

And now, go and check the website out here for a fascinating look around at the influence this powerful brand has on so many things in our world.

Click here to have a look around the Pantone website.


---

Yulia Brodskaya has a different approach. Working with paper as her medium instead of working ON paper. Check out her beautiful pieces, and more about her here.

Click here to see Yulia's exceptional work.


---


If you have a link you like, please share it with us! You can contact us to let us know. Thank you!


This is the section where you can "get your name in lights!" (well at least out there in the internet world!).

If you have works in progress you would love to show off, or finished pieces you are particularly proud of, we would love to see them!

We especially like to hear about the story behind the creation.

This month's story comes from talented Aussie ocean artist, Carole Elliott.

From Carole:

"Since retiring four years ago, my husband and I travel to North Queensland each Winter in our caravan and spend four months exploring the region. This has meant I am unable to work on large canvases and I am limited to taking two storage containers of art supplies. Last year, after visiting the Reef HQ Turtle Hospital I decided to work on a series of turtle paintings and donate over 50% of profit to organisations who rescue and rehabilitate endangered turtles.

These are painted on watercolour paper using Atelier Interactive, which don't take up much space. As a result of my work I was delighted to be accepted as a member of the exclusive Ocean Artists Society based in California, who hold one of my turtle paintings "His Favourite Spot" in their permanent collection for future exhibitions.

Here is the work-in-progress of this painting and I would like to thank Ocean Safari based in Cape Tribulation for the use of their reference photo.

"His Favourite Spot"
Atelier Interactive Acrylics on stretched canvas
Each stage of this painting has taken 2-4 hours



After painting the base coat onto the canvas and letting it dry overnight, I proceeded to draw the basic outline of the turtle and approximate area of the coral. I never do a detailed drawing and always work in layers. My paintings always go through an 'ugly' stage that I just have to work through.

The base coat of the turtle is painted in gold and copper acrylic, a technique I saw on Linda MacAulay's episode of Colour In Your Life. Thank you Linda ☺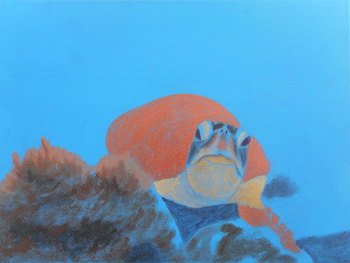 I worked on the turtle to near completion, using a dry-brush technique to overpaint the gold and copper, allowing parts to show through the markings on the shell and head of the turtle. I also underpainted a portion of the coral to allow for further dry-brushwork and layering of colour.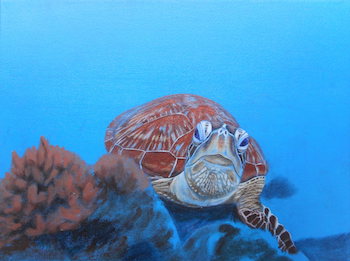 I completed all the different corals surrounding the turtle, ensuring my colour mixes for the background coral had some of the colour of the water mixed with them to push them further into the distance. I also used glazes to soften the background corals.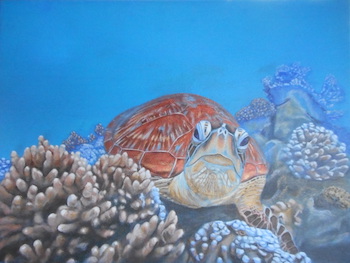 With the addition of some tropical fish I declared "His Favourite Spot" complete and he was packed up and sent to join the Ocean Artists Society, with his last exhibition held in Las Vegas.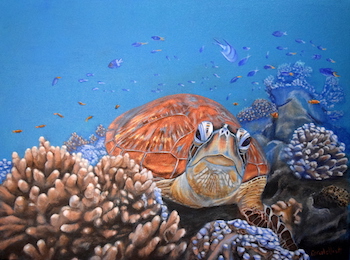 Close-up shot showing the gold and copper which glows through on the turtle."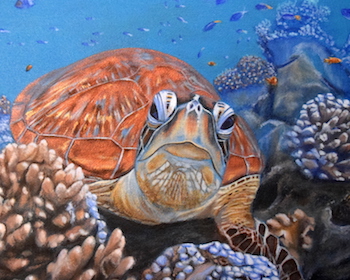 Thanks so much Carole for sharing your journey with us, an amazing insight into his world :)

For more of Carole's fantastic ocean artwork, follow her on instagram @carolelliott7, via her website at http://www.carolelliott7.com/ or on Facebook at https://www.facebook.com/carole.elliott7.artist


---


Hope you enjoyed this issue of Acrylics Anonymous!

If you have any suggestions, comments or feedback for the ezine or our site, please don't hesitate to contact us.

Until next time, make sure you chuck some paint around!

Cheers from Frankie & Mark :)


---