---

Passionate about painting with acrylics? Need a monthly fix chock full of inspiration? Need some help to take the pain out of your painting process? It's all here for you. Acrylics Anonymous. Zero elitism. Dive in.


---

If you enjoy Acrylics Anonymous, and you know someone who might also enjoy it, you can share by forwarding it to your friends!

If you are receiving this because a friend has forwarded this to you, and you would like to subscribe, click here!


---



Every month, we will produce a Subscribers Only "sealed section". It could be a painting technique, a short video tip, or anything we can think of that we reckon you might enjoy.

Please let us know what you think, we love your feedback! To leave comments, click here.



30% off all Explore Store Items!

AA SUBSCRIBERS ONLY!

Enter your discount code at checkout:

JOYJOYJOY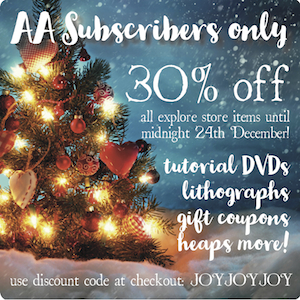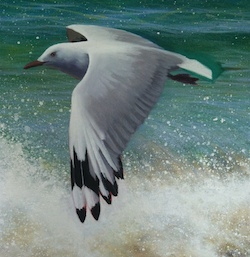 Make A List.


Making a list can be a great idea, particularly if you are just learning. Ie list your painting tasks - draw in elements, block in sky, add clouds, mix up foreground leaf colour, etc.

This can help you stay on task if you find you are drifting aimlessly around your painting :) It's also a good way of reinforcing a process that works for you, and can get you thinking about how you will execute your painting before you do it, which is always a good thing.









Your Studio Companion

We have handmade something very special just for you! And now with your 30% off even more special :) Your Studio Companion. Limited edition. First in first served. Out now. Merry Christmas to thee.

Click here for more info.


---


Mark Waller News

This year has been completely wacky at Explore HQ. We thought you might like an insight into how this year has been for Mark. In this exclusive, candid interview he opens up about his experiences with brain surgery and living with cancer.

Click here to read more.


---

Every month, we choose an Artist from our forum to showcase.

You can even nominate someone if you like. (Or yourself!). To do this, check out the forum and then send us an email! It's that easy.

This month we're focussed on artist Bonnie Fontaine, from Rhode Island, USA., with her painting, "Snow Drops". Always at this time of year I start searching around for paintings to make me feel "cooler". It's so hot in Australia at Christmastime! Bonnie's painting has used colour to great cooling effect in her piece. Well done Bonnie!



Read more about Bonnie Fontaine "Snow Drops"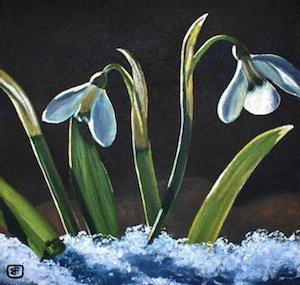 Andy Goldsworthy - UK artist - you may've come across his extraordinary sculptures before - he uses natural materials to create extraordinary sculptures out in the world. Simply stunning.

Click here for Andy's fantastic work.


---

Salavat Fidai is an exceptionally talented artist from Russia - selling his tiny pencil tip sculptures for thousands on his etsy site!! He also has a wonderful coffee table book titled "the pencilbook" - well worth a look for a gift idea for the quirky artists in your life. Unlike his actual sculptures, the book is a lot more affordable!

Click here for Salavat's amazing sculptures.


---


If you have a link you like, please share it with us! You can contact us to let us know. Thank you!


This is the section where you can "get your name in lights!" (well at least out there in the internet world!).

If you have works in progress you would love to show off, or finished pieces you are particularly proud of, we would love to see them!

We especially like to hear about the story behind the creation.

This painting comes from our own Mark Waller!

Every now and then a painting really, really stands out. And sometimes it's as much about the people as it is about the painting.

And so brings you this story, from Mark:

"I was asked to do a commission piece by Lisa, someone I hadn't seen since school. She was in a long term relationship, and asked me to do a painting of a place that was special to them, as a surprise gift to him.

We went through the process of organising sizes and the image, and I started the piece. And of course, did the obligatory to-ing and fro-ing via email and text as the painting went along, until it was complete and she was happy.

I rang her to let her know the painting was done - and she organised to collect it on a Sunday. She and her partner arrived on the Sunday to collect the painting.

I hadn't met him before, and he had no clue what I'd been up to with his partner (that sounds bad!!). When he saw the painting, the effect it had on him was obvious. It took a few moments for him to collect himself, and they explained to me that they had driven to that spot the day before, where he had proposed to her! He didn't know about the painting, and Lisa and I had no clue about the proposal.

It was one of those truly special coincidences that somehow make you think there's much more to this world than we know.

The painting went to a truly beautiful couple, and it was an honour to paint it for them both.

If you're interested there is a little clip of me working on this one on instagram if you want to go find it @markwallerpaints

Thanks for sharing such a lovely story Mark!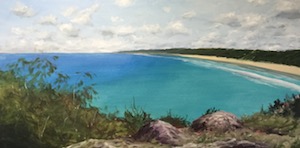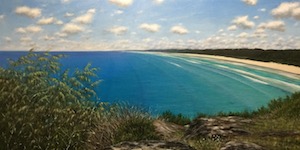 ---


Hope you enjoyed this issue of Acrylics Anonymous!

Cheers to you and happiness and health to you and your loved ones this Holiday Season!

If you have any suggestions, comments or feedback for the ezine or our site, please don't hesitate to contact us.

Until next time, make sure you chuck some paint around!

Cheers from Frankie & Mark :)


---