---

Passionate about painting with acrylics? Need a monthly fix chock full of inspiration? Need some help to take the pain out of your painting process? It's all here for you. Acrylics Anonymous. Zero elitism. Dive in.


---

If you enjoy Acrylics Anonymous, and you know someone who might also enjoy it, you can share by forwarding it to your friends!

If you are receiving this because a friend has forwarded this to you, and you would like to subscribe, click here!


---



Every month, we will produce a Subscribers Only "sealed section". It could be a painting technique, a short video tip, or anything we can think of that we reckon you might enjoy.

Please let us know what you think, we love your feedback! To leave comments, click here.



We have gone *a little* video crazy :D

Summer Colour Fun!

We decided to film a "short" blocking in sequence just for you - it still ended up longer than intended but we hope you enjoy it nevertheless!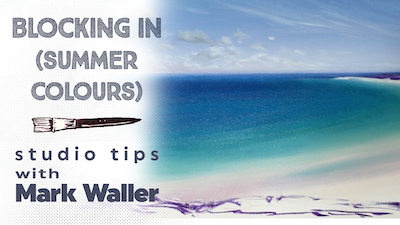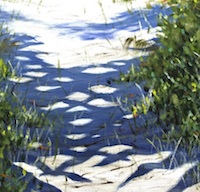 Make Friends With Contrast


To get the illusion of lovely bright clear skies, contrast is your friend.

Don't be scared to make your shadows dark, and your highlights light for added drama.

Try using pure, slightly unexpected colour in your shadows like blues and purples on sand, and the whitest whites for your highlights. Don't be afraid. It'll be all White in the end. (groannnn).









A Real Quick Survey

We are looking at the possibility of selling paint supplies direct to you and need your feedback for this to happen!

Click here for our 2 question survey.


---


Linda MacAulay

In our continuing interview series, this time the spotlight is on Aussie artist Linda MacAulay - and a fascinating insight into her process.

Click here to read on.


---

Every month, we choose an Artist from our forum to showcase.

You can even nominate someone if you like. (Or yourself!). To do this, check out the forum and then send us an email! It's that easy.

This month we're focussed on artist Jan Rasiewicz, from Ljubljana, Slovenia, Europian Union, with his painting, "Listen To Ocean". Jan has done an amazing job capturing the late afternoon summertime vibe in this painting. Great work Jan!!



read more about Jan Rasiewicz's "Listen To Ocean"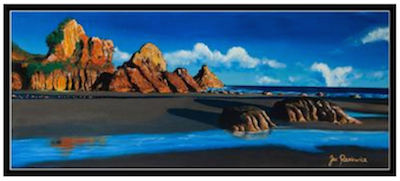 Jake Parker's mantra "finished, not perfect" is something we can all take on board, no matter our arts practise. I know I have several (hundred) unfinished projects just in one room of my house! Thanks Jake.

Click here for Jake's advice on this.


---

The Vintage Calendar Girls are a group of lovely ladies raising much needed funds for rare cancers. They sell calendars and will have their annual gala dinner in October. Check out the facebook page for more info.

Click here for more info.


---


If you have a link you like, please share it with us! You can contact us to let us know. Thank you!



This is the section where you can "get your name in lights!" (well at least out there in the internet world!).

If you have works in progress you would love to show off, or finished pieces you are particularly proud of, we would love to see them!

We especially like to hear about the story behind the creation.

This lovely summery piece comes from Susan Sullivan from Manitoba, Canada; a long time supporter of ours, who first featured in AA in November 2014.

From Susan:

"I painted this Sunflower to donate to the Walk of Hope held here in Manitoba to support Ovarian Cancer.

Their logo is a yellow sunflower that grows huge crops here in Manitoba. Their signature color is teal.

There is an orange sunflower, and many other colors.  Sunflowers as you may know, face the sun at all times, as the sun moves during the day the flowers turn and physically follow the Sun.  They've adopted this flower to represent eternal hope for healing and curing.

I have a friend who is an Ovarian cancer survivor, four years now, and I wanted to give something meaningful to their fund raising.  I had a very close friend who didn't survive.  I hope this painting is capable in helping them raise some funds.

I took progress shots this time.  It is 24x24 inches, gallery wrap stretched canvas."

Thanks to Susan for sharing her inspirational artwork and story with us!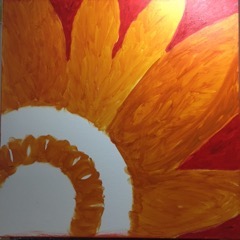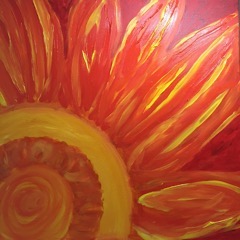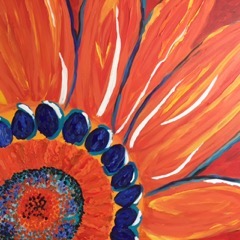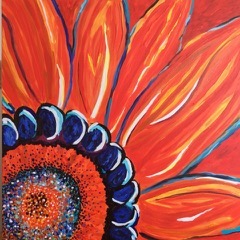 ---


Hope you enjoyed this issue of Acrylics Anonymous! If you have any suggestions, comments or feedback for the ezine or our site, please don't hesitate to contact us.

Until next time, make sure you chuck some paint around!

Cheers from Frankie & Mark :)


---