---

Passionate about painting with acrylics? Need a monthly fix chock full of inspiration? Need some help to take the pain out of your painting process? It's all here for you. Acrylics Anonymous. Zero elitism. Dive in.


---

If you enjoy Acrylics Anonymous, and you know someone who might also enjoy it, you can share by forwarding it to your friends!

If you are receiving this because a friend has forwarded this to you, and you would like to subscribe, click here!


---



Every month, we will produce a Subscribers Only "sealed section". It could be a painting technique, a short video tip, or anything we can think of that we reckon you might enjoy.

Please let us know what you think, we love your feedback! To leave comments, click here.



More filming just for you!


Check out Mark's latest video offering, part two in helping you connect with your viewer through your painting - and some quick tips to help give your paintings a little more realism and character.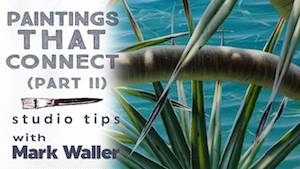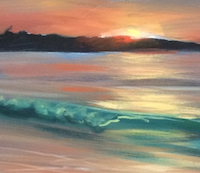 Experience Your Subject Fully


Use your senses to enable you to experience your subject fully. This will give you a bigger vocab to share with people. I mean not only looking closely, but also feeling, smelling, hearing.

Listening to the sound a tree trunk makes beneath your fingertips, or the gentle crash of a wave at sunset. Immerse yourself fully!









The Real Steve Harris

Our man in the south Dick Millott is back with a new article all about a real acrylic brush man, Steve Harris.

Click here to read on.


---


Unlock Your Creativity

Take a half an hour out of your day to investigate this simple exercise and help unlock your creativity.

Click here to read on.


---

Every month, we choose an Artist from our forum to showcase.

You can even nominate someone if you like. (Or yourself!). To do this, check out the forum and then send us an email! It's that easy.

This month we're focussed on artist Tracey Lee from Mackay, QLD (Australia) with her painting, "Misty Morning". Tracey Lee has done a wonderful job of creating atmosphere in this piece - great job!



read more about Tracey Lee's "Misty Morning"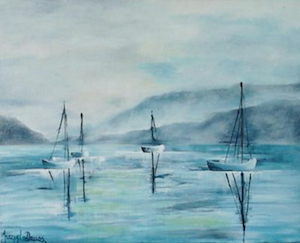 You may know about Mark's pioneering involvement with Kagata Village in the Solomon Islands in getting the school set up there. The Lion's Club at Lennox Head have taken on a fundraising dinner for the village called Share the Love. Everyone's invited - Thursday 29th September from 7pm at Lennox Head.

Click here to book your tickets.


---

And this one just for fun. Alexa Meade you may've come across before. Just when you thought there wasn't anything different you could do with paint!

Click here to check out Alexa's amazing work!


---


If you have a link you like, please share it with us! You can contact us to let us know. Thank you!


This is the section where you can "get your name in lights!" (well at least out there in the internet world!).

If you have works in progress you would love to show off, or finished pieces you are particularly proud of, we would love to see them!

We especially like to hear about the story behind the creation.

This month's work comes from an amazing lady, and fantastic creator, Hayley Kruger from WA.

From Hayley:

I am a mixed media artist living in the beautiful swan valley in Western Australia. I started painting with acrylics just on two years ago after back surgery and living in a remote mining town up in the Pilbara.

I studied graphic design over twenty years ago and went on to an exciting  career as a designer when computers were emerging as the preferred tool of choice.

When I became a mum, I realised how drained I had become and was happy just to focus on my family as we moved continents and then ten years around beautiful Australia.

When I found art again, I was ready for a new chapter in my life. I chose acrylics for their versatility and accessibility. Acrylics Anonymous was one of the first avenues that helped me to explore painting while being isolated in a country town. I have found that with hard work and perseverance I have achieved much growth. With every new painting I am finding my voice.

I started out with Atelier Interactive after asking whoever would answer questions about what paint they used. I love their viscosity. They are easy to work with and blend well etc. Our Jacksons store stocks Golden Fluid and their mediums. The more I am learning about glazing, the more I love their paints. I only have a few of my favourite colours that are not necessarily in the Atelier range. You can see how intense the pigment is.

"I paint flowers so they do not die"- Frida Kahlo. Flowers were an obvious choice for me. I have a passion for colour and elegant form.

This particular painting, started out as a canvas in a Mark Waller workshop. After following Mark through Acrylics Anonymous and on Facebook, I finally had the opportunity to join his first ever workshop in Western Australia, as a birthday gift from my husband and children.

I was super excited to have the opportunity to learn to paint the ocean from a master, and a really funny guy. We worked through 3 canvases learning many new techniques and a different way of viewing painting. This was the last and the smallest of the canvases we worked though. (See first pic below).

The morning of my birthday, we received news that Mark had been admitted into hospital and had to cancel all his other workshops. I was devastated for this amazing man and his family and friends. I could not bring myself to complete my paintings from the workshop.

The flower of choice was a beautiful peachy pink simple rose. The colour was rich, vibrant and happy. I picked the canvas that had received the least amount of attention from me and began to transform it.

The flowers come from doing an online course with Jacqueline Coates, which I loved. Her approach is different from Mark's method, and I have embraced both and found what works best for me. When learning, I think it is great to experiment and try whatever inspires you.

I started with an underpainting which is normally monotone in either grey or burnt umber. I started with the tricky stamens in yellow and worked my way out.

I used much of the information that Mark had given me at our workshop. There are many layers, building up the intensity and detail in the work. When I got to a point where I was satisified with the progress, I added a payer of Universal Medium.

I built up glazed layers of light and shadows as Mark had instructed, not sure where it was all heading. My happy accident was in my colour choice. It was more of a peach rose, but as the beautiful pink layers were going down, I loved the vibrancy of the fresh, pure colour.

I wasn't always happy with my choices I had made with this rose and progress was incredibly slow as we were receiving updates on Mark's journey to recovery. I got to a point when I put it aside for a bit.

Determined to finish what I started and work through the "messy" stage that all my paintings seem to go through, I had much encouragement from friends and colleagues. Now, I know that I paint for myself first, but being a mum and giving of myself all the time, it is always lovely when others notice the hard work and dedication it has taken to fulfil my goals and dreams. I grow with each new painting and grateful every day, to have colour back in my life. My biggest challenge I face, is my inner critic. I am working on that. Thank you to Frankie and Mark for sharing Acrylics Anonymous every month and making it possible for others to grow.

Thank you Hayley for sharing your beautiful story with this gorgeous painting!

To check out more of Hayley's work, you can find her on Facebook at Hayley Kruger Artist and she's also trying to figure out Instagram @HayleyKrugerArtist.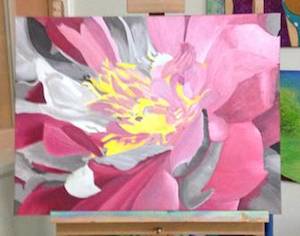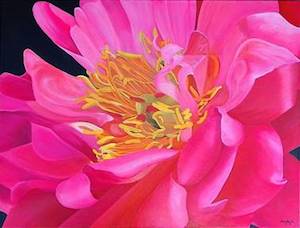 ---


Hope you enjoyed this issue of Acrylics Anonymous! If you have any suggestions, comments or feedback for the ezine or our site, please don't hesitate to contact us.

Until next time, make sure you chuck some paint around!

Cheers from Frankie & Mark :)


---