1st February 2014, issue 024

---

Passionate about painting with acrylics? Need a monthly fix chock full of inspiration? Need some help to take the pain out of your painting process? It's all here for you. Acrylics Anonymous. Zero elitism. Dive in.


---

If you enjoy Acrylics Anonymous, and you know someone who might also enjoy it, you can share by forwarding it to your friends!

If you are receiving this because a friend has forwarded this to you, and you would like to subscribe, click here!


---

Subscribers only…..shhhhhh…sealed section just for you!

Tip of the month

News

Links we like

Works in progress…..show us your paintings!





Happy New Year To You!

Every month, we will produce a Subscribers Only "sealed section". It could be a painting technique, a short video tip, or anything we can think of that we reckon you might enjoy.

Please let us know what you think, we love your feedback! To leave comments, click here.


This month:

Cloud Recipes

Just what you never knew you always wanted, a Default Settings sheet for clouds in low light and in the middle of the day.

Click here to access!








Cross Hatch Versatility


Use the same light, cross hatching brush technique to great effect on clouds, trees and foliage.

Awesome for building volume!





Mixing Color

A Nightmare on Paint Street? Not necessarily!

Our latest web page explores 7 simple strategies that will make mixing color easier for you.

Click here to read more…


---


Tropical Beach V-Log!

For those of you who haven't seen our latest downloadable video tutorial yet, we are offering 20% off for AA subscribers only, until the 1st of March 2014!

Just enter your discount code at checkout: TROPPO

Click here to read more...


---


Study In Light - Curious Lesson Up!

Our latest tutorial is now available free via Curious.

This is one you may've already seen on Youtube - however, we've made it even more fun with exercises and links to get you thinking. Hope you enjoy!

Click here to read more…


---
Sam Neilson is a US artist working for Avalanche Software/Disney Interactive who caught my eye as I was hunting around for cloud blogs & tutorials.

His cloud painting totally captivated me. Being meteorologically inept, I thought "do clouds like that actually exist?".

Check out Sam's prolific blogs including this one, Sam's Tasty Art. Some great illustration based art and progressions.


---

Nellie Windmill and all the whimsy she entails is the brainchild and project of Katherine Herriman, nomadic European motorhome dweller and painter.

She likes creating and painting fodder for daydreamers' brains. Love her byline "Original Art to Keep Your Head in the Clouds".

Check out Katherine's paintings and processes.


---


If you have a link you like, please share it with us! You can contact us to let us know. Thank you!


This is the section where you can "get your name in lights!" (well at least out there in the internet world!).

If you have works in progress you would love to show off, or finished pieces you are particularly proud of, we would love to see them!

We especially like to hear about the story behind the creation.

This month's post comes from yours truly, Frankie (please send me your work to showcase instead!)

From me:

"This painting came into being after an interesting voicemail message was left on my phone by my girlfriend…"Franks, I need you to paint me a dead tree for my wedding"…..Ummmmm, okaaaaayyy.

Turns out it wasn't as crazy as it sounded. Fiona wanted a "wedding tree", branches painted and then the wedding guests stamp their thumb in ink provided and create the "leaves", signing their name as they go. The happily married couple can then frame their tree and hang it somewhere prominent, instead of sticking it in a corner where most traditional guest books end up.

I found so many designs as soon as I googled the idea!

The main issue I came across in creating this project was longevity of the materials. I wanted to use materials which would last the duration of their marriage! I was put onto using acrylic inks and pigment markers by another artist in the know, and used 600gsm watercolour paper (a full sheet) as a base.

I have a bit of a thing for trees, so finding one that I liked and that the bride also liked was pretty easy. There are a couple of sneaky branches forming love hearts and the red love birds & "carving" were a cute addition too.

I used acrylic ink washes in brown to build up some form in the tree, and then held my breath at the wedding that the cake wouldn't be smooshed into the paper or something like that! I harassed people to "sign" it and then got it out of there before everyone started misbehaving. Luckily, not much damage occurred overall and it is now framed and hanging in Mick & Fi's lounge. They love it, which is the main thing!

All in all, it was a very fun wedding/painting project, and a lot of fun was had with acrylic inks which I hadn't played with much before. Super strong pigments!"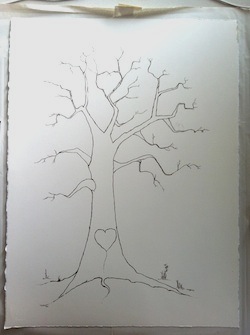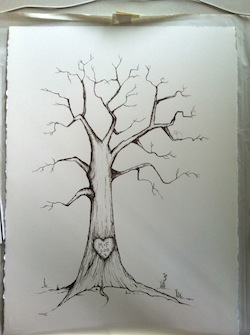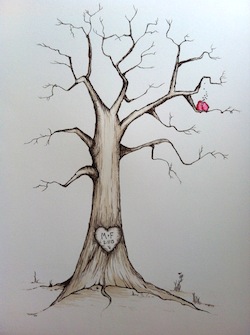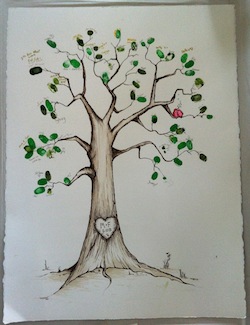 ---


Hope you enjoyed this issue of Acrylics Anonymous! If you have any suggestions, comments or feedback for the ezine or our site, please don't hesitate to contact us.

Until next time, make sure you chuck some paint around!

Cheers from Frankie, Mark & Nic :)


---