1st October 2013, issue 021

---

Passionate about painting with acrylics? Need a monthly fix chock full of inspiration? Need some help to take the pain out of your painting process? It's all here for you. Acrylics Anonymous. Zero elitism. Dive in.


---

If you enjoy Acrylics Anonymous, and you know someone who might also enjoy it, you can share by forwarding it to your friends!

If you are receiving this because a friend has forwarded this to you, and you would like to subscribe, click here!


---

Subscribers only…..shhhhhh…sealed section just for you!

Tip of the month

News

Links we like

Works in progress…..show us your paintings!





Every month, we will produce a Subscribers Only "sealed section". It could be a painting technique, a short video tip, or anything we can think of that we reckon you might enjoy.

Please let us know what you think, we love your feedback! To leave comments, click here.



This month:

A Short Clip For You! Brush Technique 101.

Keep things simple by getting to know your brushes!


Click here to access!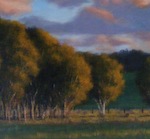 Chisel Versatility

One of the things I like about chisels is that they create "planes", for example you can easily create highlights across grass, or reflections in water using the edge horizontally.

Changing the angle of your brush application can create hills, valleys, you name it. Play!





Your Work. Your Time To Shine.

Have a success story or a challenge you want to share with the world? Submit your paintings with your stories to our new forum page!

Click here to read more…


---


Workshops in SA

Mark has two workshops coming up in the Adelaide Hills area in mid-October, as well as a Friday night Interactive demo for the die-hard Chroma fans. Demo is free!

Click here to read more...


---


Impasto Clip Now Up

A short 3-part series on a dark, nebulous painting of Mark's titled "Space Boat" is currently viewing via Explore Acrylics Youtube channel.

For the first instalment using impasto gel,

Click here…


---
Belinda Fireman's blog caught my eye when I searched google for simple techniques to make acrylic paintings.

Just 3 stpes to create this pretty cool painting. Not intimidating! Much!

(I also like how she describes herself as a "recovering perfectionist". Something to strive for ;)

Check out Belinda's short tutorial via her blog.


---

If you're into abstract art and want to know more about how to make some of your very own, Peter Dranitsin's site might be one to have a look at.

With free acrylic tutorials and lots of vibrancy, I know I'm inspired to create just by having a quick look around. How good is art! How lucky are we!

Peter Dranitsin. A trip of the tongue but a treat for the eyes.


---


If you have a link you like, please share it with us! You can contact us to let us know. Thank you!


This is the section where you can "get your name in lights!" (well at least out there in the internet world!).

If you have works in progress you would love to show off, or finished pieces you are particularly proud of, we would love to see them!

We especially like to hear about the story behind the creation.

This months' WIP comes from Jodi from the US. Yippee, another contributor from over the seas! Jodi contacted us via the site for some assistance with this painting, and in the process we became hooked on her journey with this piece. A beautiful story - her piece created especially for a friend with breast cancer. Thankyou so much for sharing Jodi.

From Jodi:

"This was definitely my first attempt at biting off more than I could chew.  That makes the victory much more sweet.

I started this project in high spirits. I met with my client and had a good understanding of what she was passionate about.  I went with the dioxozine purple. She said that colour was relaxing to her. As I prepped the canvas I started to feel the warmth and serenity of the night sky, so I headed down that road.  She also was very excited about things that sparkle (who isn't!).

When we had the imprint down - she said "you will make it a masterpiece". No pressure there! I struggled for weeks and weeks about the way the imprint made her appear to seem bigger than she actually is. So - the questions came.  Screw with the integrity of the imprint and cover it up? Should I leave it knowing it was misleading?

I took the cover up approach. I took a leap of faith and met with yet another disaster. Blotchy spots galore. To remedy I had to literally cover the entire canvas except for the imprint.

After letting that dry I was again inspired and saw how it looked like she was floating in the sky like she was her own constellation. So I set out for completion. Some outlining and stars. And my biggest challenge is to stand away and let well enough alone.

Thank you for your support through my journey.

Thanks so much for sharing JoJo - a beautiful piece and a beautiful story to go with it.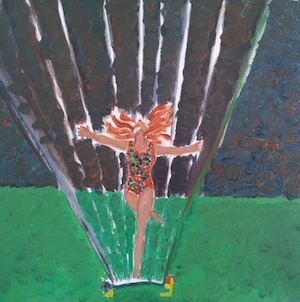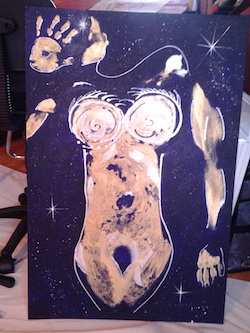 ---


Hope you enjoyed this issue of Acrylics Anonymous! If you have any suggestions, comments or feedback for the ezine or our site, please don't hesitate to contact us.

Until then, make sure you chuck some paint around!

Cheers from Frankie, Mark & Nic :)


---