1st September 2013, issue 020

---

Passionate about painting with acrylics? Need a monthly fix chock full of inspiration? Need some help to take the pain out of your painting process? It's all here for you. Acrylics Anonymous. Zero elitism. Dive in.


---

If you enjoy Acrylics Anonymous, and you know someone who might also enjoy it, you can share by forwarding it to your friends!

If you are receiving this because a friend has forwarded this to you, and you would like to subscribe, click here!


---

Subscribers only…..shhhhhh…sealed section just for you!

Tip of the month

News

Links we like

Works in progress…..show us your paintings!





Every month, we will produce a Subscribers Only "sealed section". It could be a painting technique, a short video tip, or anything we can think of that we reckon you might enjoy.

Please let us know what you think, we love your feedback! To leave comments, click here.



This month:

Get Your Acrylics To Perform Like Oils!

5 simple tricks, especially for you.

Click here to access!










Know Dem Paints

Play with oils and acrylics. And watercolours (noooooo!! says Mark). And pastels! And…..!

Gain an understanding of how each paint works and behaves, and then decide where and when you should use it. Some images or concepts will naturally lend themselves to a particular medium's qualities. (Besides, playing with all paint is fun).



Acrylic and Oil Painting.

Schoolyard battles? Nope. Oils and acrylics can play together brilliantly given half a chance.

Click here to read more…


---


The V-Logs Are (still) Here!

You may not have seen Mark's downloadable video log "Coral Reef - Underneath" yet.

Apply discount code AARULES at checkout for 20% off the purchase price. That makes it only AUD$12! Bargain for you!

Click here to read more...


---


New Staff Member

Not sure how much help she is, but we'd like to introduce our new staff member Lexie!

Mark's 12 week old kelpie/border collie/labrador pup is too cute for words, and is now my (legitimate) excuse for not getting around to emails quickly enough. Big smiles!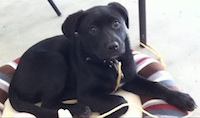 ---
Lena Karpinksy popped up in my google search for acrylic and oil painters.

I liked her immediately from her opening sentence - "I am often asked whether I use oils or acrylics. The answer is both". The vibrancy & texture she creates, particularly in her landscape paintings is super appealing.

Check out Lena's art.


---

I got stuck on the home page of this groovy website for a while as I love looking at interesting stuff (did I mention I also love my job!!). Presumably you, being a visual person, do too!

Love the byline "buy shiny independent designs on super-great products". Not sure about buying, but the looking sure is fun!

Make sure you check out the home page as well as the link below where I found a great article on acrylics and oils working together.

Red Bubble. One of those hip, funky sites the young folk have set up.


---


If you have a link you like, please share it with us! You can contact us to let us know. Thank you!


This is the section where you can "get your name in lights!" (well at least out there in the internet world!).

If you have works in progress you would love to show off, or finished pieces you are particularly proud of, we would love to see them!

We especially like to hear about the story behind the creation.

This months' WIP comes from Jenni Watkins from New Zealand! Yay, our first overseas contributor!

From Jenni:

"My name is Jenni Watkins and I live in a little town in NZ called Maketu. My husband is the president of the local surf board riders club the MBR (Maketu Board Riders).

One of the boys (Sam) took a photos of Papamoa beach late afternoon in Autumn. I decided to paint a picture of it as I was intrigued by the colours, especially the purple shadow on the sand and the colour of the waves.

I have included three stages of my painting called "Late Afternoon at Paps". I had been reading through the dry brushing techniques in the Acrylic Anonymous news letter and used some of this technique in the painting, thanks."

Thanks so much for sharing Jenni - top work!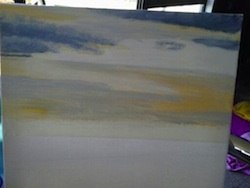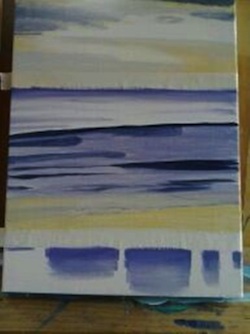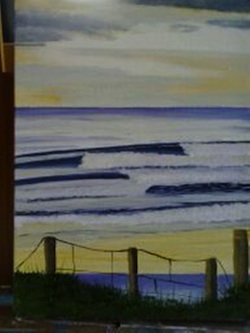 ---


Hope you enjoyed this issue of Acrylics Anonymous! If you have any suggestions, comments or feedback for the ezine or our site, please don't hesitate to contact us.

Until then, make sure you chuck some paint around!

Cheers from Frankie, Mark & Nic :)


---