1st November 2012, issue 009

---

Passionate about painting with acrylics? Need a monthly fix chock full of inspiration? Need some help to take the pain out of your painting process? It's all here for you. Acrylics Anonymous. Zero elitism. Dive in.


---

If you enjoy Acrylics Anonymous, and you know someone who might also enjoy it, you can share by forwarding it to your friends!

If you are receiving this because a friend has forwarded this to you, and you would like to subscribe, click here!


---

Subscribers only…..shhhhhh…sealed section just for you!

Tip of the month

News

Links we like

Works in progress…..show us your paintings!





Brought to you this month, another lovely "Over The Shoulder" video highlighting how to use gradation to great effect in a practical way, and create a gorgeous impressionist-style piece at the same time.

Hope you enjoy!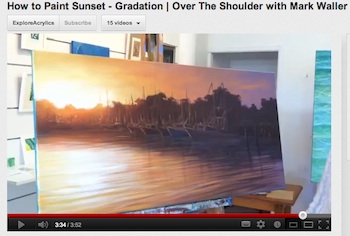 Every month, we will produce a Subscribers Only "sealed section". It could be a painting technique, a short video tip, or anything we can think of that we reckon you might enjoy.

Please let us know what you think, we love your feedback! To leave comments, click here.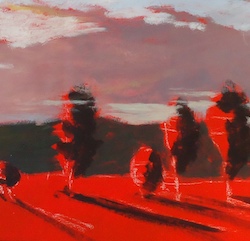 Impressionism 101

A great way to set up an impressionist style painting is to paint in a lovely bright ground.

Experiment with bright pinks, reds and greens. The brighter the better. Don't forget to let a little bit of that colour peek through your finished piece.









Impressionism Art. Vibrant, Luscious, Immediate.

Explore your impressionism style. Our newest web page gives you four tips to help you learn how to grab the essence of your moment - with spontaneity, light and colour that impressionism art does so well.

Click here to read more…


---

Discounted DVDs Exclusively Yours!

Don't forget as a valued AA subscriber you have access to our 3 pack of downloadable DVDs for only AUD$80.00!

Click on The Link below and enter your password: Explore

The Link

Scroll to the bottom of the page to purchase your discounted downloadable DVD pack.

Click here for information on the DVD downloadable 3 pack...


---

What is The Best Paint?

The best paint does what you want.

Explore some of the characteristics and possibilities of the best paint for your painting practise.

Click here to read more...


---

Bathurst Summer School

"Brushwork Simplified" is the title of Mark's class with the Mitchell School of Arts in January 2013.

Click here to read more...


---

Workshops in December & January

Thanks for helping us solve our dilemma last month!

Based on your preferences we are offering 2 x 1 day workshops in early December 2012 and early January 2013.

I am taking your bookings for these workshops right now!

Click here for more info...


Katy Didcoate has a pretty, flowing impressionist art style showcased on her site, Katydidart.

I love her reflective waterscapes, full of colour and movement.

She has a half price sale on right now, if you order any artwork by December 5.

Check out Katy's site right here.


---

I came across Milen when google searching for "modern impressionism artists". Milen works in oils among other mediums, with slices, slabs & daubs of colour applied with a palette knife. I find his work to be a stunning visual banquet.

And although quite repetitive & lengthy, the Youtube clip at the bottom of this page is a hauntingly powerful and dramatic insight into his work.

This is Milen.


---


If you have a link you like, please share it with us! You can contact us to let us know. Thank you!


This is the section where you can "get your name in lights!" (well at least out there in the internet world!).

If you have works in progress you would love to show off, or finished pieces you are particularly proud of, we would love to see them!

We especially like to hear about the story behind the creation.

Our WIP this month comes from local postie, surfer, good mate and talented artist Brett McCormack.

Brett is somewhat "shy" (ahem, lazy) about sharing his experience with this painting, however he did mention that with this piece "Moon Point" he was a getting a bit over painting sunsets, so decided to paint the moon instead.

You can see the painting took Brett on a bit of a "moondance" (oh dear, sorry), and where he ended up was considerably different from the beginning. That fantastic journey.

I have always found Brett's use of colour delightful and suprising, and the end result doesn't disappoint! I don't know about you, but I can't decide which one I like best.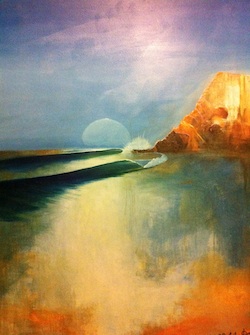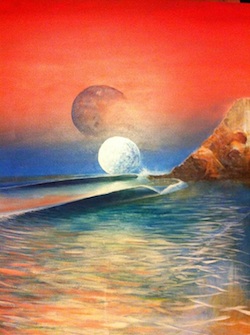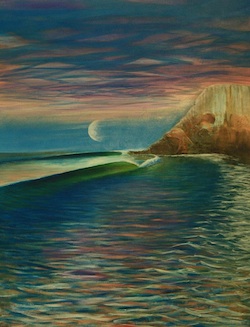 ---


Hope you enjoyed this issue of Acrylics Anonymous! If you have any suggestions, comments or feedback for the ezine or our site, please don't hesitate to contact us.

Until then, make sure you chuck some paint around!

Cheers from Mark, Nic & Frankie :)


---