---

Passionate about painting with acrylics? Need a monthly fix chock full of inspiration? Need some help to take the pain out of your painting process? It's all here for you. Acrylics Anonymous. Zero elitism. Dive in.


---

If you enjoy Acrylics Anonymous, and you know someone who might also enjoy it, you can share by forwarding it to your friends!

If you are receiving this because a friend has forwarded this to you, and you would like to subscribe, click here!


---



Every month, we will produce a Subscribers Only "sealed section". It could be a painting technique, a short video tip, or anything we can think of that we reckon you might enjoy.

Please let us know what you think, we love your feedback! To leave comments, contact us here.


---

We can't believe it's been ten years since we started this website and newsletter! Ten years folks!! We are so grateful for your support!

This month's sealed section is a quick tip, especially for you - the how and why of Mark's paint colour selection! Hope you enjoy!


Click here to check out Mark's paint colours!



Be Present.

Pay attention when you're working with your paint. You'll start to notice when it starts to tack off under your brush, and you'll develop a feel for how to move it across the canvas more effectively.

It might sound like a small thing, but when you feel the way the paint blends and moves under your brush, you'll be able to manipulate it more easily on the canvas, and when you're making marks. It's all about being present.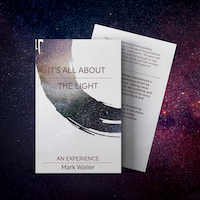 It's All About The Light

Some of you may be aware that Mark has spent the last five years chronicling his journey through his experience of negotiating brain surgery and a near death experience and subsequent Stage 4 melanoma diagnosis. We are hoping to self-publish his book in the next few months, and are offering you, our loyal subscriber, an excerpt from Mark's book; tentatively titled "It's All About The Light". You can also join the pre-order mailing list if you wish!

Click here for the info!



---

Adrian Reynolds

Adrian "Ren" Reynolds is an incredible artist based in Dublin, Ireland. I had the pleasure of interviewing him recently, hope you enjoy the article!

Click here for the interview!


---

New Tutorial on our Youtube Channel!

We have recently released a new full length tutorial to our YT channel members first, on painting a cute (but kinda angry) seagull, impressionist style. Now it's your turn and we hope you enjoy!

Click here for the tutorial!



Every month, we choose an Artist from our forum to showcase.

You can even nominate someone if you like. (Or yourself!). To do this, check out the forum and then send us an email! It's that easy.

This month we're featuring artist Mike aka "Morphd Mohawk", from Fort Worth, Texas, with his painting,"Tropical Breeze". Thanks so much for sharing your painting and your story Mike, this quick study turned into a beauty back in the studio!



Click here for more information on Mike's "Tropical Breeze" painting.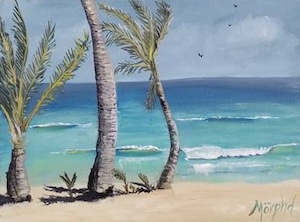 Did you ever make an animated flip book when you were a kid? Ever wondered what would happen if you tried to re-make it now? This is exactly what Andy from Andymation has done in this very clever clip.

Check it out here.


---

Luke Van Tassel is a teen artist from Kansas wowing the internet with his tape art!

Check out Luke's tape art here.


---


If you have a link you like, please share it with us! You can contact us to let us know. Thank you!


This is the section where you can "get your name in lights!" (well at least out there in the internet world!).

If you have works in progress you would love to show off, or finished pieces you are particularly proud of, we would love to see them!

We especially like to hear about the story behind the creation.

This month's submission comes from local portrait artist Brett Belot.

From Brett:

Title: Layne Beachley - Spiritual Home
Medium: Oil on Canvas
Size: 75cm x 100cm
Year: 2019

Layne Beachley is a legend of the surf and a 7-time World Surfing champion! She has a beautiful smile, ocean blue eyes and an energetic personality!

I first met Layne at a charity event in 2018 and asked her if she would like to join with other current and retired athletes in my "Superstars and Signatures" Portrait Painting series…you can check out the series here for more information.

I asked Layne if she would kindly supply me with one of her favourite images. The image Layne supplied was on a surfboard, resting in the water at her "Spiritual Home" on the North Shore of Hawaii.

My artistic license led me to a composition that I felt captured Layne's energy, warmth, and vibrancy!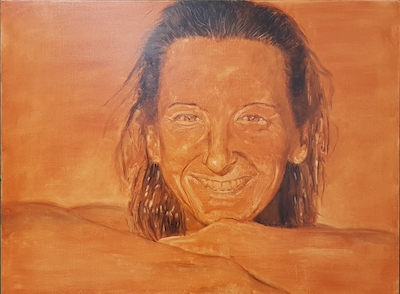 First stage blocked in with Burnt Sienna and Ultramarine Blue. NOTE the highlights are simply wiped away with a rag!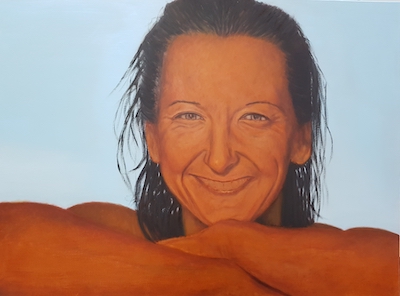 I'm loving the contrasting cool blue background against the warm underpainting of the skin tones. No detail at this stage, I'm just getting a feel for tonal range, colour saturation and facial features.



Now I start to bring in more warm tones with one of my favourite colours…Cadmium Yellow Deep, it adds vibrancy, energy, and warmth to the skin tones. NOTE the cool blue glazes in Layne's hair and eyes which really start to harmonise the painting! Check out that smile!



Now to bring it all together…I increase my tonal range using multiple glazes and smaller brushes. I soften some edges and pay close attention to the facial features that will ultimately let the viewer know who I am painting! Note Layne's signature in the top left hand corner!

The Painting will be auctioned at the Noosa Festival of Surfing Charity event in Queensland, Australia in 2021 with a portion of funds raised going to support the wonderful work of The Board Meeting Surf charity.


Thanks so much Brett for giving us your process of creating this awesome portrait of an incredible human! To follow Brett on his socials,

Click here for Facebook,

Click here for his Instagram,

Click here for Twitter,

And here for his Linkedin,

Click here for Brett's website!


---


We hope you enjoyed this issue of Acrylics Anonymous!

If you have any suggestions, comments or feedback for the ezine or our site, please don't hesitate to contact us.

Until next time, make sure you stay safe and well, and chuck some paint around!

Cheers from Frankie & Mark :)


---
For our Youtube channel, click here.
To join our Youtube channel as a member for a few bucks every month (in exchange for even MORE awesome perks, click here.
For our Instagram, click here.
For our Website, click here.
For our Facebook page, click here.
For our Pinterest, click here.
---