---

Passionate about painting with acrylics? Need a monthly fix chock full of inspiration? Need some help to take the pain out of your painting process? It's all here for you. Acrylics Anonymous. Zero elitism. Dive in.


---

If you enjoy Acrylics Anonymous, and you know someone who might also enjoy it, you can share by forwarding it to your friends!

If you are receiving this because a friend has forwarded this to you, and you would like to subscribe, click here!


---



Every month, we will produce a Subscribers Only "sealed section". It could be a painting technique, a short video tip, or anything we can think of that we reckon you might enjoy.

Please let us know what you think, we love your feedback! To leave comments, contact us here.


---

Signed Copies of our Beachscapes Recipe Book!

Exclusive to you, first 50 only.

Use code at checkout: MINE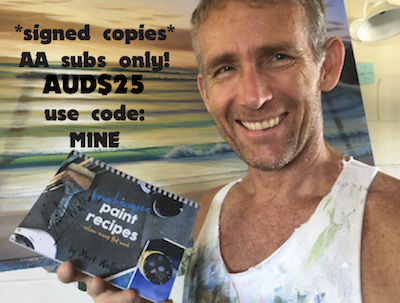 Whitewash Tricks

When painting whitewash, paint the brightest part of the wave when the brush is fully loaded with paint, and come down into the shadow areas as the paint diminishes on your brush.

Simple impact to create easy volume.









Free Shipping LE Prints

Stuck for Christmas ideas? Mark is offering free shipping on all his Limited Edition Fine Art Prints just in time for Christmas! For Free Shipping on all orders until midnight Christmas Eve,

click here

and enter the promo code: YOURS


---

More Goodies!

Remember your Micador discount is still valid! Use the code of WALLER20 to receive 20% off!

Click here to browse the Micador range


---

Every month, we choose an Artist from our forum to showcase.

You can even nominate someone if you like. (Or yourself!). To do this, check out the forum and then send us an email! It's that easy.

This month we're featuring Glendora from Chesterfield, Montana with the work titled "Quiet Place to Think". Awesome use of perspective and such a strong composition in this piece. Great job Glendora!



Click here to read more about Glendora's painting "Quiet Place To Think"

Pier Paolo Spinazzè aka Cibo (Italian for "food") is an Italian street artist fighting hate crime with paintings of food.

Your eyes will thank you!

Check him out right here!


---

Have you heard of the Daily Overview? Benjamin Grant founded this project which showcases our planet through stunning satellite imagery. Go exploring through these images and delight in our wondrous planet!

These beautiful images will amaze you!


---


If you have a link you like, please share it with us! You can contact us to let us know. Thank you!


This is the section where you can "get your name in lights!" (well at least out there in the internet world!).

If you have works in progress you would love to show off, or finished pieces you are particularly proud of, we would love to see them!

We especially like to hear about the story behind the creation.

This month's submission comes from yours truly, Frankie Sharman.

I don't make too much time to paint these days what with lots of other things taking up my time, but when my husband and kids planned to build a cubby/tween shack, I immediately volunteered to paint it.

The kids chose sides and designs, and we got to work. I'll just showcase the "elephant side" this time, as it was by far the most difficult and time consuming!

My eldest daughter is an elephant nut, and loves all things elephants, particularly the geometric styled elephants. I found this great geometrical zentangle style elephant image online and contacted the original artist to see if she minded me painting it on the side of our cubby house. I didn't hear back from her so I assumed she was happy about it!


A design this size required a bit of planning (the wall height is almost 2 metres square, and it stands 1.5metres off the ground), and included borrowing the primary school's dodgy old overhead projector to project the elephant design onto the wall. I considered drawing it freehand but really wanted to get the proportions of the elephant correct!




But first things first, I wanted a full moon in the background, just because! I bought the primary colours in exterior grade housepaint because I know it will last in our harsh Aussie conditions (from other outside house painting projects), and I spent a fair bit of time mixing colours to try and get them right.

I wasn't super happy with the moon (I would've preferred less contrast between the areas of light and dark) however I was hoping the elephant would cover it and push it to the background, and at the end of the day it is a kids' cubby house down a quiet country road that maybe 100 people would ever see :)




So then as mentioned, I borrowed the local school's dodgy overhead to project the image onto the wall, which needed to be done at night, and included dodging heaps of crazy huge insects that were attracted to the light. I also battled the mozzies and my own fears of small creatures walking in front of the light which then projected hugely onto the wall, giving me multiple heart attacks thinking a giant locust plague was descending on me or something!




But I got there and drew in the outlines and some of the major areas in pencil. Then life happened and I did nothing for about 4 months while I deliberated over painting all the lines or drawing them! I researched posca pens and other permanent markers as it would've been seventeen times easier to draw the lines rather than paint them. But in the end, I couldn't find a product that would actually last in the harsh sun, wind, rain and all the Aussie weather! And, I already had the paint. So, I bit the bullet and started the painstaking process of painting all the lines in :)




Many many hours and hundreds of lines later and we have the finished product! I'm really happy with how it looks - it has a lot of impact, but more importantly, my daughter is happy with it! I'm really happy that I took the time to paint all those lines! Whew!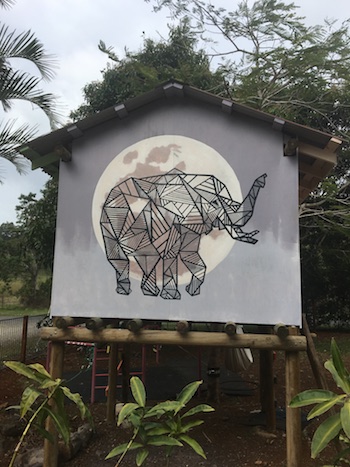 Thanks so much for reading! If you want to see what else I am up to in life, you can follow me on instagram here (it's a private account so you'll have to request a follow):

click here for my Instagram


---


Hoping you have the most wonderful holiday season and spend it sharing kindness and light with your family and friends. We'll see you again in early February 2019!!

Hope you enjoyed this issue of Acrylics Anonymous!

If you have any suggestions, comments or feedback for the ezine or our site, please don't hesitate to contact us.

Until next time, make sure you chuck some paint around!

Cheers from Frankie & Mark :)


---