---

Passionate about painting with acrylics? Need a monthly fix chock full of inspiration? Need some help to take the pain out of your painting process? It's all here for you. Acrylics Anonymous. Zero elitism. Dive in.


---

If you enjoy Acrylics Anonymous, and you know someone who might also enjoy it, you can share by forwarding it to your friends!

If you are receiving this because a friend has forwarded this to you, and you would like to subscribe, click here!


---



Every month, we will produce a Subscribers Only "sealed section". It could be a painting technique, a short video tip, or anything we can think of that we reckon you might enjoy.

Please let us know what you think, we love your feedback! To leave comments, contact us here.


---

Beachscape Recipe - Dunes and Grasses!
Exclusively Yours
*click to access*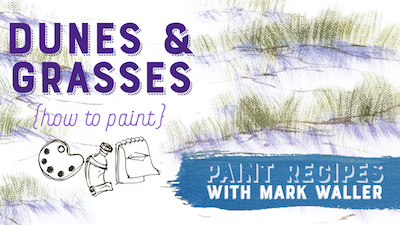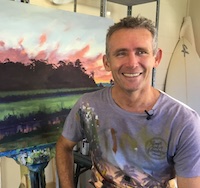 In The Mood?

Lately I haven't really felt "in the mood" to paint.

This has been kind of strange for me, but has forced me to do other things that I would normally put off, like sorting through the huge stack of reference photos, stretching canvas over spare stretcher bars, and even changing the paint water :D

So if you're not feeling it, take a minute to sort out your studio and recharge your painting mojo!









Beachscapes Recipe Book

You have been sooooo patient with this. Thank you so much for enduring our set backs and time constraints!

The good news is we have been working diligently on this in the background and it is very close! If you'd like to register your interest to receive 20% off the RRP of AUD$19 for the downloadable digital version, click below and type RECIPE in the comments box.

click here to register your interest!


---


An International Treasure!

Did you know you have access to an amazing trove of all our past workshop notes?

Click below to access our past workshops page, which includes links to all our past notes. Some valuable and detailed info in there for you!

click here to access our workshops past page.


---

Every month, we choose an Artist from our forum to showcase.

You can even nominate someone if you like. (Or yourself!). To do this, check out the forum and then send us an email! It's that easy.

This month we're featuring Mandy Faulkner, from West Sussex, England with her painting titled "Love Painting". We are loving that cheeky kitty and the unusual composition - great job! Thanks for sharing Mandy!



click here to read about Mandy's "Love Painting"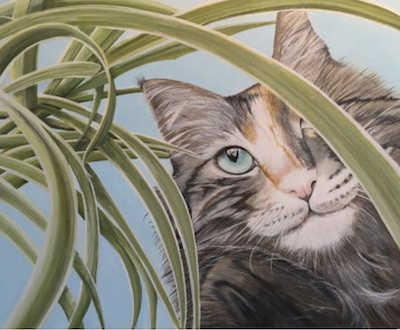 Max Zorn creates gorgeous pieces entirely out of packing tape! Check it out.

check out Max's packing tape art here.


---

Arizona based artist Bryanna Marie paints teeny tiny landscapes on pennies. Treat your eyes with her gorgeous detailing.

have a look at Bryanna's miniature lovelies here.


---


If you have a link you like, please share it with us! You can contact us to let us know. Thank you!


This is the section where you can "get your name in lights!" (well at least out there in the internet world!).

If you have works in progress you would love to show off, or finished pieces you are particularly proud of, we would love to see them!

We especially like to hear about the story behind the creation.

This month's submission comes from Chris Wilson, a regular workshop attendee, class clown and all round good human. Chris took it upon herself to create this beautiful artwork from an image Mark sent, which she then had framed and posted back to him. Lucky or what!!! We know this has been done in pastels, however it is such a special image that we've made an exception to the acrylics rule this time!

From Chris:

"Last Easter, Mark sent a photo of one of his newborn chickens as a greeting. My first impression of the photo was, "what a superb still life!". Having taken part in Mark's workshops, and knowing his joy of life, I felt he would appreciate a keepsake of his new addition to the family.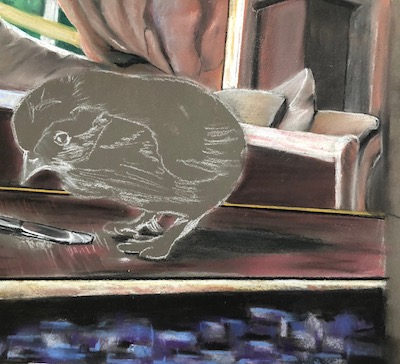 I work in both acrylics and pastels. The chicken I decided on using pastels. My challenge was to makes the background as true to form without it taking away from the star of the show.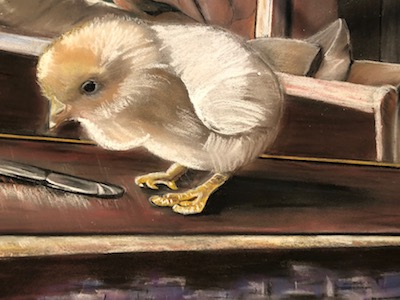 Also working on the feathers without making her a fluff ball was a challenge.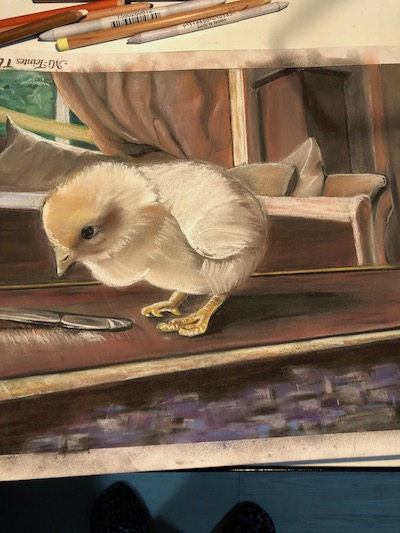 I used pastel pencils with a touch of Schminke for the glow areas."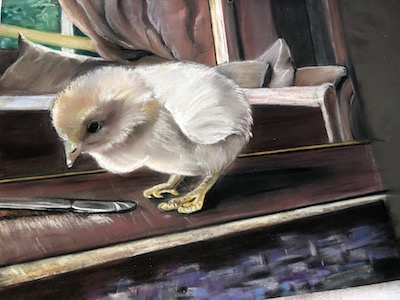 Thanks so much Chris for sharing not only your process, but also the finished artwork with us!

To check out Chris' instagram, click here. (You'll need to request to follow her :)


---


Hope you enjoyed this issue of Acrylics Anonymous!

If you have any suggestions, comments or feedback for the ezine or our site, please don't hesitate to contact us.

Until next time, make sure you chuck some paint around!

Cheers from Frankie & Mark :)


---