---

Passionate about painting with acrylics? Need a monthly fix chock full of inspiration? Need some help to take the pain out of your painting process? It's all here for you. Acrylics Anonymous. Zero elitism. Dive in.


---

If you enjoy Acrylics Anonymous, and you know someone who might also enjoy it, you can share by forwarding it to your friends!

If you are receiving this because a friend has forwarded this to you, and you would like to subscribe, click here!


---



Every month, we will produce a Subscribers Only "sealed section". It could be a painting technique, a short video tip, or anything we can think of that we reckon you might enjoy.

Please let us know what you think, we love your feedback! To leave comments, contact us here.


---

Celebrating 4 millions views across our Youtube channel!
With a moonlit wave tutorial exclusively for you :)

Enjoy!








Night Work

Painting a night scene can be a lot simpler than painting the same scene at daytime.

You've already got your darkest darks, so it's just a matter of suggesting the detail in the more muted areas, and using nice strong highlights and contrast in the areas that are well lit.

Get those highlights right, and the rest of the painting falls into place.









Ryan O'Rourke

Master of 10 minute paintings on Youtube and 1 hour paintings on Patreon, join Ryan and I for an in-depth interview and find out what really makes him light up :)

To read Ryan's interview, click here.


---


Limited Edition Archival Prints Now Available!

If you follow us on the socials you will have seen the new, very affordable Limited Edition archival prints on Mark's website. If not, do yourself a favour and click below. Worldwide shipping and more images coming soon!

For Mark's Limited Edition prints, click here.


---


Updated Privacy Policy

The new data protection regulations for Europe have now come into effect, meaning we have made the site compliant to keep your data, well, protected. If you have trouble sleeping, you should read our updated privacy policy and you'll be dropping off in no time :D

Click here to read our updated privacy policy.


---

Every month, we choose an Artist from our forum to showcase.

You can even nominate someone if you like. (Or yourself!). To do this, check out the forum and then send us an email! It's that easy.

This month we're featuring Marybeth Johanson, from Murrells Inlet, South Carolina, with her painting titled "Path of Dreams". A beautiful, bright summery piece, filled with lovely memories. Thanks so much for sharing!



Click here for more info on Marybeth's Path of Dreams.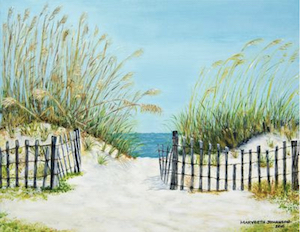 Noah Deledda makes extraordinary sculptures out of aluminium cans. Check it out here.

You have never seen aluminium cans like this before.


---
German artist Mrs Colorberry makes faux-geodes for your walls. Using resin, glitter, and heaps of colour, there is no denying these pieces are larger than life. Imagine one of these on your wall!

Check out Mrs Colorberry's work right here.


---


If you have a link you like, please share it with us! You can contact us to let us know. Thank you!



This is the section where you can "get your name in lights!" (well at least out there in the internet world!).

If you have works in progress you would love to show off, or finished pieces you are particularly proud of, we would love to see them!

We especially like to hear about the story behind the creation.

This month's story comes from the lovely and talented Hayley Kruger, from Perth.

From Hayley:

Painting allows me express more about myself and the joy of creativity through colour and form. Transforming into an artist has been the perfect balance to being a busy mum. I recognise that both roles are about giving and nurturing.

My art fills my soul so that I can give to others. Inspiration from the botanical world has, like perfume, had all the allure to draw me in, and to satisfy me on a deep and a sensual level in my work. The challenges of painting from capturing light on form, and deepening my relationship with colour, pull me back to my easel regularly.



Now that my life is settled in Perth with my husband and two children, it's the perfect time for me to transition into full time artist. Becoming a selling artist is a dream come true because I get to share my passion and inspiration with others and I am gradually making a living from it.



I am sharing with you the progress of my latest painting, Splendorous. I have only recently discovered the beauty in local Australian flora. Now that my eyes are open to them, they are popping up everywhere around me, like a shiny new toy. I use pre stretched canvases purchased from my local art store. They are made from a heavier timber than a student canvas, making them less prone to warping. The canvas itself is a thicker 100% cotton canvas. I find that they are less thirsty than the student ones and the paint glides on easier.

I work in artist acrylics and mediums and purchase the best I can afford. I do take the best care in my work to offer a quality lifetime investment for those who choose to love my work. through it, which really stood out against all of the deeper blues, purples and golds.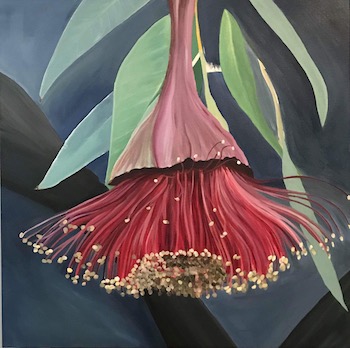 I paint mainly from reference photos I have taken myself. This helps me plan the layout on the canvas. I then block in my colour as close to the original as possible but not spending too much time on the details.

Once the canvas is covered, I can then go back and work on details area by area. I very rarely get everything right the first time round. The beauty about acrylics, is that you can paint over the areas that are not to your liking. I edit as I go, deciding how much information needs to be added, and what needs to go.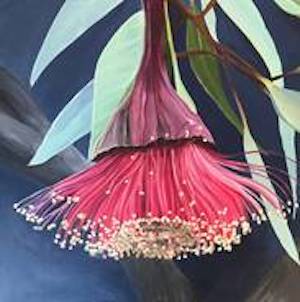 I am very proud of my progress with my painting but would like to loosen up with time. I know that this will eventually come as I gain confidence. Hard work always pays off.

I would love to share my art journey with you on my social media below. Happy painting :)

Thanks so much Hayley for sharing your inspiring journey with us! Splendorous is such a perfect name for this piece.

To follow Hayley on her website, click here.

And her instagram here.

And her facebook page here.


---


Hope you enjoyed this issue of Acrylics Anonymous!

If you have any suggestions, comments or feedback for the ezine or our site, please don't hesitate to contact us.

Until next time, make sure you chuck some paint around!

Cheers from Frankie & Mark :)


---