---

Passionate about painting with acrylics? Need a monthly fix chock full of inspiration? Need some help to take the pain out of your painting process? It's all here for you. Acrylics Anonymous. Zero elitism. Dive in.


---

If you enjoy Acrylics Anonymous, and you know someone who might also enjoy it, you can share by forwarding it to your friends!

If you are receiving this because a friend has forwarded this to you, and you would like to subscribe, click here!


---



Every month, we will produce a Subscribers Only "sealed section". It could be a painting technique, a short video tip, or anything we can think of that we reckon you might enjoy.

Please let us know what you think, we love your feedback! To leave comments, contact us here.


Shallows To Dry Sand

Following on from last month's Tropical Water clip, here's another tutorial we've released just for you, which will be released with our recipe book soon!








Practise Getting Your Colour Mixes Right.

Choose your image, then have 3-4 small canvases just to practise mixing the colours of the major elements in your painting - don't worry about shapes so much, just focus on getting the colours right. Then when you get to your "real" painting, you will know how to mix those colours, which is at least half the battle!









Mark's Beachscapes Paint Recipe Book

UPDATE - it's very close! YES! Still a little more to do, however we've been working hard to have the first few pages ready for you to stickybeak at this month, FREE. We want to thank you for your patience, and hope you enjoy this taster! We have made a flip book, as well as a large downloadable file. The large file will take approximately 1 minute to download with reasonably good internet speed. The flip book can be viewed online or printed :)

Click here to access the flip book.

Click here to download the large file approx 15mb.


---

Explore Acrylics on Pinterest

Are you one of those crazy pinners losing hours of your life on Pinterest? If so, come and see what we've been pinning lately and explore our boards :) If not, come and lose some time in inspiration land!

Click here to join in the pinning


---

Every month, we choose an Artist from our forum to showcase.

You can even nominate someone if you like. (Or yourself!). To do this, check out the forum and then send us an email! It's that easy.

This month we're focussed on regular contributor and artist Jane, from Suffolk, UK, with her lovely painting, titled "Inspired By The Ionian Sea". Congratulations Jane, we are loving the cropped composition and the detail in the ropes.



Read more about Jane's "Inspired By The Ionian Sea" here.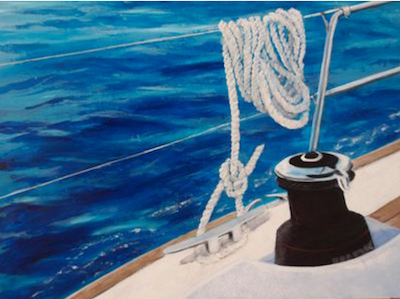 Did you just say you needed a new project? This is it! Submit a sketchbook to this library and leave your legacy. Anyone, from anywhere can sign up to receive a blank sketchbook, fill it up and submit it to join the permanent collection. Special thanks to AA subscriber Hayley Kruger Gradwell for bringing our attention to this!

Click here to find out more.


---

Who doesn't love a good doodle session. Zentangle has brought the humble doodle into otherwise unknown trendiness in recent years, but what Cambodian artist Visothkakvei has done will make your mind spin. Let his fine line drawings delight your eyes today.

Check out Visothkakvei's art here.


---


If you have a link you like, please share it with us! You can contact us to let us know. Thank you!


This is the section where you can "get your name in lights!" (well at least out there in the internet world!).

If you have works in progress you would love to show off, or finished pieces you are particularly proud of, we would love to see them!

We especially like to hear about the story behind the creation.

This month's story comes from talented portrait artist, and Lennox Arts Collective regular, Brett Belot :)

From Brett:

"Hi everyone, I am a passionate professional portrait and sports artist who has been painting bright and bold images that tell unique stories for over a decade.

My latest series of portraits titled, "Superstars & Signatures" has me painting striking portraits of sporting superstars who have amazed us with feats of courage and inspiration on the sporting field. But just as important to me, is what they are doing off the sporting field.

My portrait of former Australian Test Cricketer Adam Gilchrist was painted from a photograph chosen by Adam that he describes as "The highlight of my career".

The process was as follows:

As I already had a canvas painted in Atelier acrylics with blended reds, greens and yellows, the first step was to block in the darkest tones and outline with Pthalo Blue. I am mindful to not get bogged down in too much detail at this stage.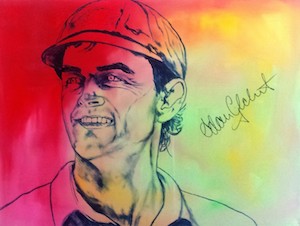 Next, I start to develop some mid tones in the cap using Permanent Sap Green, Green Black, Yellow Ochre and Cadmium Yellow Light. The shirt is blocked in using Pthalo Blue and Titanium White.


Now I start to under-paint the face. You will see some unusual mid tone blues, pinks and purple in this image as I was experimenting with cooler colours and was not sold on the idea of a realistic portrait at this stage!


Once I decide on a realistic portrait I start mixing Pthalo Blue, Cadmium Red and Yellow Ochre with touches of Titanium White to blend my skin tones, building up the layers from dark, mid tone to light.

I start to build up my detail and highlights on the cap and shirt, adding some French Ultramarine Blue, Cadmium Yellow Light and Titanium White to reflect the Indian sky.

I sparingly add in some Pyrole Red to warm his cheeks, nose and ears, which starts to give some volume to the portrait.

It was a challenge to build up a sense of stubble on the face and neck. I used hundreds of brush strokes using various tones from dark to light blue with some finishing touches of Titanium White to capture the light.

I soften all the shadows and darken under the collar of the shirt, finally adding more highlights to bring the portrait to life!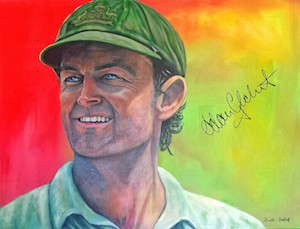 The portrait was recently auctioned at the Sydney Cricket Ground for $4,000 with 50% of the sale price going to support the wonderful work of the Lord's Taverners.

Thanks so much Brett for sharing your inspiring work and story! You can see more of Brett's work at:

www.brettbelotart.com

On Instagram: @brettbelotart

Or on Facebook: www.facebook.com/BrettBelotArt/


---


Hope you enjoyed this issue of Acrylics Anonymous!

If you have any suggestions, comments or feedback for the ezine or our site, please don't hesitate to contact us.

Until next time, make sure you chuck some paint around!

Cheers from Frankie & Mark :)


---