---

Passionate about painting with acrylics? Need a monthly fix chock full of inspiration? Need some help to take the pain out of your painting process? It's all here for you. Acrylics Anonymous. Zero elitism. Dive in.


---

If you enjoy Acrylics Anonymous, and you know someone who might also enjoy it, you can share by forwarding it to your friends!

If you are receiving this because a friend has forwarded this to you, and you would like to subscribe, click here!


---



Every month, we will produce a Subscribers Only "sealed section". It could be a painting technique, a short video tip, or anything we can think of that we reckon you might enjoy.

Please let us know what you think, we love your feedback! To leave comments, contact us here.


Tropical Water

You've no doubt seen the Tropical Water clip on Youtube. Here's another one we've done especially and exclusively for you, which will be released with the recipe book when it comes out!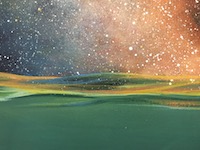 Reflect on Your Reflections.

When looking at reflections on the surface of the water, try to break your observations into hard edges, and soft blendy ones. When you go to paint, start with the blended areas/edges first, and then come back and paint your harder, sharper edges over the top. Atelier Free Flow is great for this.









Waves Aplenty

Here's a short video from Mark to give you some pointers to help improve your own wave paintings. This particular wave painting is also featured in our WIP section at the end of this newsletter. Yay!

Click here to access the Youtube clip.


---

Wave Fundamentals DVD - Coming Soon!

New DVD Coming! Yes, another! Yes, I know we need to finish a project before starting something else! However, Wave Fundamentals is in the process of being finalised, and you can pre-order your exclusive digital copy right here!

Click here to pre-order your copy of Wave Fundamentals!


---

Every month, we choose an Artist from our forum to showcase.

You can even nominate someone if you like. (Or yourself!). To do this, check out the forum and then send us an email! It's that easy.

This month we're focussed on artist Lyn, from Rushworth, Victoria, Australia, with her bright and breezy painting, titled "North Tura Beach". Congratulations Lyn, your work is beautiful :)



Read more about Lyn's "North Tura Beach" here.

Challenge yourself! This interesting article from the clever people over at mymodernmet details artists who have re-drawn subjects from years earlier. It got me thinking what a valuable exercise this could be. Try it yourself!

Click here for the article.


---

Just when you thought it had all been done, Russell Powell shows up with this amazing hand painting technique. By that I mean, he actually paints ON his hand and then uses his hand as a stamp onto the paper or canvas. Truly awesome stuff. Check him out at Pangean Studios.

Check out Russell Powell's amazing artworks.


---


If you have a link you like, please share it with us! You can contact us to let us know. Thank you!


This is the section where you can "get your name in lights!" (well at least out there in the internet world!).

If you have works in progress you would love to show off, or finished pieces you are particularly proud of, we would love to see them!

We especially like to hear about the story behind the creation.

This month's story comes from our very own Mark Waller :)

From Mark:

"This painting is of a wave breaking on the headland at Woolgoolga, and is special for a couple of reasons. 1. It was based around a photo taken during the first 2-day workshop I've had since the surgery, and 2. There was a huge swell that day - and there's something really impressive about sitting, late in the afternoon watching a giant swell build.

It's painted entirely with Atelier Free Flow. Normally I would rough in a painting with Free Flow, and then use the Atelier Interactive over the top. But this painting grabbed me by the scruff of the neck and refused to let me do anything else until I was finished - so I never actually got a chance to put the Free Flow down.

I work quickly normally, but this was fast even by my standards. It took about 15 hours from start to finish. It's one of those paintings where I was barely present for most of that time. It truly was a dance - I fell into it, and there were a few moments where I was called into "reality" by the painting. One was getting the shadow colour right. Turns out Pthalo Blue, Dioxazine Purple and some White make an excellent combination in that circumstance. I filed that away to be used again.

My approach in some ways was a little "looser" than the way I normally would've painted, particularly in the whitewash area. I used my "rolly brush" technique and let the paintbrush have it's own way, to a certain extent. As a result, I feel happy with the random chaotic nature of the soupy foreground area.

It was also quite fun suggesting the odd rock barely below the surface, just in front of the breaking wave. Just a hint.

This painting is quite big, about 150cm x 75cm. There weren't really any surprises in this painting, apart from how hard it grabbed me to paint it!"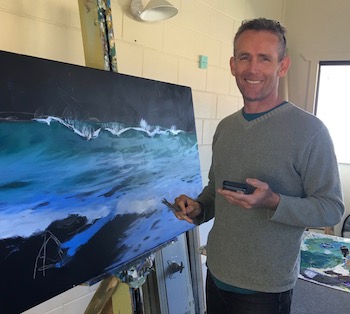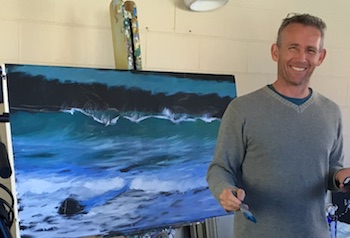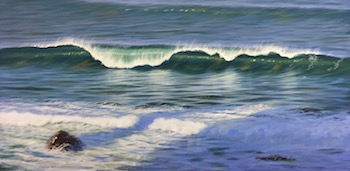 You can find out more about Mark's work through his website www.markwaller.com.au or follow him on insta or facebook @markwallerpaints :) and obviously through this very ezine, the explore-acrylic-painting.com site and his Youtube channel ExploreAcrylics!


---


Hope you enjoyed this issue of Acrylics Anonymous!

If you have any suggestions, comments or feedback for the ezine or our site, please don't hesitate to contact us.

Until next time, make sure you chuck some paint around!

Cheers from Frankie & Mark :)


---