---

Passionate about painting with acrylics? Need a monthly fix chock full of inspiration? Need some help to take the pain out of your painting process? It's all here for you. Acrylics Anonymous. Zero elitism. Dive in.


---

If you enjoy Acrylics Anonymous, and you know someone who might also enjoy it, you can share by forwarding it to your friends!

If you are receiving this because a friend has forwarded this to you, and you would like to subscribe, click here!


---



Every month, we will produce a Subscribers Only "sealed section". It could be a painting technique, a short video tip, or anything we can think of that we reckon you might enjoy.

Please let us know what you think, we love your feedback! To leave comments, click here.



Finish Your Painting -- Like a Pro!

This month a nice little PDF download for you to add to your painting references/notes/folder. 5 tips - how to finish your paintings like a true professional.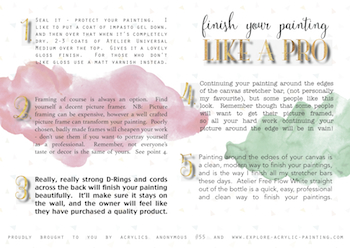 Play With Colour.


Try this. Choose a scene to paint and use this cool and warm colour combination to paint the scene twice. Cool = Pthalo Blue, Cadmium Yellow Light and Permanent Alizarine. Warm = French Ultramarine Blue, Cadmium Yellow Medium and Napthol Red Light.

Observe your paintings. Do they both work? If not, why not? This exercise will only help you become better at mixing and using colour.









Keeping A Visual Diary

Learn about the how, what and why on the benefits of keeping a visual diary.

Click here to read on.


---


Kagata Village - Recent Fundraiser Wrap Up

The recent fundraising event the Lennox Lion's put on was an amazing success!

Click here to read on.


---


Upcoming Exhibition - Lennox Arts Collective

We'll be holding our annual "nothing over $300" exhibition from the 25th November. Yay! Awesome handmade and bespoke artworks for Christmas at affordable prices! Prices range from $4 items through to $300.

Click here for the exhibition flyer.


---

Every month, we choose an Artist from our forum to showcase.

You can even nominate someone if you like. (Or yourself!). To do this, check out the forum and then send us an email! It's that easy.

This month we're focussed on artist Anne Sands, from Viera, Florida USA; with her painting, "Downtown Amesbury". Anne's painting uses colour and texture to bright, nostalgic effect. Well done Anne!



read more about Anne Sand's "Downtown Amesbury"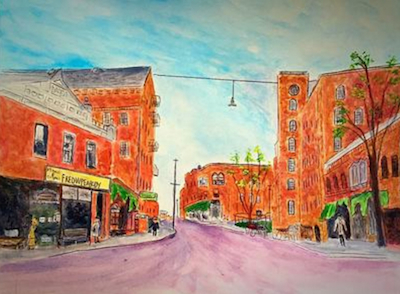 You may've seen the extraordinary art of German Tim Bengel recently. His works with sand and glue will amaze and inspire you!!

Click here for Tim's fantastic artwork.


---

As some of you may know I have a healthy fascination for typography and the sun. This is what happens when imagination, typography, a graffiti artist + the sun get together. Wonderful.

Click here to delight your eyes and your soul.


---


If you have a link you like, please share it with us! You can contact us to let us know. Thank you!


This is the section where you can "get your name in lights!" (well at least out there in the internet world!).

If you have works in progress you would love to show off, or finished pieces you are particularly proud of, we would love to see them!

We especially like to hear about the story behind the creation.

This gorgeous work comes from this wonderful artist, Katie. We received this beautiful email from Katie and just had to follow it up!

"Hi my name is Katie and I just wanted to say it is thanks to you, Mark and Frankie, that I eagerly await your latest words of wisdom through your awesome Acrylics Anonymous newsletters.

It is here I found the inspiration to throw paint around and dive in and have a go.  I have heaps to learn still as am still a novice but geez what an adventure.  The more you paint the more you realise how much more there is to know.  I hope Mark after everything you have been through you are on the road to recovery and continue your passion of painting and still inspiring others.

Having taken up painting last year this is my fourth finished painting which I'm pretty chuffed with.  Not perfect but happy none the less.  I have drawn and sketched for the last 35 years and decided I wanted to get some nice bright colours into my work so bring on the acrylic paint.

When my sister's little dog passed away I figured she would really appreciate something to remember him by and this was what they enjoyed most, going for a drive in the car.  It was a bit of a dragged out process as I have find that once I reach the half way or three quarters stage the panic sets in and I start to worry that "Hey I'm happy with the way it's going, but what if I botch it up now trying to finish it off?". It wasn't until my sister fell ill that gave me the inspiration to get in and finish it so she had something nice and bright to hang in her room and I knew she would really appreciate it. 

First thing I found with learning to paint was "don't be sparse with the paint" you really have to get in there and throw it around.  Also when I first started you tend to be really tentative with how and where you put the paint on the canvas so I really had to tell myself to try and be a bit bolder and literally just put it on and loosen my style up a bit.  At first I painted the canvas all over so it wasn't so white then I used pastels to draw the subject outline in.

I love bold colours so my next step was to go over the outline in cerulean blue and from there I filled in with the brightest colours then moving onto the more realistic tones and colours to bring a bit of credence to the true colours of the dogs.  The hardest part of this canvas for me was the smaller dog "Jake".  I ended up shortening his snout and just trying to get the right look as he had such a thick coat of hair.  So this was it.  "Biff and Jake on a Sunday drive".

My next step in this awesome painting adventure is to learn about glazes and use of other products to enhance my paintings." 

Thanks so much for sharing your work and your process with all of us Katie - we love it !! :)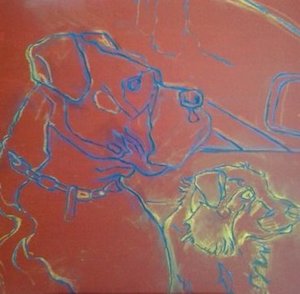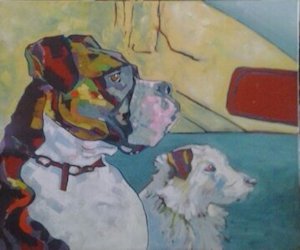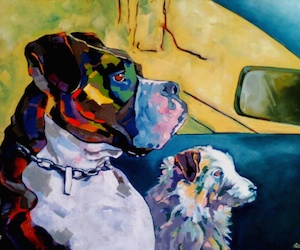 ---


Hope you enjoyed this issue of Acrylics Anonymous! If you have any suggestions, comments or feedback for the ezine or our site, please don't hesitate to contact us.

Until next time, make sure you chuck some paint around!

Cheers from Frankie & Mark :)


---