---

Passionate about painting with acrylics? Need a monthly fix chock full of inspiration? Need some help to take the pain out of your painting process? It's all here for you. Acrylics Anonymous. Zero elitism. Dive in.


---

If you enjoy Acrylics Anonymous, and you know someone who might also enjoy it, you can share by forwarding it to your friends!

If you are receiving this because a friend has forwarded this to you, and you would like to subscribe, click here!


---



Every month, we will produce a Subscribers Only "sealed section". It could be a painting technique, a short video tip, or anything we can think of that we reckon you might enjoy.

Please let us know what you think, we love your feedback! To leave comments, click here.



Tropical Sunset V-Log

Finally I hear you say! Another V-Log!

Well….not quite, but almost! Coming in June is our newest downloadable tutorial, Tropical Sunset. Click below to see the trailer and register for your exclusive 20% discount off the purchase price.

Click here to access!








Welcome to the Future.


Consider moving even further into the 21st century - match your paint colours to the reference image on your smart device.

NB: Remember to keep the paint off the screen ;)









WA Exhibition Imminent

Mark will be exhibiting at Kidogo Arthouse, Fremantle from 12th-18th May. He'll be painting in situ on the 13th, 14th and 15th from 10am-1pm and would love to see you if you're in the area.

Click here for more info.


---


Tropical Sunset V-Log

As mentioned earlier we've been back in the filming studio to bring you a brand new downloadable tutorial! We're very excited, and it will be ready for you by June :)

Click here to read on.


---

Every month, we choose an Artist from our forum to showcase.

You can even nominate someone if you like. (Or yourself!). To do this, check out the forum and then send us an email! It's that easy.

This month we're focussed on artist Steve Kaye, from Torquay, Devon, UK and his gorgeous saturated sunrise, "Fantasy Sunrise". Fantasy Sunrise is a bright, colourful painting with great mood. Excellent work Steve!



read more about Steve's "Fantasy Sunrise"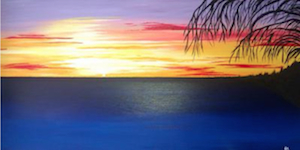 Thijme Termaat, artist from Holland brings us this amazing time-lapse film taken over two and a half years of painting.

Called "I Paint" - you should enjoy it for it's cinematic aesthetic as well as Thijme's inherent artistic talents.

Click here to check out "I Paint".


---

For more visual delight courtesy of the good folk at Youtube, please check out the amazing work of Steven Spazuk, "fire painter". Just when you thought all genres had been covered. This is utterly mesmerising.

Click here to see the clip.


---


If you have a link you like, please share it with us! You can contact us to let us know. Thank you!


This is the section where you can "get your name in lights!" (well at least out there in the internet world!).

If you have works in progress you would love to show off, or finished pieces you are particularly proud of, we would love to see them!

We especially like to hear about the story behind the creation.

This month's work comes from talented artist, and friend of AA, Carole Elliott.

From Carole:

"I am predominantly a seascape artist and love the challenge of painting water, especially it's translucency.

Here is a step-by-step I have completed of my acrylic painting "Perfect Day" using Atelier Interactive Artists Acrylics on stretched canvas.

Step 1:  Blocking in colour to get rid of that white canvas! These colours frequently change as the painting progresses.
Step 2 - blocking in dark areas for underwater rocks
Step 3 - starting on top waves and sky reflections
Step 4 - continuing with whitewater in top waves
Step 5 - painting in lighter highlights on waves and white water
Step 6 - adjusting colour of water in bottom section and working on rocks

Unfortunately I got carried away with painting ... as you do ... and forgot to take more progress photos.

So here are the last few steps:

Step 7 - painting highlights on middle and foreground areas
Step 8 - completing foreground rocks
Step 9 - painting final highlights
Step 10 - sign
Step 11 - two isolation coats and final varnish

After finalising "Perfect Day" and exhibiting it at Finite Gallery in Caves Beach, I received a commission for an extension of this painting, which involved matching colour, water movement, reflections and waves. Nothing like a challenge!!

Below is the finished diptych - each panel is 50.8cm w x 76cm h"



Thanks so much for sharing your fantastic painting with us Carole! If you'd like to contact Carole, you can do so via the following links:



http://www.carolelliott7.com/
https://www.facebook.com/carole.elliott7.artist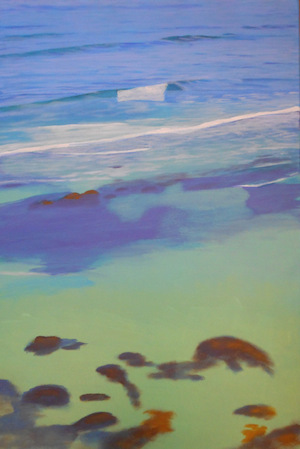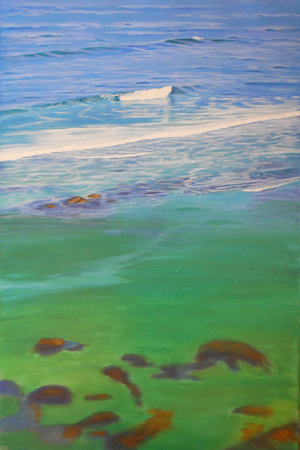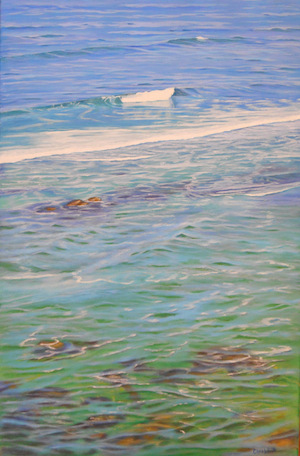 ---


Hope you enjoyed this issue of Acrylics Anonymous! If you have any suggestions, comments or feedback for the ezine or our site, please don't hesitate to contact us.

Until next time, make sure you chuck some paint around!

Cheers from Frankie & Mark :)


---