1st June 2014, issue 028

---

Passionate about painting with acrylics? Need a monthly fix chock full of inspiration? Need some help to take the pain out of your painting process? It's all here for you. Acrylics Anonymous. Zero elitism. Dive in.


---

If you enjoy Acrylics Anonymous, and you know someone who might also enjoy it, you can share by forwarding it to your friends!

If you are receiving this because a friend has forwarded this to you, and you would like to subscribe, click here!


---

Subscribers only…..shhhhhh…sealed section just for you!

Tip of the month

News

Links we like

Works in progress…..show us your paintings!





Every month, we will produce a Subscribers Only "sealed section". It could be a painting technique, a short video tip, or anything we can think of that we reckon you might enjoy.

Please let us know what you think, we love your feedback! To leave comments, click here.



Mark & I have been doing a bit of travelling for workshops around the place recently, so we thought you might enjoy a few handy pointers to keep yourself sane when travelling with paint!

Hope you enjoy.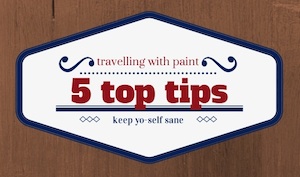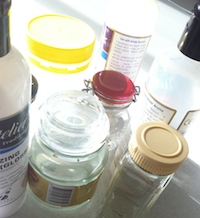 More Travel Tips!

Save small bottles and jars in the lead up to your trip.

They'll make fantastic containers for you to decant mediums into.

Think of all that weight & space you'll save!







Mark's Paint Recipe Cards Coming Soon!

Last week while in Sydney we stopped by Chroma Australia HQ to sign a very exciting agreement.

We'll be offering Mark's favourite paint recipes as "recipe cards" in art stores throughout Australia & online - FREE - later in the year.

Watch this space!!


---


Traveling with Acrylic Paints

How to avoid disasters and have fun. Explore our latest web page here.

Click here to read more...


---


And More New Things!

There's a few more projects on the board here at Explore HQ.

We have a new V-log almost ready for release (a moody underwater dolphin tutorial - working title "Dolphin Family").

Next month will also see the release of painting aprons, hand painted & printed by us and especially for your messy painting practice. Stay tuned!


---

One of my favourite watercolour artists John Lovett sends out a semi-regular newsletter which often has some great ideas, (and usually some of his amazing images too).

This one is all about his practical travel kit and shows the versatility & amazingness of using and taking a limited palette when traveling.



Check out John Lovett's travel kit here.


---


Like realism in your artwork?

You'll love this article from the San Fransisco Globe! Zaria's artwork is inspired by some of the most remote places on the planet.

Take yourself on a mental holiday and be awed by her fantastic creations.

Zaria's realism art is something to behold.


---


If you have a link you like, please share it with us! You can contact us to let us know. Thank you!


This is the section where you can "get your name in lights!" (well at least out there in the internet world!).

If you have works in progress you would love to show off, or finished pieces you are particularly proud of, we would love to see them!

We especially like to hear about the story behind the creation.

Kathy is one of the few friends of the site and of ours who we are privileged to know well.

We have watched her journey progress over the last couple of years to a point where she is now selling her art regularly.

This couldn't have happened to a more lovely human being!

Kath's journey on this painting was originally posted to her Facebook page "Salt Spray Art" in February this year, and hence it's written in a diarised kind of format. Hopefully you can get the idea!

Thanks for sharing your succinct journey with "The Wave" Kath!

Stage 1 - Prepped and gessoed my canvas, then roughed in.

Stage 2 - Applied soft base coats to cover the canvas and add some shape.

Stage 3 -It's starting to taking some shape and form. I draw in chalk lines to remind me which way I need to travel when painting this bit!

Stage 4 - I'm now starting to work on the detail in the suds and foam.

Stage 5 - Back to some dedicated painting today and here is 'The Wave' to date....still more to come, but definitely taking shape.

Still going, and getting closer to "happy". I am hoping to have this finished in time for the weekend's Wynnum Central Art / Craft / Vintage / Retro Market on Saturday and Art by the Boardwalk at Raby Bay Sunday. Busy, busy….

Finished (and satisfied for now - no doubt I'll see something I've missed or feel I can improve on and will have to come back and play and tinker as I usually do ). Will be photographed 'properly' this afternoon, sealed and backed ready for tomorrow's display.

Postscript: This painting was sold after being showcased on Facebook, not long after it was completed. We heard from Kath that there was much whooping and celebratory beverages had that night!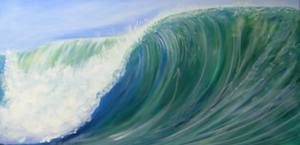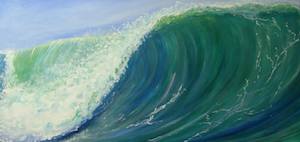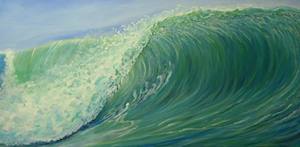 ---


Hope you enjoyed this issue of Acrylics Anonymous! If you have any suggestions, comments or feedback for the ezine or our site, please don't hesitate to contact us.

Until next time, make sure you chuck some paint around!

Cheers from Frankie, Mark & Nic :)


---