How to Paint with Mark Waller
Water Fundamentals DVD
AUD$42.00
---
Always wanted to learn how to paint convincing, realistic water scenes?
This is no "paint by numbers" DVD, rather it introduces Mark's concept of breaking down the appearance of water into four easily manageable "elements". 
This DVD tutorial is a concise overview explaining the appearance of water and how to paint it in almost any circumstance.
AUD $42.00
>> Suitable For All Skill Levels <<
>> Use Acrylics or Oils <<
You will discover:
How to understand the elements which make up the appearance of water

Real world examples to illustrate the processes

A simple process to understand how these elements interact

The basic science of water - reflections, refracted light and the behaviour of waves

Create the illusion of perspective, volume and depth in water

How to add the details you need to bring realism & movement to your paintings

Translate these concepts to create your own amazing seascapes from this day forward.
---
Running time approx 27 mins
PAL region free 16:9 (this means you can play on DVD players in the southern hemisphere, or on your computer anywhere in the world). 
Click here for our downloadable version of this DVD.

English

Stereo

Colour

DVD sleeve printed on recycled card

AUD$42.00
---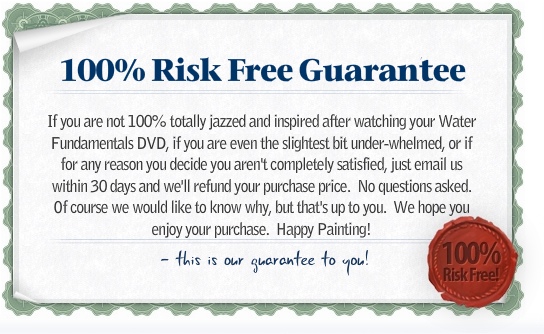 ---
Testimonials:
For more info about Mark and his gorgeous paintings, click here.
---
Purchase Mark's 3-pack of DVDs and SAVE!  
Only AUD$110.00
---
Back to Explore Acrylic Painting Home Page
---