How to Paint with Mark Waller
Water Fundamentals DVD
AUD$42.00
---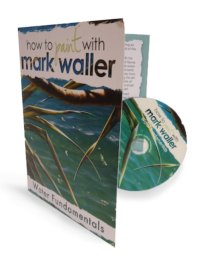 Always wanted to learn how to paint convincing, realistic water scenes?
This is no "paint by numbers" DVD, rather it introduces Mark's concept of breaking down the appearance of water into four easily manageable "elements". 
This DVD tutorial is a concise overview explaining the appearance of water and how to paint it in almost any circumstance.
AUD$42.00
>> Suitable For All Skill Levels <<
>> Use Acrylics or Oils <<
You will discover:
How to understand the elements which make up the appearance of water
Real world examples to illustrate the processes
A simple process to understand how these elements interact
The basic science of water - reflections, refracted light and the behaviour of waves
Create the illusion of perspective, volume and depth in water
How to add the details you need to bring realism & movement to your paintings
Translate these concepts to create your own amazing seascapes from this day forward.
---
Running time approx 27 mins
PAL region free 16:9 (this means you can play on DVD players in the southern hemisphere, or on your computer anywhere in the world). 
English
Stereo
Colour
DVD sleeve printed on recycled card
Regarding Postage:
Note cost below does not include postage (Flat rate $15 overseas untracked letter, and $10 Australian Registered Mail).  Please note any international customs duties or taxes applicable and payable before release of goods are the sole responsibility of the purchaser.  These fees and charges are entirely out of our control and differs according to country and region.  This is the main reason why we also offer our DVDs as downloadable products.   Please note some countries (particularly the US and the UK) delivery can take up to 5 weeks. 
AUD$42.00

---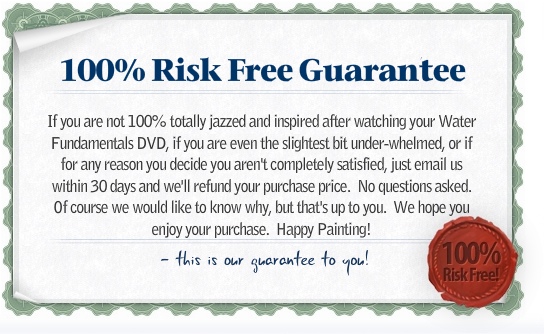 ---
Testimonials:
I found the DVD series to be very informative, explained in an intelligent, easy to understand manner. From the viewpoint of an intermediate painter, the explanations of what we are seeing when we paint the ocean was enlightening and with lots of hints and tips, very inspiring . I loved the DVD jackets with the paint colours listed inside,  I thoroughly enjoyed all three, I look forward to purchasing more! Warm Regards, Diane.
Very enlightening! Learnt a lot. Will now use some of the things I learnt about water. Would love to see waterfalls and rivers. I am sure you would inspire many with your ideas! Look forward to more DVDs! Shona
Dear Mark, my wife Suzanne and I would like to thank you for being such an inspiration and helpful in improving our painting ability. Your enthusiasm for painting has rubbed off onto us and we thank you. We can now mix colours with more confidence and have learnt how to handle a paint brush with ability. Your three DVD's Water Fundamentals, Foam and Whitewash and Tips & Techniques are very inspiring. Thank you. Regards, David & Suzanne Everingham
Many thanks Mark. Received  the 3 pack of DVDs today. Awesome. Hope I don't wear them out. I've just put on the Whitewash DVD for the 2nd time. Look forward to more. Thanks again, Karen Trace
Very informative to the beginner and well explained. For those who have painted for some time it was interesting to observe and implement Mark's water and foam techniques to improve dimension and perspective to water. Thank you Victor Bell
Thank you for your promptness in sending the DVDs. I should have replied sooner but I was so inspired by Mark's work that I just had to paint. The DVDs were fabulous with so many great tips and Mark's tuition has been an enormous help. I look forward to seeing more of Mark's work and his next series of DVDs. Many thanks, June Hunter
It's 10:18 PM here. I've been painting the exterior of our home for the past week ( after painting the interior ) and it's really good to take a break from painting and study a subject I really enjoy - painting! I've just finished watching Mark's "Water Fundamentals" and "Foam and Whitewash" DVDs.  Several things stand out in these presentations. It is very clear that Mark has put a great deal of thought in to analyzing this subject. His thoughts are presented in a very and organized, clear and cogent manner. I don't see how it is remotely possible for anyone who does live on the ocean to begin to understand the different layers one encounters in what appears to be a simple wave. In something like two hours of Mark's presentation I now understand why I've spent years unsuccessfully trying to understand what is really happening. It's also clear that I'll need to watch these DVDs at least two or three more times to pick up the subtlies of Mark's brush work and choice of color. Regards, Laurence.
Very informative, easy to follow and very easy to get inspired. Irene Lines.
Just wanted to say thanks for the DVDs again. They've definitely inspired me, I've already watched them a couple of times and have started a painting and am thrilled with the results so far. I feel like I've made a fourfold improvement. And some bits seem so obvious now. Can't wait for more tips and DVDs. Love your rock on the tips DVD and the sand around it so hopefully you'll do that one. I know you put your palette in the covers but any chance you could also do one on the colors you mix, that would help me a bit too. Cheers and have a great Christmas. Nici
Dear Mark and Nic, Thank you for the quick response to my order of Mark's DVDs. They were absolutely brilliant, so much so, that my wife has allowed me to hang my first attempted work based on Mark's tuition, in our living room! I can not fault anything in the DVDs other than there are only 3. If Mark decides to do any more, I will be first in line. Maybe he could do a whole lesson on the finer details of pandanus trees. Thanks again and I look forward to more of Mark's inspirational DVDs.  Peter Raward
I was very impressed, learnt a lot and would be interested in more DVDs. Barbara Tahfe.
I am running an art shop and art tuition in Bundaberg and I watched the DVDs with my students. The information was very valuable and inspiring for all of us! Thanks, Marlies Oakley (Artplus Bundaberg)
Mark's enthusiasm was enjoyable and his descriptions very thorough. Would have enjoyed more painting but obviously limited due to time available on DVDs. From Janine Nalder
I enjoyed watching the DVDs and have watched them a few times. My youngest daughter (Year 8) also enjoyed them. I look forward to more DVDs. Maybe some step by step projects. Thanks, Kevin Wilson
I didn't want it to finish! I just loved it from start to finish. I'm even showing my husband! From Hilary Jenner
As an oil painter wishing to try acrylics I found your DVD most enlightening and inspiring. I found some aspects of your demonstrations very useful even in oils. Thank you, Bob Jackson.
I found the instruction DVDs are extremely informative and straightforward to understand. I have learnt to look differently on how to paint water through the demonstration shown by you on your DVDs. I am learning art through DVDs by different artists. This has allowed me to be diversify with my paintings using different techniques. Looking forward to your new teaching DVDs. Sincerely, Ingrid Laprairie.
For more info about Mark and his gorgeous paintings, click here.
---
Purchase Mark's 3-pack of DVDs and SAVE!
Only AUD$110.00
---
Back to Explore Acrylic Painting Home Page