We are so thankful to have you as a loyal AA subscriber!

Merry Christmas!!!

We are so feeling the love here at AA! Our site has really only been up and running for about 12 months, so we really, really appreciate everything you do to support us. Your encouragement, comments and suggestions to improve things are priceless.

THANKYOU!!!


---


Want to be a part of something (else) heart warming this Christmas?

We are currently holding a Facebook auction (just "befriend" Mark to be involved) for this gorgeous Mark Waller original "Christmas Light".

Auction finishes 10am Tuesday 18th December.

All proceeds from the auction go to local charity Aussies For Orphans!!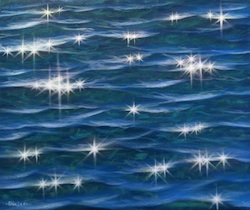 To see the making of this pretty sparkle bomb, click here!
---


PS. Don't forget about your 30% off all Explore Store items sale!

Enter your discount code at checkout: SPIRIT

Click here to go to the Shop.
---


Hope you enjoyed this special issue of Acrylics Anonymous! If you have any suggestions, comments or feedback for the ezine or our site, please don't hesitate to contact us.

Until then, make sure you chuck some paint around!

Cheers from Mark, Nic & Frankie :)


See you in 2013!!
---